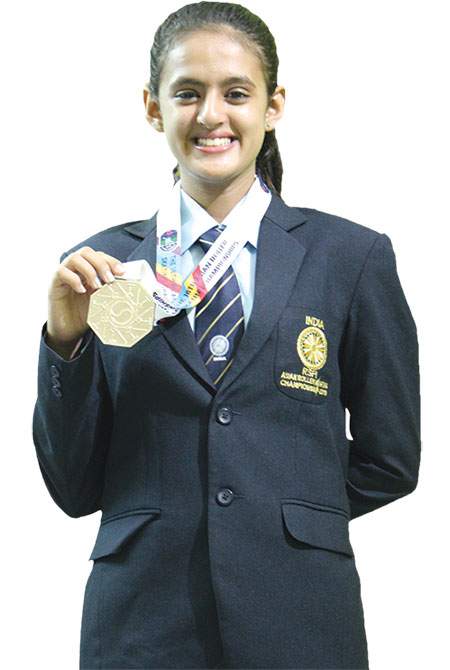 Gurgaon (Haryana)-based Nikita Sahu (17) is creating waves in roller skating — one of India's fast popularising sports.
In December last year, Nikita was crowned national champion at the 56th National Roller Skating Championship held in Visakhapatnam. This victory came in the wake of her record-setting performances at the 18th Asian Roller Skating Championship staged in Namwon (South Korea) last September, where she led a 16-member India squad which bagged a maiden silver in the junior girls' inline hockey (aka 'hockey on wheels') tournament competing against 12 countries worldwide.
Nikita Sahu is the younger child of Rajinder Singh Sahu, a Gurgaon-based businessman and Kamla Devi, a school teacher. Currently a class XII student of the city's Blue Bells Model School, Nikita took to roller skates at age eight, drawing inspiration from her elder brother Deepak, in an excellent skating facility of the public Faridabad Sports Complex. In 2016, her family moved to Gurgaon. Although practice facilities in Gurgaon are not on a par, with encouragement from her principal Alka Singh, she began practising on the school's basketball court. Despite limited training facilities, this determined athlete has stood out with 78 school and district-level, 27 state-level, six national and one international medals.
This rich haul of medals and acclaim hasn't come easy. To keep in shape, Nikita follows a rigorous regimen of fitness, exercises and skating practice for one-two hours every day under the supervision of coach Gaffur on the school's basketball court, as Gurgaon's local government hasn't followed the example of Faridabad in the matter of providing high standard sports training and practice facilities. "I owe my success to the good foundational training received for six years in Faridabad under international coach John David," says this promising young champ of the rink, who is preparing for the national games at Visakhapatnam in December and will compete for India at the world championship in Columbia next year.
Power to your rollers!
Autar Nehru (Delhi)