– Suprabha Menon, Principal, Navrachana School, Sama, Vadodara
Excellence is the gradual result of always striving to do better. At Navrachana School, Sama, the story has a narrative that dates back 57 years. The school's motto 'Fostering the spirit of Excellence' embodies this very idea practised and pursued for five decades and counting.
The results of the class X and XII CBSE board exams proved the premise that excellence is not a skill, it is an attitude. 28 students of class X and 34 students of class XII have scored a perfect 100 marks in the AISSE and AISSCE 2021-22 exams.
The core training and pedagogy adopted by the teachers at Navrachana School is inspired by the spirit of enquiry, exploration, multiple intelligences approach, nurturing 21st century skills and core competencies. Students thus taught through innovative teaching methodologies become learners for life, and excel academically wherever they go.
Our high school students have been setting benchmarks in the board exams, cracking the toughest of the competitive exams, securing seats in coveted institutions in the country and beyond. Not just in the 'much subscribed fields' of Engineering and Medicine, but our students are pursuing uncommon careers in the emerging fields of Design, International Politics, AI and Robotics etc.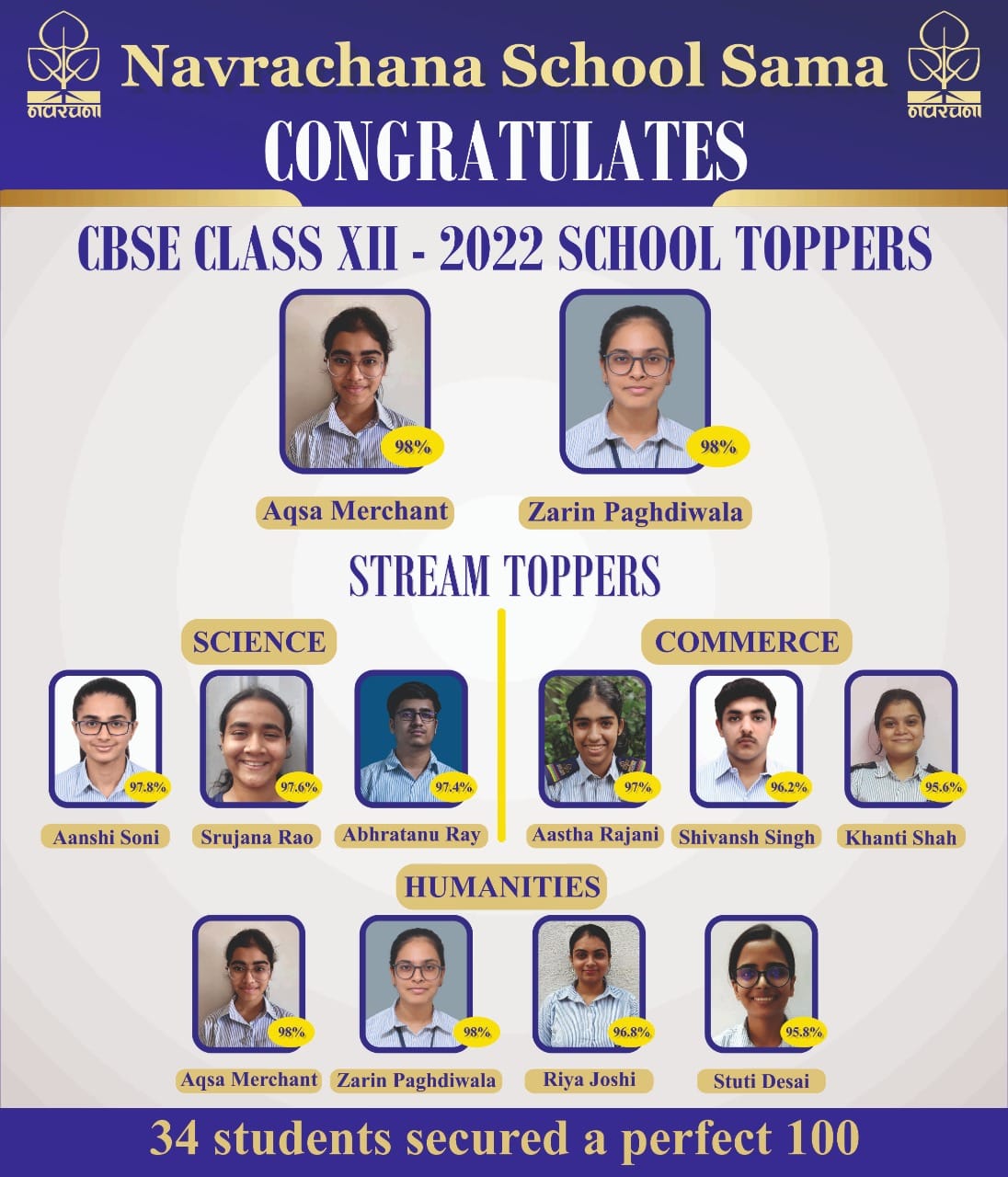 Anvi Desai, school topper in CBSE class X board exam says, "Focusing on the objectives rather than the challenges is the secret to success. This principle enabled me to achieve such an incredible result. Even with the new paper patterns and the two-term system, my parents, teachers, and school worked together continuously to inspire and direct me. Discipline, hard work, and rigorous practice can help one to attain their goals. I am immensely grateful to everyone who helped me to accomplish my goal, especially the school and the teachers who supported me and paved the way".
Haard Parikh, also a class X school topper says, "When I look back, I find a couple of reasons that would have played a major role in my current success in class X Board exams. First and foremost, it's my school, Navrachana School Sama, that has always motivated and encouraged me to perform to the best of my abilities. I still remember, when I joined this school in 5th, my score in English was average. As the years passed by, with the teachers' guidance and my own hard work, gradually I started improving and today in the Boards I have secured a perfect 100 in English. Secondly, believing in myself and my preparation methods and not getting overwhelmed by other's beliefs and expectations has helped me in overcoming my fears and keeping my nerves while preparing for the exams. In the end, I would summarise that there are no shortcuts to success, only hard work and self belief can help in achieving the desired outcome."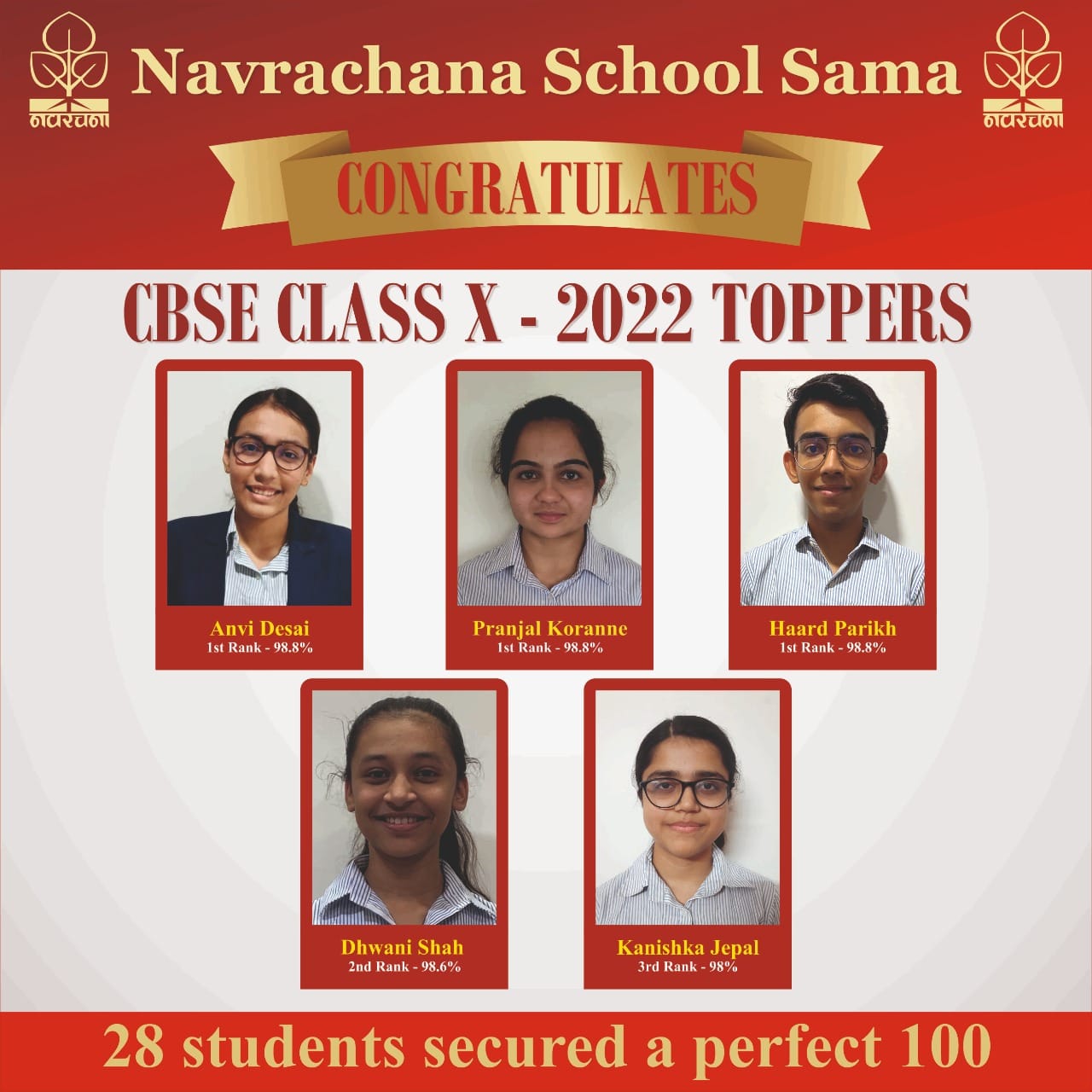 Class XII school topper Aqsa Merchant believes, "The seemingly dreaded result day opened the curtains to an unforeseen fairytale in my life! I feel exceedingly overwhelmed by all the love, ecstasy, warmth and wishes finding their way to me… My flight to success would have plummeted if not for the strong wings sewn by my ever-wondrous parents and the brilliantly nurturing and amenable teachers at Navrachana School! The secret to scoring marks is rather simple…regularity, attention, sincerity, coffee and the strength to trust your potential!"
In the end, it is safe to conclude that a school can only rest its laurels on the shoulders of its hard-working students, innovative teachers, and the supportive parent-body that helps to realise its goals of excellence.
Also read: Navrachana Education Society: Taking forward the legacy of contemporary value based education