Shreyosi Chakraborty
"The children of today will make the India of tomorrow. The way we bring them up will determine the future of the country," said independent India's first Prime Minister Pandit Jawaharlal Nehru, whose birthday on November 14 is fondly commemorated every year as Children's Day.
Hard work, passion and the sheer will to bring about the change helps a child to fulfil his or her dreams. As one succeeds in life, winning laurels for the society from a micro perspective also glorifies the nation that they belong to from a macro standpoint.
This Children's Day, EducationWorld features four children from various parts of India who has had the potential to bring positive change and make the world and environment a better place for all.
For Tejas Chhabra a student from Bengaluru, his motto is simple – in order to make a big difference, one must start with small steps at a time. Chhabra recognised how cities like Chennai and Bengaluru are heavily dependent on rainfall for their water supply. "Bangalore is an extremely rain-dependent city. We run out of major lakes as water tankers scurry to meet the rising demand for water by its citizens. To conserve water, I designed a Do-It-Yourself (DIY) aerator, the production cost of which was as low as Rs 6," said Tejas. These aerators are aimed to optimize the flow of water reducing it by 40 percent, hence directly reducing wastage. He aims to develop a prototype of this aerator in collaboration with his school, with a goal to reduce water consumption from 5000 litres to 3200 litres. He is also working on conducting awareness drives to make people recognize of the need to conserve water and would also showcase this devise and explain how that can contribute to the cause and bring about a much-needed change.
"My family is my biggest motivator", says Chhabra. "We are always having long, detailed open-minded discussions about doing something for the society. I had seen this idea on the internet when I was studying in standard 11 in Deens Academy and I believed that it made a lot of sense to implement this from Bangalore's context. I approached the school management, requesting them to let me conduct a workshop for students aimed at raising awareness on the water crisis in Bangalore. We also conducted a workshop for the 8th graders, teaching them how to make their aerators."
An eighth grader from Ahmedabad, Farhan Siddiqui is committed to clearing out the "Pirana garbage" dump yard in his neighbourhood in Ahmedabad. Pirana has been Ahmedabad's garbage dumping spot and has today become an unmanageable mess where frequent fires and unsegregated waste are regular since 1982. Farhan has identified that the decomposition of garbage causes accidental fires, pollutes the air of the neighbouring areas, and adversely affects the health and welfare of those living in and around them. He has successfully conducted numerous surveys and extensive research on the dump yard and to identify its harmful effects on people. He even collected soil samples and had them studied at research centres to understand the impact of the garbage on the ecology. His aim is to draft a research paper on the garbage dump yard, which he hopes would push the Government into taking some action.
Food crisis and malnutrition is still a stark reality in today's India. Post the pandemic, the situation has all but worsened. Priyanshi, a 10th grader from Pune, could not stand that more and more families did not have the resources to afford proper meals for themselves and their children. She saw children suffering from hunger and was hence deeply motivated to join the 'Robin Hood Army' – a group of individuals waging a war against hunger by ensuring meals for all. She worked with a team to provide surplus food from restaurants to underprivileged households. She even got the organisation to serve the under-resourced sections of her own community. As for Priyanshi, witnessing the smile on the children's faces when they receive a hearty meal for the day happens to be her biggest success and reward. "I have been working with the Robin Hood Army (RHA) since 2018.
The RHA is a volunteer-based Zero funds organization that works to get surplus food from restaurants to the less fortunate sections of society. I spread the word about the RHA and the great work that they do among my friends and other relatives. I have already leveraged numerous online/ social media platforms to spread awareness about RHA and seek collaboration from more and more volunteers to join the movement. Working with RHA gives me immense happiness as I am able to do something for the society.
Chaitrali, a 12th grader from Pune, deeply believes in holistic education and learning through experiences. Along with her classmates, she initiated Project Kriya, which worked towards empowering women through outdoor education. She worked closely with the rural community in the Mulshi Valley near her college. Through Kriya, Chaitrali teaches swimming, cycling and fitness coupled with sessions to bolster one's self-awareness and confidence. "The driving force behind our project was to provide a platform for young women to express themselves and empower themselves through sports and outdoor activities. This is a place where they feel safe to express themselves and talk about things, they cannot in their villages which are mostly still suffering from the clutches of a patriarchal society. "Here I conduct reflection sessions where we would talk about women who inspire, encourage open-minded dialogues about their views on love and marriage. I also help translate our language as we have some international students in our group," said Chaitrali.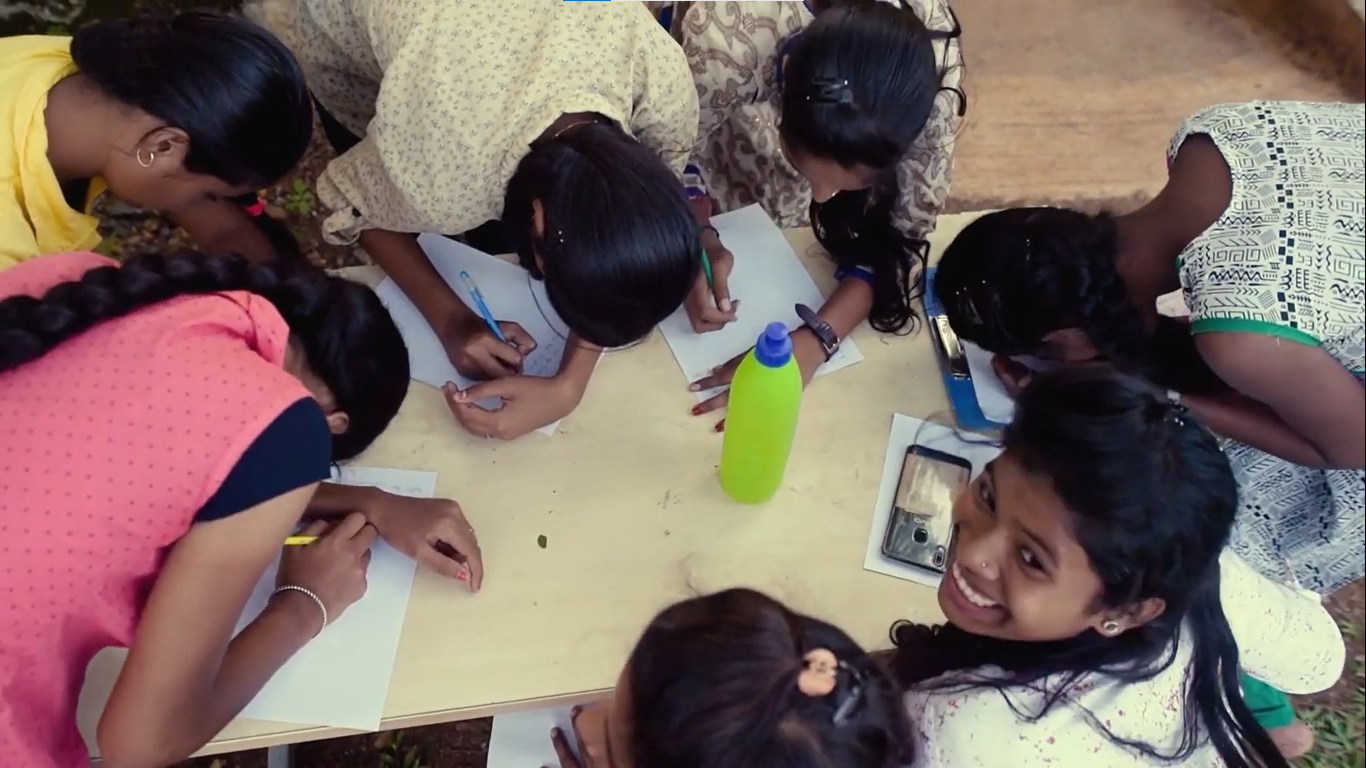 "The project started with older women belonging to small villages around the UWC-Mahindra campus. We would invite them to the campus and work with them on their fitness and hold sessions where they could discuss the problems they are facing and reflect on possible causes and suggest solutions. The latter surfaced several issues like child marriage, eve-teasing, etc. and we would introduce them to tools such as SWOT analysis to help them identify their strengths, fears, and hopes. Even if they were not in a place to pursue their passion, it was important for them to recognize what dreams mean. For us at Kriya Shivaji, the main goal was not to go to these villages and push the people there to do better, but it was to help them understand what would better mean and why they need to be better."
Chaitrali is now currently studying Psychology and Theatre at Wartburg College, Iowa on a full scholarship for four years. On the other hand, Project Kriya Shivaji has continued as an online endeavour through the pandemic under another student leader's leadership, but Chaitrali is still in touch with the team and the group of girls whose life she had positively impacted.
This Children's Day, EducationWorld salutes these "child warriors" who are not only committed to bringing a positive change in the society and environment by helping generate public awareness on numerous burning social issues but also are successfully changing the way people see them ensuring to bring about a paradigm change in society.
Also Read: Top 10 Child YouTubers who are rocking the cyberspace
National
,
News