"Children are like buds in a garden and should be carefully and lovingly nurtured, as they are the future of the nation and the citizens of tomorrow," said Pandit Jawarharlal Nehru, on whose birth anniversary Children's Day 2019 is also celebrated. And aptly so, if they are taught the right life lessons and shown the right path, they can change society for good.
On Children's Day 2019, let's hear from these young achievers, who have proved that age is no barrier if one truly wants to achieve something, whether climbing the highest peak or making your way to the Guinness world record.
14-year-old Akshat Singh, a class X student of Birla Vidya Niketan, Delhi, was recently crowned champion of the Korea-India Friendship Quiz Competition 2019 staged in the national capital. For students who want to become quizzers like, he says, "My message to other quizzers, who aspire to win competitions like The Korea India Friendship Quiz is that the key to winning a quiz is to be able to retain the maximum amount of information and hence you should use study methods which you find the most comfortable, like flashcards or mnemonics for difficult names."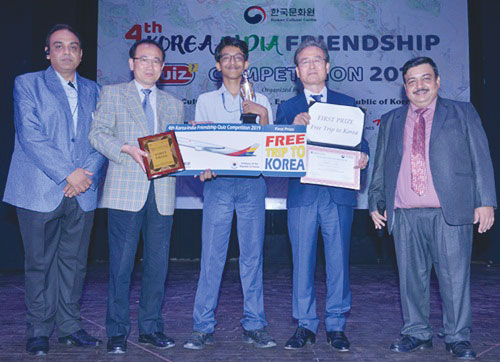 He further adds, "But my experience has been that you should not overstudy and saturate your mind just before the quiz because that leads to mixing up of information and caused me anxiety. The way I boosted my confidence was mainly by thinking positive but that's easier said than done and for that, I mainly took the help of a couple of my school friends, asked them to test me and talked with them."
Balancing study with extracurricular activities: Akshat manages his extracurriculars and studies by prioritizing stuff. "The tests for which I have to study come first then come practicing the subject I am weak on and then I give time to recharge myself. I personally think distractions like social media or video game help, but only as a distraction not as an addiction. I don't stick to a particular schedule and study things according to what my brain feels like unless there is a compulsion or a need to do a particular thing. Everyone should make the most of their free time and not be afraid to ask for help or advice from either their friends or family."
Vadodara-based early teens Aabir Sarkar and Rishiraj Behki, who are members of Team ARM (advanced robotics for manufacturing) 9 were crowned champions of the World Adolescent Robotics Contest (WARC) 2019 held at China. For these kids, their passion for robotics has never come in the way of their studies. Rishiraj Behki (12), a class VII student of Billabong High, Vadodara says, "Failure will never surpass you if your determination to succeed is strong enough. If you are passionate about the extracurricular activities you are into then studies have never shown up as a problem. Time management has assisted me a lot in coping up with the fallen back studies."
While Aabir, who studies at Navrachna International School, Vadodara believes dreaming is the first step to success. He says, "Teenagers as the country's future leader should have a mindset to pursue their idea. There is a quote that says, dream big and keep on dreaming big. Bill Gates, the founder of Microsoft dreamt that one-day people would have their own personal computer. People laughed at him and his dream is now a reality. If we dare to dream, we can turn the dream to reality through hard work and determination."
Aabir also explains creativity and patience is the key to success. "Many young students fail to accomplish their dream because they can't handle the pressure. They become frustrated and devastated due to unsatisfying outcomes, such as fewer marks, no success and more. The only way to cure it is to be patient and optimistic, for there will be a break-even point and followed by success. Finally, we must bear in mind that being in such activities doesn't interrupt our duty as students."
Mumbai-based Afaan Kutty (14), who has entered the Limca Book of Records, India Book of Records and the Asia Book of Records for swiftly twisting and turning 26 Rubik's Cubes while blindfolded says concentration is the key. "People spend a lot of time on mobile phones nowadays. If you develop a positive addiction apart from mobile phones, you can achieve wonders in today's life. On average, I spend three hours a day on Rubik's cube and the rest of the hour learning other things and studying. Plus, playing Rubik's cube has really increased my concentration levels and hence I can focus on everything with attentiveness."
A class VII student of Mumbai's CBSE-affiliated Navy Children School, Kaamya Karthikeyan (12) is getting used to experiencing that top of the world feeling from an early age. On August 24, 2019, Kaamya scaled the summit of Ladakh's Mt. MentokKangri II (6,250 metres above mean sea level) — her highest peak thus far — after a grueling eight-hour climb to the summit under extreme weather conditions. She explains, "Some children don't go outdoors and play, rather prefer to stay indoors. Playing outdoors not only keeps one healthy and physically fit, but it also helps to focus on other things. It will make you more disciplined and regimented and focused on studies." Besides reaching the highest peaks, she also balances her time between school studies, learning Bharatnatyam, piano and Carnatic music.
Sukanya Nandy