With the city's upwardly mobile new-age industry professionals becoming increasingly aware of the critical importance of ECCE for preparing children for school education, there's been an upsurge in the promotion of a host of nexgen pre-primaries. Here are Hyderabad's premier preschools 2017-18.
The early childhood and K-12 education sector is booming in the southern city of Hyderabad (pop. 10.9 million), the joint capital of Andhra Pradesh and Telangana. This city of nawabs and begums, which in its new avatar rivals Bangalore as a hub of the IT industry, hosts several top-bracket schools such as Indus International, CHIREC, the Aga Khan Academy and International School of Hyderabad — all ranked among the national Top 10 in the EW India School Rankings 2017-18. According to New York-based Mercer's Quality of Living Rankings 2017, the availability of high-quality schooling is one of the reasons why Mercer's has ranked Hyderabad the most liveable city in India for the third year in a row.
With the city's upwardly-mobile new-age industry professionals becoming aware of the critical importance of professionally administered early childhood care and education (ECCE) for preparing children for school education, there's been a corresponding upsurge in the promotion of a host of nexgen pre-primaries. For the EW Hyderabad Preschool Rankings 2017-18, an informed sample respondents database comprising 566 parents with preschool children and 83 principals plus teachers have ranked 22 of the city's sufficiently well-known proprietary and 30 franchised preschools.
Proprietary/owned
Since 2015, when the EW India Preschool Rankings were sub-divided into proprietary and franchised categories to avoid apples and oranges type comparisons, there's been a tussle for the top rank between the city's well-established CHIREC, Jubilee Hills (estb. 1989) and new genre Indus Early Learning Centre (IELC), Jubilee Hills (2011). While in 2015, they were jointly ranked Hyderabad's #1 proprietary preschool, in 2016 CHIREC bested IELC to claim top ranking. This year, our informed sample respondents have once again voted these premier pre-primaries jointly #1 in Hyderabad.
Promoted in 2011 by the Bangalore-based Indus Trust, which owns and manages the premier Indus International schools in Bangalore and Hyderabad (routinely ranked among India's Top 10 international day-cum-boarding schools in the annual EW India School Rankings), IELC, Jubilee Hills, is top-rated on the parameters of teacher competence and development, individual attention to students, infrastructure provision and innovative teaching. "Since IELC, Jubilee Hills debuted in the EW preschool rankings in 2012, we have been consistently ranked among the Top 3 preschools of Hyderabad. Our #1 rank this year is reassuring proof that our continuous efforts to offer wholly child-centric education are being appreciated by the public. I am especially pleased about our top rating for teacher training as this is a top priority of all Indus preschools. This year, 11 of our faculty visited schools in Finland to learn about their proven play-based learning pedagogies," says Nuwaira Pasha, an alumna of Bangalore University with a Qualified Teacher Status diploma in primary education from the UK and head of the IELC centres in Hyderabad and Chennai.
Following CHIREC and IELC are Oi Playschool, Jubilee Hills at #2 and Kinder Kare, Gachibowli at #3 — both of which have retained their 2016 ranking. However the star preschool this year is the previously unranked Glendale Edufun, Somajiguda which has gatecrashed the Top 5 party with its #4 ranking, pushing the Indus International Junior School, Gachibowli to #5 (4).
The pre-primary schooling venture of Glendale Academy, Hyderabad — ranked among the Top 15 co-ed day schools countrywide in the EW India School Rankings 2017-18 — Glendale Edufun, Somajiguda (estb. 2008) is rated#2 on the vital parameter of value for money (annual tuition fee: Rs.42,000-51,000). "Our chairperson the late Bashiruddin Babukhan, former minister of higher education of Andhra Pradesh, believed that quality education must be provided at affordable price. Glendale Edufun follows this principle, providing excellent quality ECCE at affordable tuition fees," says Sangeeta Pamnani, an alumna of Osmania University and the Delhi-based All India Institute of Early Childhood Care and Education with over 23 years of teaching experience, and head of Glendale Edufun.
Further down the 22-strong proprietary preschools league table, there are many winners and some losers. CHIREC, Gachibowli, an affiliate of the top-ranked CHIREC, Jubilee Hills, has risen in public esteem to be ranked #6 (#10 in 2016). Ditto Esperanza, Banjara Hills, ranked #9 (16), Nasr School, Somajiguda at #10 (12), Kindercrest, Nallagandla at #11 (14) and Oi Playschool, Manikonda at #15 (17). Among those who have yielded rank are Abode Kids International Preschool, Gachibowli, which has slipped to #18 from #8 in 2016, Blue Blocks, Gachibowli to #17 (6) and Prime Years, Banjara Hills to #16 (11).
Franchised preschools
Kangaroo Kids (KK), Banjara Hills has been voted the #1 and Globe Toters, Jubilee Hills the #2 franchised preschools of Hyderabad for the fourth consecutive year. They are followed by Globe Toters, Gachibowli — a franchisee of the Mumbai-based Globe Toters promoted by Birla Edutech Ltd — at #3 with Oi Playschool, VV Nagar and EuroKids, Banjara Hills completing the Top 5.
A franchisee of the well-reputed Kangaroo Kids chain of preschools promoted by ECCE pioneer Lina Ashar, KK-Banjara Hills is ranked #1 on seven of the ten parameters of ECCE excellence. "We are exhilarated by the #1 rank awarded to us for four years in a row. It's validation of the excellent work our teachers do. At a time when the attrition rate among ECCE teachers is high, I'm proud that more than 50 percent of our teachers have been with us since 2004. That's because every teacher at KK-Banjara Hills has a sense of ownership which motivates and pushes her towards excellence. We also work very closely with parents and have co-opted them as partners to ensure the overall development of children," says Chandrika Chalasani, an alumna of Jawaharlal Nehru University, Delhi and the University of Texas at Austin and promoter-principal of KK-Banjara Hills, which offers a green well-equipped 1-acre campus to its 375 children aged 18 months to six years mentored by 47 teachers.
Yet the highlight of this year's EW Hyderabad franchised rankings is the domination of Oi (Open Interactive) preschools — promoted by the Hyderabad-based People Combine Educational Initiatives Ltd which is also the promoter of the Oakridge International chain of K-12 schools in peninsular India — of the Top 10 table. Oi Playschool, VV Nagar has made a great leap forward to #4 this year (from #13 in 2016), Oi, Banjara Hills is ranked #7 (6), Oi, KPHB #8 (16) and Oi, Gachibowli has retained its #9 rank.
"Several factors have helped Oi, VV Nagar make this huge impact on public opinion — our whole-hearted focus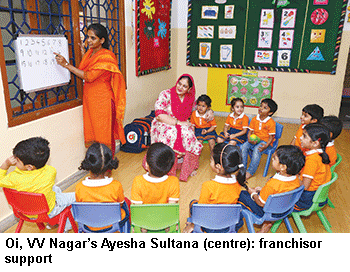 on safety, security and hygiene which has helped us win the trust of parents, effective implementation of the Oi curriculum and several child engagement activities that foster holistic development. We are very fortunate that the Oi head office makes regular academic and general audits of all its franchisees and provides feedback for improvement. I'm also very pleased with our #2 rank on teacher welfare and development as our teachers regularly attend training sessions organised by Oi," says Ayesha Sultana, a civil engineering graduate of Osmania University, who made a career shift to education after the birth of her son and co-promoted Oi Playschool, VV Nagar in 2012.
Other national preschool chains which have a sizeable presence in the Hyderabad franchised league are the Delhi-based Bachpan Playschool with seven franchisees ranked in the Top 30; Mumbai-based EuroKids International with three pre-primaries and Tree House with two. The local Iris Florets preschools chain also has an impressive four pre-primaries in the Top 30 with its West Marredpally franchisee ranked #10.
Also read: Hyderabad's most admired preschools 2018-19