In progressive schools and households across the country, teens are being encouraged to find the time, drive and energy to turn their ideas into business plans and real-life businesses. This new tribe of 'kidpreneurs' are promoting innovative start-ups and simultaneously learning valuable business and life skills that will enable them to succeed in evolving workplaces of the future – Mini P & Cynthia John
The highly contagious Coronavirus aka Covid-19 pandemic — the worst global blight since the Spanish flu pandemic of 1914-18 which claimed an estimated 50 million lives worldwide, including 13.8 million in pre-independence India — has taken a huge toll during the past year since the Coronavirus originated in Wuhan, China last November. An estimated 56 million people have been infected and the virus has caused 1.3 million fatalities worldwide including 132,029 in India which is gradually opening up education institutions, business and industry after the comprehensive national lockdown of March 25. Meanwhile, following the lockdown, the Indian economy is expected to contract by an unprecedented 10.25 percent in fiscal 2020-21.
However, even the worst winds and disasters blow some good. Not a few business management gurus believe that the problems and constraints imposed upon industry and business by the national lockdown have stimulated creativity, innovation and new technologies management skills of India Inc. Perhaps even more important, the pandemic has aroused the dormant entrepreneurship skills — suppressed by decades of bureaucratic socialism — of citizens in industry and agriculture. Suddenly, media and particularly television channels have discovered the virtues of free markets. These days television ads are proclaiming the virtues of free enterprise and entrepreneurship.
These new winds of liberalisation blowing across the country have prompted the rise of an ever-growing number of unicorn companies (i.e, with $1 billion-plus market capitalisation) promoted by entrepreneurs in their 20s and 30s. Moreover in progressive schools and households across the country, teens are being encouraged to find the time, drive and energy to turn their ideas into business plans and real-life businesses. This new tribe of 'kidpreneurs' are promoting innovative start-ups and simultaneously learning valuable business and life skills that will enable them to succeed in evolving marketplaces of the future.
A case in point is Bengaluru-based teenager Anish Garg (14), a class IX student of the top-ranked Vidyashilp Academy, Bangalore. In April, Anish and his classmate Haashir Ahmed Shaikh (15) launched their company/website virtudopt.com offering virtual adoption services of household pets during the lockdown. "The prolonged six months-plus Covid-19 pandemic has forced millions of people to work and study from home. I discerned a need for families to adopt online pets and follow their progress on their phones and computers. This idea came to me because my father is in the business of importing and marketing exotic pets such as iguanas, macaws and diamond doves on our farm on the outskirts of Bengaluru. It occurred to me that families would love to adopt pets online without the bother of caring for them personally. Under our programme, families or individuals can adopt online pets, track them on our farm via our camera 24/7 and personally visit them at will. To put this idea into practice I
signed up for an online programme in entrepreneurship development," recalls Anish who teamed with his classmate Haashir to self-design and launch virtudopt.com with a total investment of Rs.2,000.
Five months on, several people have signed up for the pet adoption scheme. "Business is good and we are now drawing up a marketing strategy to scale our operations," says Haashir.
With the gradual retreat of socialism and public disgust with licence-permit-quota raj which has bred corruption and rock-bottom productivity in Indian society, parents are increasingly eulogising entrepreneurship skills and aptitudes during dinner table conversations. Over the past decade, the lightning speed growth of new millennium companies in IT and IT-enabled technologies has created a new genre of unicorn entrepreneurs and an unprecedented start-up culture. Moreover, there's increasing awareness that school and collegiate education needs to move beyond memorisation of knowledge towards developing 21st century skills of collaboration, critical thinking, communication and leadership — crucial for success in the newly-emerged VUCA (volatile, uncertain, complex and ambiguous) world.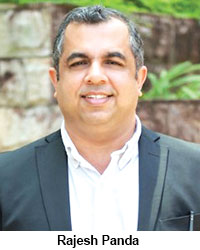 "To succeed in the 21st century, children need to not only accumulate knowledge but learn to apply it creatively and innovatively to solve real-life problems. Entrepreneurship and project-based learning is a great way for adolescents to put knowledge into practice. It develops their creativity, problem-solving and time management skills," says Rajesh Panda, founder-CEO of Corporate Gurukul, a company registered in Singapore with its head office in Bengaluru that offers school and university students experiential learning programmes including corporate internships in partnership with world-class academic and industry partners.
Recently, this company organised a Corporate Global Research Immersion Programme for high school students in India and UAE. Under the programme students worked in teams to promote high social impact projects, under the mentorship and guidance of professors of the National University of Singapore (NUS) and Nanyang Technological University (NTU), Singapore. A students' team from Emerald Heights International School, Indore, won the first prize for ideating and detailing RELASTIC, an online solution advising school and academic communities on ways and means to sharply reduce the usage of plastics and its derivatives and de-pollute their campuses.
Growing awareness that children should be introduced to the intellectual excitement of developing knowledge application and promoting socially beneficial enterprises as early as possible, is also dawning upon educators and progressive school managements. For instance, the top-ranked IB-affiliated Indus International Schools in Bengaluru, Hyderabad and Pune have launched the online Indus Start-up School offering classes IX-XII students the option to sign up for a parallel life entrepreneurship study programme. Since the programme was launched in September, 240 students and 60 teachers have signed up.
"The purpose of education is not to prepare children to pass examinations. To succeed in the VUCA world of the 21st century, children need to learn to continuously reskill and reinvent themselves. I believe it's important for educators to develop skills and mindsets of children to make them ready to launch innovative, problems-solving tart-ups as soon as they leave school. The Indus Start-up School — the first worldwide — offers an online experiential curriculum with students required to commit four-five hours per week to developing their creative thinking and entrepreneurial skills. It's important to note this is not a business school, although it provides students insights into
business entrepreneurship. In its wider perspective, it's a life entrepreneurship programme that equips children with the skills to become lifelong learners, ready to adapt to continuous change, uncertainty, and volatility. We hope that children who take this course will develop the capability to re-skill and reinvent themselves continuously. Moreover, a unique feature of the Indus Start-up School is the involvement of parents as mentors in the development of the life skills of their children," says Gen. Arjun Ray, PVSM, VSM (Retd), chief executive of the Bangalore-based Indus Trust (regstd.2001) which has promoted three top-ranked Indus International schools and seven preschools with an aggregate enrolment of 4,000 students from 33 countries. According to Gen. Ray, next year onwards any school, corporate executive and/or individual above the age of 13 years will be permitted to sign up for the online programmes of the Indus Start-up School.
In this cover story, PW presents advice on how parents can develop the latent creativity and entrepreneurship skills of their children.
Developing entrepreneurship skills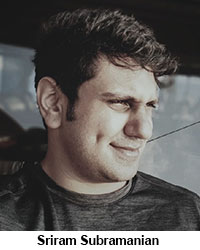 "Entrepreneurial skills are not limited to those who want to start a business. These are skills that every child needs to succeed in life," says Sriram Subramanian, Mumbai-based co-founder & CEO, Clever Harvey, a firm which offers a Junior MBA online programme to teenage children. Subramanian's 10 pointers to nurture entrepreneurial skills of adolescents:
Ringside view opportunity
Work from home is the new norm. Business owners, professionals, artists etc, have converted their homes into satellite offices. This presents an ideal opportunity for teenage children to shadow their parents. By observing their parents' work projects and listening in at e-meetings, teens can get ringside views of businessmen and entrepreneurs in action.
Speak their language and support children's interests
Parents should initiate and encourage conversations on subjects that interest children, especially teens. Recent surveys show that gaming, sports, dining and lifestyle are some high interest subjects of contemporary adolescents. For instance, a discussion on why Nike's latest ad campaign is better than Adidas' can develop their analytical and research skills.
Best time to start a small business
Investment required to convert ideas into businesses is at an all-time low. For example, to start a channel on YouTube all that's needed is a Gmail ID. Parents with professional and business experience are the best teachers. Encourage and mentor children to research and investigate ways and means to start business enterprises, however small. Role play customer interaction, selling, product trials, etc with your children. You may learn about consumer behaviour, yourself.
Understanding consumers
Understanding consumer mindsets is critical for the success of any business. Introduce teens to market research to understand consumer segmentation and principles of orderly decision-making. For instance, if there is a television you wish to upgrade, ask them to lead the process. Ask them to research the market and document the decision-making process resulting in the ultimate purchase.
Pass me that bowl of revenue stream, please…
At the dining table, parents should openly discuss their work day in the office, share problem-solving experiences, detail decision-making and success and failure stories. Encourage children to voice their opinions on the issues discussed. This is a great way to acquaint them with the language of business and decision-making processes.
Enable early financial literacy
Financial literacy is a precondition of success in the current and foreseeable future workplaces. Don't hesitate to disclose bank statements, ledger accounts and invoices to teenage children. Financial literacy and money management is a survival skill which is overlooked by most schools. A good book to introduce children to money management is Rich Dad Poor Dad by Robert Kiyosaki.
Develop growth mindset of children
Children with a growth mindset have a greater chance of success in later life. Encourage children to develop a growth mindsets — the belief that they can develop and grow their inherent natural endowments through personal effort. Change children's mindset from 'I can't do this' to 'I can do it if I make the effort and have the support'. Support and mentor your teen to keep moving forward with confidence.
Preach teamwork & collaboration virtues
Indians have a global reputation as brilliant individuals but poor team players. Invite your child's friends and parents to collaborate with you and your child to work on joint venture projects and business promotion ideas. Adding other opinions and perspectives to the project they initiate will enable children to develop collaboration and teamwork skills. Great enterprises are built by smoothly functional teams not proprietors!
Failure is a signpost to success
Enterprises and initiatives that fail offer valuable learning opportunities. It's important to teach children that it is okay to fail. Tell youngsters that the process/journey, learning and acquiring experience of the pitfalls of doing business is necessary for success in business and industry.
If children do what they love, they become good at it
Encourage children especially teens to pursue their interests and translate ideas into business and marketable projects. Once they develop love of breaking new ground with innovations which make life easier for consumers, they will automatically begin to learn to love what they do, and succeed.
Books to stimulate entrepreneurship
Kid Start-Up: How You Can Become an Entrepreneur
by Mark Cuban, Shaan Patel, Ian McCue
Price: Rs.449 Kindle; Rs.1,183 paperback
Publisher: Matcha360 LLC
"Improve life one cup of lemonade at a time," says this lucidly written book that details the stories of successful young entrepreneurs, and offers simple business ideas for children to begin their entrepreneurial journey. For instance, have you thought of selling unique shoelaces to add value to shoes? Interwoven with business ideas and success stories of business-savvy youngsters, are valuable lessons in hard work, the virtues of persistence and team building.
Kids' Ultimate Guide To Entrepreneurship
by Steven Shears
Kindle version Rs.76
Publisher: 90 Day Legacy Builders
This workbook is a step-by-step business start-up guide for children and parents. It offers blueprints to start your own business including suggestions on how to ideate a business enterprise, how to transform an idea into a product or service, and outlines the fundamentals of marketing products and services.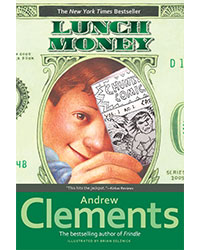 Lunch Money
by Andrew Clements
Price: Rs.165
Publisher: Simon and Schuster
From finding a market to how money changes perspectives, this book, peppered with illustrations, details problems and obstacles that an entrepreneur is likely to encounter. Children will be inspired to go the entrepreneurial way as they follow the entrepreneurial adventures of Greg, a 12-year-old who creates a series of comic books to sell to school children.
6 steps to get your child to action a business idea
Starting and running a business — even if it's during the summer vacation, for a school/college project, or through the year — provides children invaluable life skills experiences and develops their organisation, money management, problem solving and communication capabilities. Drawing on resources from the Internet, Mini P & Cynthia John suggest six steps to get your child started on transforming an idea into a business enterprise.
Brainstorm a business idea. Get your child to maintain an Ideas Book, and jot down all thoughts and business ideas regularly. Also encourage her to brainstorm with like-minded friends or family members for product/service ideas, business names and the like. Ideation is the critical first step towards launching a business project.
Research & product development. Research is the next step towards developing an idea into a product or service. It's also important to solicit project proposal feedback from a small sample of target consumers. Encourage your child to thoroughly research a product or service idea and subsequently create an online survey form inviting consumer feedback.
Goal-setting. It's important to set realistic achievable goals. Ask your child to write out her short-term and long-term goals with every stage timeline, financials, and an action plan. It's also advisable to write out the enterprise's mission statement.
Business plan. What is the end product or service? Who are the potential customers? Who are the people who will help in production, distribution, promotion and product/service delivery? Encourage your child to write a business plan, outlining the entire process from product development to marketing and delivery. This plan should include details of product development, marketing, expenditure and product/service delivery.
Financial management. Help her create a simple Excel sheet to estimate expenditure, revenue and profit/loss and keep track of income and expenditure.
Time management. Advise her to follow a disciplined schedule — juggling school/college, extra-curricular activities and a business requires excellent time management.
Kidpreneur Success Story
Tilak Mehta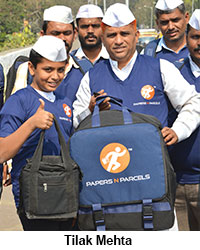 Mumbai's Tilak Mehta (14) is the latest to enter India's elite club of innovative entrepreneurs and undoubtedly the youngest recipient of the Forbes (India) Leadership Award 2018. In July 2018 Tilak successfully launched Papers N Parcels (PNP), an app-based courier service firm utilising the maximum city's globally famous 5,000-strong dabbawallah network which unfailingly delivers over 200,000 lunch tiffins to working professionals everyday.
Using the network of Mumbai Dabbawallah Association, PNP is providing same-day delivery of a variety of papers, documents, flowers and parcels at half the price (Rs.40-180), giving established courier companies a run for their money. Since its launch, PNP has made over 12,000 deliveries to clients including pathology labs, broking houses and shipping agencies.
A class IX student of the city's IB (Geneva)-affiliated Garodia International Centre for Learning, Tilak was inspired and encouraged by his parents — Vishal Mehta, who runs a logistics business, and homemaker mother Kajal. In 2017, he failed to locate a same-day courier service to deliver some school texts he had forgotten at an uncle's house.
"This prompted me to conceptualise my same-day delivery start-up," he recalls.
"The idea to rope in Mumbai's dabbawallahs came to me because they are cost-efficient, reliable, experienced and familiar with the city — parameters which matched my requirements. But even after they came aboard, it took four months to train them in the usage of the app. Presently, 350 dabbawallahs are on call after their tiffin delivery shifts end at 3 p.m," explains Tilak.
Although he is the founder-promoter of PNP, his imminent entry into senior school has compelled him to take a backseat in the company — he can only commit a few hours to office work — and appoint his uncle Ghanshyam Parekh as chief executive of this enterprise.
After completing higher secondary school, Tilak plans to sign up for a bachelor of science degree programme. "Currently, we are designing a business model which can be replicated in other cities," says Tilak.
Way to go!
Nikhil Ramachandran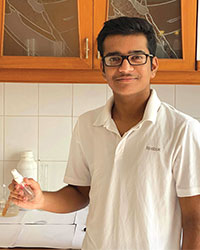 Bangalore-based teenager Nikhil Ramachandran (17) offers a ray of hope in the grim era when the coronavirus outbreak has taken more than 1.3 million lives worldwide. Nikhil claims he has developed an anti-viral inorganic polymer — a complex chemical — that can kill the virus.
Conceptualised and developed at an estimated cost of Rs.4 lakh using nano-technology, the Novial polymer solution can be incorporated into air filters, disposable and nondisposable masks and other fabrics. "The polymer attacks multiple targets such as the spike proteins of the coronavirus that binds the virus to its host cell," says this aspiring chemical engineer.
The elder child of Dr. K.N. Ramachandran, director of Bangalore-based Crescent Polymers Pvt. Ltd, and homemaker Shalini, this class XII student of the top-ranked Canadian International School, Bangalore started researching this project last October. Initially to fight Delhi's annual smog menace, but following outbreak of the Covid-19 pandemic, he switched to taking on the dreaded virus.
"Under the mentorship of our family friend Dr. Roy Varghese, professor of gastroenterology and infectious diseases at Hazard ARH Regional Medical Centre, Kentucky (USA), I developed the solution in my father's chemicals factory and started sending samples to other labs and 15 chemical companies for testing. The final composition of the polymer was tested for anti-viral property in the first week of May at the National Institute of Virology (NIV), Pune. NIV has a good record of saving lives during the SARS and MERS pandemics of 2002 and 2012. In the third week of May, NIV declared that the polymer has been found 99.99 percent effective under lab conditions," reports Nikhil.
Encouraged and supported by his parents, Nikhil has promoted a proprietary firm under the name and style of Novic. "I hope to start production soon at a manufacturing unit in Dabaspet on the outskirts of Bangalore, so the product is available in the market. I have found distributors in India, New Zealand, Australia and Europe for my product which I am confident will save precious lives," says Nikhil.
Wind in your sails!
Also read: