Sprawled over 6 acres in Noida's lush Jaypee Greens Wish Town is Prometheus School (estb.2019), a new-age K-12 school that has rapidly garnered exceptional plaudits from the discerning parents' community of Delhi NCR.
Founded by serial entrepreneur and technology enthusiast Mukesh Sharma, Prometheus School is renowned across the country for its innovative teaching methods and cutting-edge resources that serves well the needs of curious learners and passionate teachers. The only IB Continuum School in the country to offer the Cambridge IGCSE and A-Levels, Prometheus is on a mission to "reimagine learning and provide opportunities to students to explore their passion and highest potential."
Moreover, keeping with its founder's vision of "nurturing Olympians", Prometheus offers an international-standard sports infrastructure and is committed to continuously upgrading its amenities to ensure that its infrastructure is one of the best in the country.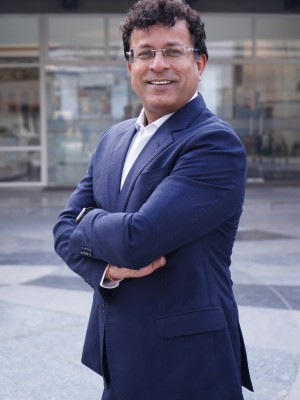 An alumnus of BITS-Pilani and University of Colorado, Boulder, USA, Sharma began his career with DCM Data Systems followed by stints with Quark Inc, Gale Group and Adobe Systems. In 2006, he took the reins of QA Infotech Pvt. Ltd and since then has bootstrapped several companies including Perseverance IT Solutions, Affidabile Solutions (ItsCredible.com) and AITestBanks. In 2019, deciding to leverage his "digital acumen in education with a passion to "reimagine teaching and learning", he established Prometheus School. Sharma joined the Plaksha University as a founder and trustee with like-minded technology entrepreneurs in 2021. Established as a technology and research university, Plaksha aims to "reimagine engineering education, entrepreneurship and innovation".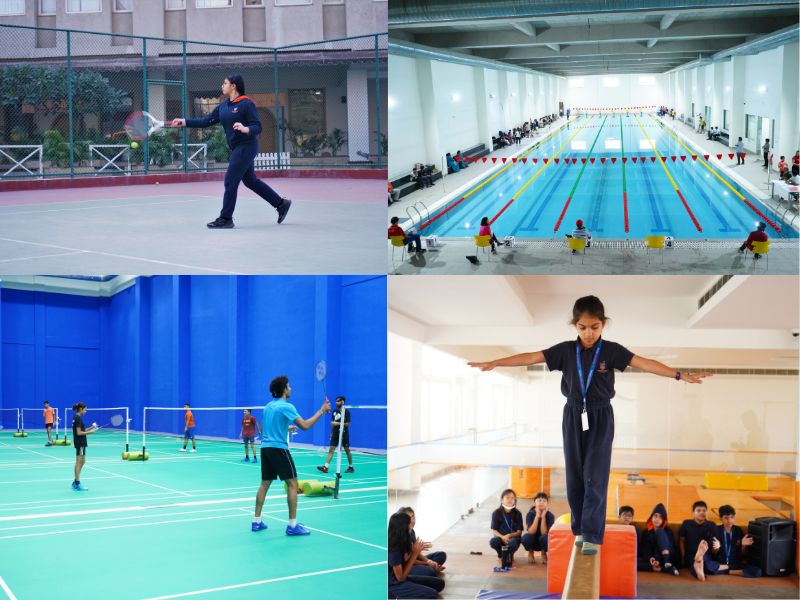 Prometheus students have access to an impressive sports infrastructure that includes a 50-metre indoor all-weather Olympic-sized swimming pool (the first of its kind in India), eight air-conditioned indoor badminton courts, an international standards table tennis hall with 15 table tennis tables, 10 m shooting range, basketball court, tennis and squash court, a horse-riding arena, a 200 m athletic track, and two state-of-the-art gymnastic halls, among other facilities.
"We've built state-of-the-art sports facilities and partnered with leading sports academies to enable our school to nurture future Olympians. We encourage students to participate in a variety of sports as part of their curriculum by not only attaching incentives (tuition fee waiver) and recognition but also by providing highly qualified coaches who inspire the young ones and are committed to assisting them in realising their full potential. I am confident that Prometheus Sports Academies will produce exceptional athletes in the years to come," says Sharma.
Prometheus' three-tiered sports education programme — beginner, intermediate and advanced — designed in partnership with prominent sports academies, provides students with excellent training in several sporting disciplines and enables them to hone their skills on par with national and international standards. For instance, the school has partnered with Equiwings Sports for equestrian sports. Promoted by former national, international, and Olympic players with the expertise of managing world-class sports events and allied services, Equiwings Sports is a pioneer in the Indian equestrian space and has hosted the maximum number of international, Asian & world equestrian championships in India on behalf of the Equestrian Federation of India. Likewise, the school has partnered with Anshul Garg Academy (AGA) for table tennis. With over two decades of expertise, AGA has trained several national and international players from India including twenty Prometheus students. India's rising table-tennis player Archana Kamath, presently ranked world #4, also practices in the school's world-class facilities. Other noteworthy partnerships in sports include Centre of Excellence for Cricket, Positive Sportseed Archery Academy, Tairak Academy (swimming) and Jaypee Golf Academy.
Moreover, Prometheus Sports Academy provides an environment that "nurtures and produces champions" and rigorous training to not only the budding athletes of the school but to all ambitious sports aspirants across India. Additionally, to promote sports as an important facet of education, Prometheus offers free and concessional education to outstanding players of national and international fame.
Deeply grateful for the encouragement she has received from her teachers and the school management, Prometheus' ace shooter Yashica Salvan (Grade 10), who has won several titles in Regional Equestrian League and Haryana Equestrian Sports Association (REL & HESA) events, says, "As a Promethean, I am grateful for my teachers' encouragement, which has helped nurture my passion for sports. Despite my long training hours, the school has been more than understanding, and has helped me manage my classes. Ms. Rashima, our senior principal, Mr Mahesh, our sports director, and Mr Mukesh, our chairperson, all pay extra attention to my efforts and are always proud to acknowledge every accolade I receive."
The school's table-tennis champion Nitya Arora (Grade 7) says, "At Prometheus, my teachers and coaches have supported me immensely. They have provided me with exceptional training and the school infrastructure has enabled me to manage my time comfortably and also pursue my academics and other passions. As a sportsperson, I have inevitably missed a considerable amount of classes due to tournaments and my teachers have been incredibly cooperative and helped me catch up on my academics. I am immensely grateful for the efforts put in by my teachers and coaches to help me perform my best."
Sharma believes that despite India's unparalleled demographic advantage and ample sporting talent, it continues to trail in the international sports arena due to inadequate support from the HNIs, parents and insufficient emphasis on sports education in schools. Therefore, it is imperative for HNIs and the government to invest in Olympic-standard sports infrastructure and for education leaders to reassess and recalibrate sports education programmes in their institutions with a view to nurturing athletes of the highest calibre.
"Schools in India as well as parents are gradually beginning to realise the importance of sports in the holistic development of children, and how vital it is to encourage them to take up sports. This realisation has led to an increased focus on sports education in schools, and most schools are making concerted efforts to upgrade their facilities. There has been a significant rise in the number of sports academies, sports infrastructure companies, and sports equipment companies actively pursuing partnerships with educational institutions. Although I believe that the ecosystem as a whole is making good progress, I think that we have only scratched the surface. A lot more remains to be done."
Prometheus Sports Laurels
Divyaj Roy of (Grade 9 MYP), was the winner in U-15 category, runner-up in U-17 and secured third position in men's category in the South Zone Table Tennis India Ranking Championship 2022.
Divyaj Roy also bagged two Gold and one Silver in First Assam State Table Tennis Ranking 2022.
Yuthika Rajput (Grade 12) qualified for state level in Pre-State Shooting Championship.
Siya Marwah (Grade 9) and Yashica Salvan (Grade 10) qualified for Pre-National Level in State-Level Shooting Championship 2022.
Nitya Arora (Grade 7), was the winner in U-13 category and runner-up in U-15 category Jammu and Kashmir State Table Tennis Tournament.
Also read: Prometheus School: Pioneering affordable international education in Delhi NCR
Campus
,
News