Promoted in 2019 by Mukesh Sharma, a serial entrepreneur and founder-CEO of Noida-based QA Infotech (acquired by the Qualitest Group in 2021), Prometheus School, Noida is a new-genre K-12 institution that has quickly won excellent notices within the discerning parents' community of Delhi NCR. Unsurprisingly, Prometheus School is ranked #2 in Noida and among the top 10 in Delhi NCR (international day schools category) in the EducationWorld India School Rankings 2021-22 .
The only IB Continuum School in the country to offer the Cambridge IGCSE and A-Levels, Prometheus is a frontrunner in technology integrated teaching-learning that endeavours to "create a community of curious, lifelong learners through compassion, collaboration, and creative pursuits to achieve global sustainable goals".
Moreover, driven by the belief that a competent faculty team is indispensable to achieving the institutional goals, the school management continually invests in teacher welfare and development. 40 percent of the school's teachers are IB examiners while 20 percent are senior examiners/principal examiners and several of them are also certified by the Bangalore-based Centre for Teacher Accreditation (CENTA) that aims to make teaching a more aspirational profession and catalyses teacher professional development through a certification.
"The school was established with a mission to RE-imagine learning and make holistic 21st century education accessible to the burgeoning middle-class of Delhi-NCR's satellite township. Our broader mission is to provide exposure and opportunities to the students that were only available only to the affluent in this country. Despite the Covid-19 pandemic having prompted us to shift our teaching-learning processes online within six months of admitting our first batch, we got off to a good start because of excellent word-of-mouth publicity received from satisfied parents and students. The switch to online learning was quick and seamless because Prometheus was conceptualised from the start as a tech-savvy school that provides engaging learning experiences rooted in inquiry-based and experiential learning pedagogies," says Mukesh Sharma, chairman, Prometheus School.
An alumnus of BITS-Pilani and University of Colorado, Boulder, USA, Sharma began his career with DCM Data Systems followed by stints with IBM Corporation, Quark Inc, Gale Group and Adobe Systems. In 2003, he went solo with the promotion of QA Infotech Pvt. Ltd and since then has bootstrapped several companies including QAIT DevLabs, Perseverance IT Solutions, Affidabile Solutions and WeBuildLearning.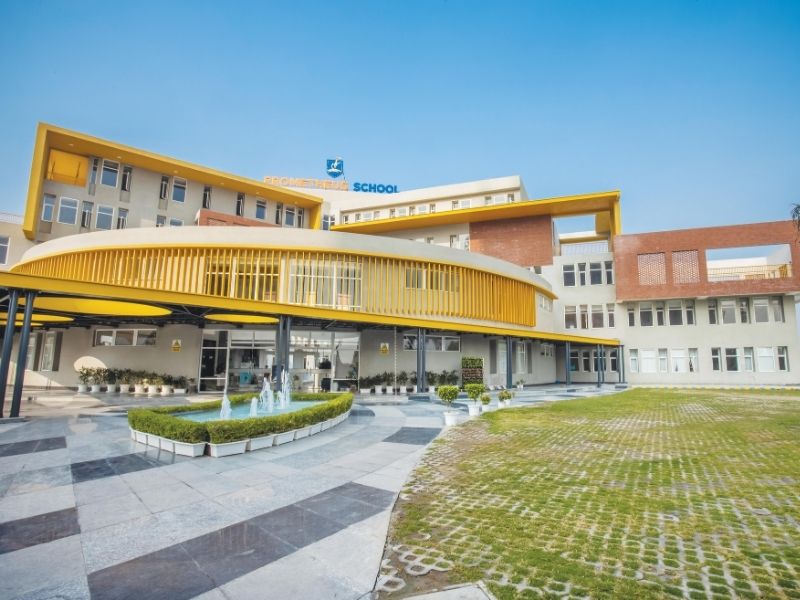 Infrastructure crafted to enable holistic 21st century education
Prometheus School's 7.2-acre campus hosts state-of-the-art infrastructure for indoor and outdoor sports including soccer, basketball, tennis, swimming, badminton, table tennis, gymnastics, golf, shooting, cricket, horse riding, etc. Exclusively designed studios for art, music, dance and drama help nurture students' artistic talents and creativity. Moreover, partnerships with reputed sports academies such as Anshul Garg Academy (table-tennis) and Equiwings (equestrian) ensure provision of professional standard training in these sporting disciplines to students.
The co-ed day school's ultra-modern four-storeyed main building houses 95 ICT-enabled classrooms, STEM labs, spacious and well-equipped auditorium, studios for performing and visual arts, separate well-stocked libraries for junior and senior schools, a medical room, dining halls and impressive facilities for sports & co-curricular education. EntrepreNOW — a club for aspiring entrepreneurs — helps nurture the entrepreneurial spirit of young adults.
Prometheus also offers an OTT platform for recorded classes across grades with interactive features to clear doubts. It enables students to virtually access a particular class or a specific topic of any date in the past. The school has its own social networking app called Prometheus Connect to allow students to showcase their talent which allows effective exchange between the parents, teachers and the students. Moreover, the school releases all certificates on a blockchain powered platform called ValidateMe.Online which are verifiable and valid for a lifetime.
"Prometheus has already crossed several enviable milestones during the last three years of its operation, including but not limited to becoming an IB Continuum School in record time. Besides world class infrastructure, we have a very committed and passionate team of educators and administrators who believe in the vision of making Prometheus a preferred school not only within Delhi NCR but also globally. To reiterate our commitment to continue providing world class education, we have added new learning studios to our infrastructure. We aspire to nurture the sporting and artistic talents and academic potential of our students," says Sharma.
Adapting to the Covid-19 pandemic
With the Covid-19 pandemic prompting the mass closure of educational institutions just six months after Prometheus admitted its first batch of students, the school management stepped up swiftly to deal with the unprecedented challenges. Leveraging its expertise in IT integrated teaching-learning, the school quickly switched to online learning in March 2020 in the wake of the countrywide lockdown announced by the Central government. Having provided high-quality online learning to its students throughout the pandemic, PSN resumed in-person classes in February 2022 in a graded manner.
"Prometheus was conceptualised as a tech-savvy school to provide engaging learning experiences rooted in inquiry-based and experiential learning pedagogies. Therefore, switching to online learning just six months after we admitted our first batch, did not pose much of a challenge. Now, with schools across the country resuming in-person classes, we have renewed our efforts to empower our students to bloom into technologically adept, intellectually equipped, caring young people capable of fulfilling their dreams and aspirations in academia, diverse professions, and business," says Mukesh Sharma.
Looking ahead, Sharma foresees a great leap forward of public — especially middle class — interest in high quality globally benchmarked K-12 education at relatively affordable price points.
"The pandemic lockdown has generated great awareness about the value of blended online and in-person education of the type we offer in Prometheus School. By ensuring holistic student development through the provision of globally comparable and affordable IB education and enabling infrastructure, I believe Prometheus School has a very bright future and can prove to be a gamechanger in K-12 education. This is evidenced by the excellent response we have received from parents and students even in this disruptive pandemic era. We are confident that we will not only meet the expectations of our students and parents, but exceed them".
Also read
Eduleader Speaks: Mukesh Sharma, Director, Prometheus School, Noida
Students' Corner: Isha Chauhan, Prometheus School, Noida
no images were found
Campus
,
News