Students have been put to severe test during the Covid 19 pandemic with the shutting down of schools, reopening, online classes and learning gaps. Although teachers, parent organisations and school managements have voiced out opinions, students themselves never got an opportunity to come to the forefront and talk about their woes or likings.
In an all-new series titled Students' Corner, which puts special emphasis on children and their views, EducationWorld interviews Isha Chauhan, Head Girl, Prometheus School, Noida.
Presently, is your school running offline?
A. After conducting offline classes for the first semester, our school is presently conducting classes online since the second term started, with effect from January 12 2022. As the student council head, I am happy to share that our school continues to follow covid protocols by regular sanitisation of the premises. Our school has conducted a free vaccination camp for 15–18-year-old children of the community, ensuring government norms are followed when schools are allowed to operate offline.
Q. What is the general preference amongst students? (Regarding attending school and re-shutting of schools amidst the new surge of Covid cases)
A. I believe after more than two years of online classes, the student community misses learning at school with friends and in-person conversations with teachers, as it enhances learning. However, students and their families respect the government's decision to conduct online classes to ensure the safety of everyone involved.
Q The Students council representative is one of the most coveted positions in schools. How are you carrying out your responsibilities online and amidst the virtual classes? How is it different compared to the pre-covid times?
A. Amidst virtual classes, it is important to create an atmosphere of learning while being at home. For that, our council is planning to conduct online sessions on web accessibility and cyber security by calling experts in those areas to share their views. I believe that it is essential to educate students about the importance of these two aspects of the digital world.
I chair the student council virtual meetings to create the action plan for the upcoming month with the other members. We as a council also meet with our principal once a month on the same platform to discuss the agendas and how to execute them. It is certainly different from offline schooling as offline events are more interactive and tend to have more enthusiastic participation from the student body.
Q.Going by reports, even after re-opening few students are attending in-person classes. What has the response been like in your school? Is online learning a preferred choice?
A. Fortunately, in my school, almost every student attended classes offline. The response has been amazing as students were able to experience the school ambience after being devoid of it for so long. It was especially essential for high school students as it is important to focus and build their knowledge and understanding of core subjects. Moreover, in person teacher interaction and peer communication is essential for a student's growth, and thus offline learning is the preferred choice. However, whenever required, the student community is also accustomed and comfortable with offline learning. These are uncertain times and we need to remain flexible and open-minded.
Q.Since there has been little time for revision of the previous year's syllabus and the pandemic has caused disruptions in continued education, how do you think the learning gap can be bridged?
A. The learning gap can be bridged if we students take more responsibility of our learning. The student community needs to be independent, disciplined, and self-driven. We need to interact more in class and with our web cameras on. Also, it is important to initiate conversations rather than wait for the teacher, as interactive online classes help in growth and understanding of new concepts and build upon old topics. Students should stay inquisitive and clear doubts rather than leave them for later. The teachers can ensure the students are not getting overwhelmed with assignments, and keep their learning enthusiasm unfazed.
Q.According to you, what is more viable at this stage? Is it returning to physical classes or a continuation of the online ones?
A. For another few weeks, online school is more feasible keeping in mind the safety of the students as well as the teachers. Physical school can start in steps for 11-12 grade soon as most in this age range will be fully vaccinated, and also the experts are saying that Omicron peak might occur by early to mid-February and start its downward trend. In addition, the flu season will be over by February end.
Q.How has the journey been from March 2020? What changes did you/your friends had to incorporate to continue the pandemic?
A. It has certainly been a journey full of uncertainty and surprises, however, am I grateful to family, friends and teachers, who have helped me get through this time. The worst time was the Delta variant when some of my friends called crying and shared about how they lost their family members. We used to call regularly and encourage each other to stay strong, stay at home and not go outside at all for sports or other activities. One change was to do more home chores like dishwashing, cooking preparation, when external help was not available. Also, I volunteered for a 24*7 covid helpline in India called Covi help, where I would interact with people who needed blood donations and immediate care due to covid and provide them with the list of hospitals or people they could rush to receive immediate attention. I devoted my free time to music which I always enjoyed and got to learn to play the guitar along with working on my vocals.
Initially, it took time to get used to online classes and I had to put in extra effort to get proficient in giving exams online.
Overall, there were many changes that my friends and I had to get accustomed to, however, I am grateful that we stuck together and helped each other throughout.
Q. How were your practical classes (lab sessions) managed during the pandemic?
A. In online classes, teachers made us watch interactive simulations of the experiments available on multiple websites. We also watched the experiments on YouTube, and whenever possible,
our teachers told us to perform a small-scale version of the experiment provided we had the apparatus and equipment at home. I remember performing the experiment of capillary action at home and for complex practical like titration, I used the simulations.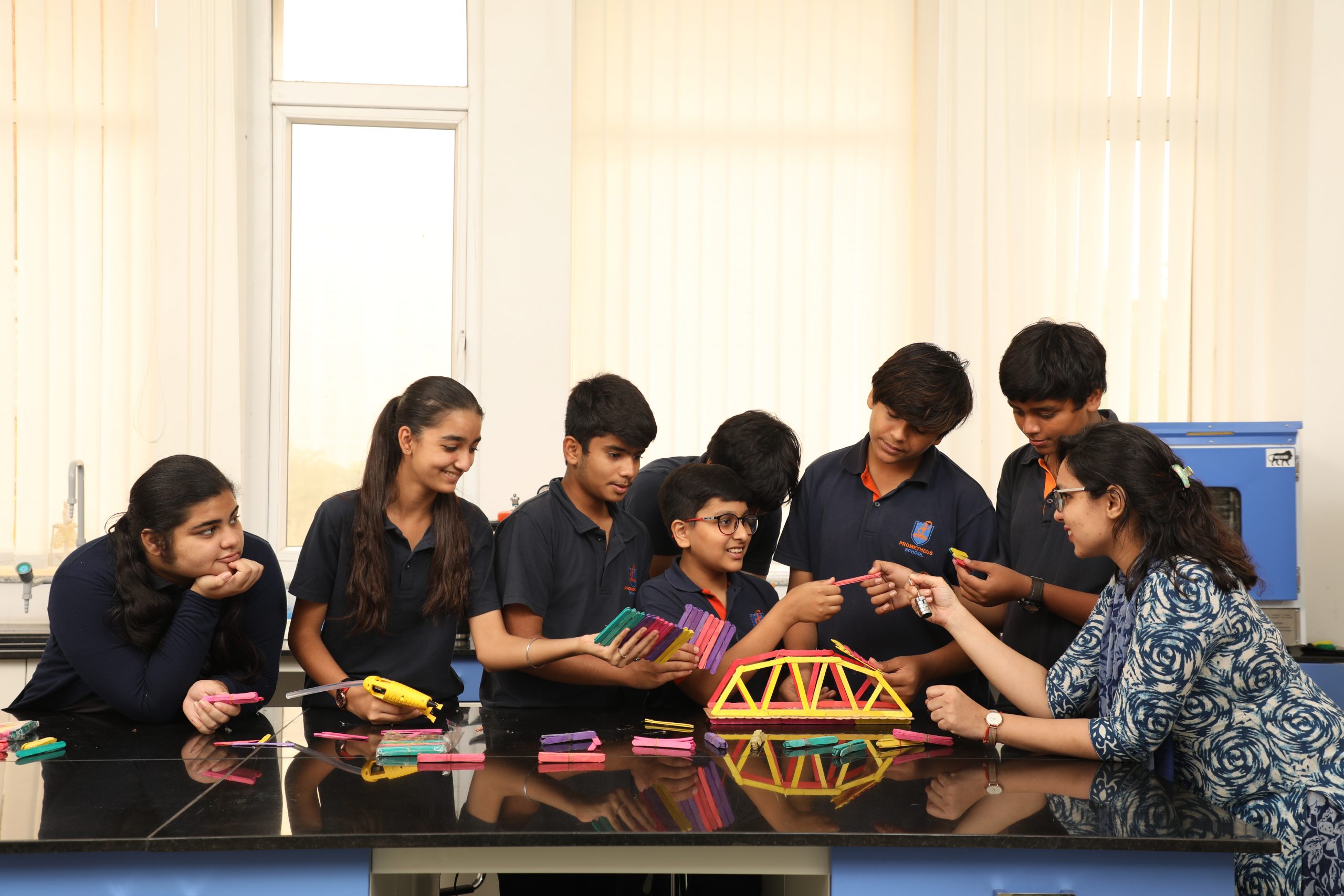 Q. How did you make up for the missing peer interaction? Have you managed to stay connected with your friends?
A. Social media has helped us students to stay connected during the pandemic. My friends and I made sure to contact each other daily. We started a new tradition of having a zoom meeting every Friday and Saturday night where we would talk to each other, watch movies and have dance sequences together. We also celebrate birthdays virtually by sending a collaborative gift or playing games such as Skribbl or Psych. Staying in contact with my peers was and still is very important and I know that this really helped me to overcome the challenges faced in the pandemic.
Q. There have been last-minute changes in exam patterns, evaluation criteria etc. How have you dealt with this?
A. My teachers have been incredibly supportive. Other than explaining the changes in the exam pattern in class, they conducted separate sessions with parents too. They would always be available through email and on multiple occasions, they would also take out time from their day to hold extra classes for us students to discuss our doubts and revise topics. Discussion with friends helped in unfolding certain requirements of the evaluation criteria and the examination pattern. It also helped to stay focused and not get overwhelmed with any last-minute changes.
Q. What does the government need to do to support children during the pandemic as classes have gone online?
A. The government could provide laptops to students who cannot afford them. The internet connection for students attending online classes could be available on a subsidized rate. Also, the government can have optional meditation or yoga classes be part of the online curriculum for all ages. The government should also think about how to decrease screen time and have short breaks between classes.
Q.In the absence of in-person interaction with teachers, how do you keep abreast with the latest career options or higher education prospects available to you currently?
A. Technology has been a massive help in keeping up with the latest career options. My school's career counsellor provides regular links to upcoming college fairs and webinars for university admissions. The school has also started a career counselling class where we directly interact with the counsellor and discuss various career options and universities. I have been in constant touch with my seniors who are applying to various universities across the world. Moreover, I regularly visit websites of universities and colleges to keep abreast with their admission policies.
Q. How did you cope with exam stress? Did you have access to a counsellor who could help you through difficult times?
A. Exam stress is a universal truth and online board exam was an added challenge. Our teachers prepared us well with regular revisions and assignments. We had form tutors to discuss our issues and provide us with good guidance. We also had access to school counsellor with whom I discussed time management and how to manage exam pressure. Additional support from seniors was very helpful. Also, I am lucky to have an elder brother who helped me prepare by giving me additional questions. To take frequent breaks, music helped me to relax and I also watched sitcoms to keep things light.
Q. How are you preparing for competitive exams? Are you attending post-school tutorials online?
A. Post-school, I have been attending biochemistry tutorials on Khan academy as that is the focus area for my higher studies. I have been taking additional courses for topics that would help me in my summer internship research such as advance statistics which is hosted by Coursera.
Q. Have you understood the National Education Policy 2020's takeaways? What is your take on it?
A. My take on the National Education Policy 2020 is that it is about holistic development. It enables a student to learn a concept, and then how to apply that concept into real life problems in an interdisciplinary manner. The learning is not limited to a particular subject, but the application of that concept in different subjects as well. Rather than focusing on just theoretical knowledge, it is more skill based. It also emphasizes to inculcate learnings right from the early stages of education, and focuses on letting a student learn more in an area which they are interested in. Many other factors such as Inclusivity and empathy are also mentioned in the policy which I believe is especially important for student's growth. To conclude, I think that the National Education Policy 2020's takeaways resonate with the IB learner profile attributes.
Also Read: