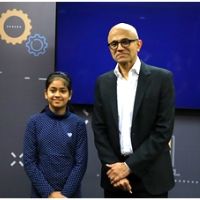 Namya Joshi, a seventh grade student from Sat Paul Mittal School, Ludhiana has conducted several Skype sessions with students as well as teachers to initiate the usage of Minecraft classroom. She believes that Minecraft is a great alternative "if children do not like reading books."
Namya has been training teachers to use Minecraft for interactive learning sessions in classroom. She met Microsoft CEO Satya Nadella on stage at the 'Young Innovators' Summit in the capital and left the top executive of the Indian-origin highly impressed.
While addressing the gathering, Nadella said, "We need to reformulate the relationship between technology and learning. It is very interesting to witness the way young innovators think today."
Over 250 students and educators participated in the "Young Innovators' Submit" held at Delhi. Talking about the summit Nadella said, "What excited and inspired me from my meeting with students was the quality of their ideas, the scope of their ambition, deep passion and deep empathy turning into action."
Bhupinder Gogia, Principal, Sat Paul Mittal School, applauded Namya Joshi for her outstanding efforts to make teaching learning process more relevant for the youngsters and wished her a great success.
Also read: Sat Paul Mittal student Akshat Gupta's research paper gets published
Campus
,
News