Early Childhood Care and Education (ECCE) is gaining prominence among education fraternity across India, especially in light of the emphasis on foundational learning in the National Education Policy (NEP) 2020. Over and above the NTT diplomas, the aspiring and in-service pre-primary teachers are now yearning for specific knowledge and skills that can make them more proficient and help them gain the professional edge as ECCE educators.
Saamarthya Teachers Training Academy of Research (STTAR), a premier academy for developing new-age pedagogical competencies in teachers, has identified a few key topics and areas that need special attention and has curated them in a one-of-its-kind certificate programme on Early Childhood Care and Education as envisioned in NEP 2020. Being conducted in collaboration with Early Childhood Association (India), the online programme will be held from November 10 to November 13, 2022, and will feature some of the best ECCE trainers, including Dr Swati Popat Vats, Ms Saswati Nanda Satpathy, Ms Carole Paul and Ms Poonam Kochitty.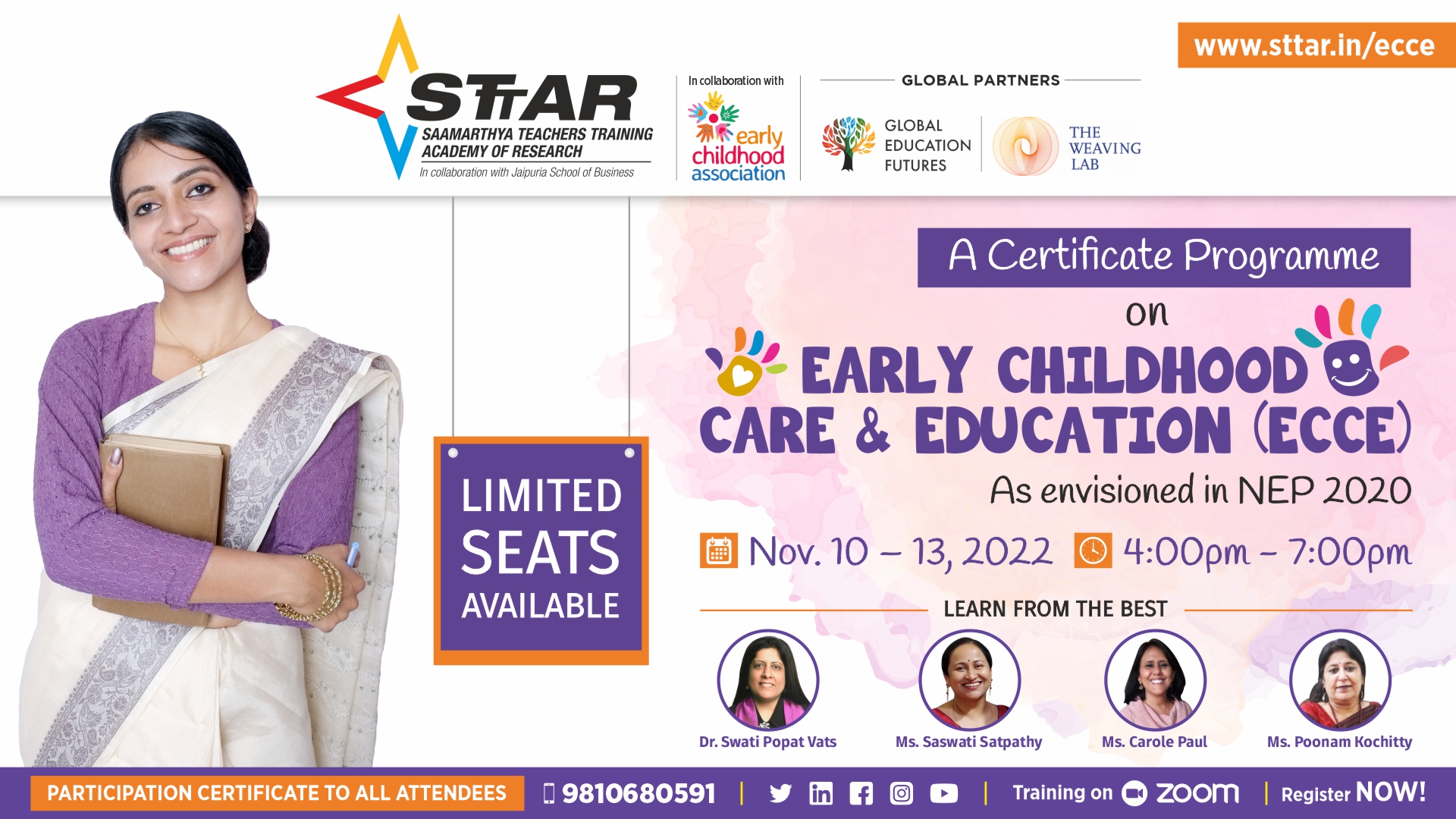 To see the complete programme structure and to register, you may visit: https://sttar.in/ecce/
THE PROGRAMME SESSIONS
Leveraging academic research and expert advice, STTAR has chosen most pertinent topics for sessions and workshops to cover all essential and important elements of ECCE. These sessions are:
Importance of Foundational Learning: To be helmed by Swati Popat Vats, this session will be a comprehensive overview of Early Childhood Care and Education. It will touch upon ECCE components such as foundational literacy, numeracy, cognitive development, gross and fine motor skills, and socio-emotional development of children.
Child Psychology and Parenting: This session will help you know and understand the triggers that influence a child's behavior and shape personality in the formative years. It will enable participants to understand a child's psychological, emotional and social needs and also learn the strategies that may be leveraged to bring harmony in the child's growth into adolescence.
Phonics (Level 1 and Level 2): The session presents structured and systematic methodology of mastering the alphabetic code for raising early readers. This is an intensive workshop with optimum coverage to theory and practical teaching of International Synthetic Phonics techniques.
Storytelling (Level 1 and Level 2): The participants will learn how to incorporate storytelling in classrooms to explain complex concepts to young learners in an engaging manner. They will understand the key elements of narration – voice, tone, language, modulation and pace – and know different styles of storytelling by using props, puppets, music and movement.
Developing Critical Thinking Curriculum: The session focuses on the pre-requisites for optimal growth in the early years. Participants will learn the importance of a conducive preschool environment, loving interactions, and exposure to language, numbers, shapes and colours. They will also get to know the strategies to trigger critical thinking through integration of subjects in the curriculum.
WHO WILL BENEFIT MOST FROM THIS PROGRAMME
The programme has been designed to make ECCE competencies highly accessible to in-service teachers and aspirants alike. It is highly recommended to aspiring pre-primary teachers with minimum 10+2 qualification and those who are already teaching foundational learning and want to upskill. Each participant will get a STTAR Certificate, in collaboration with Early Childhood Association, and STTAR's global partners Global Education Futures and The Weaving Lab.
A great prospect to excel as an ECCE educator.
For further enquiry, call: 981068059
Also read: Be an effective pre-primary teacher with STTAR certificate programme on ECCE