Against the depressing backdrop of privately promoted schools overwhelmingly preferred by the middle class including low income households, being persecuted countrywide, a positive development is the growth of private chain schools – Dilip Thakore & Summiya Yasmeen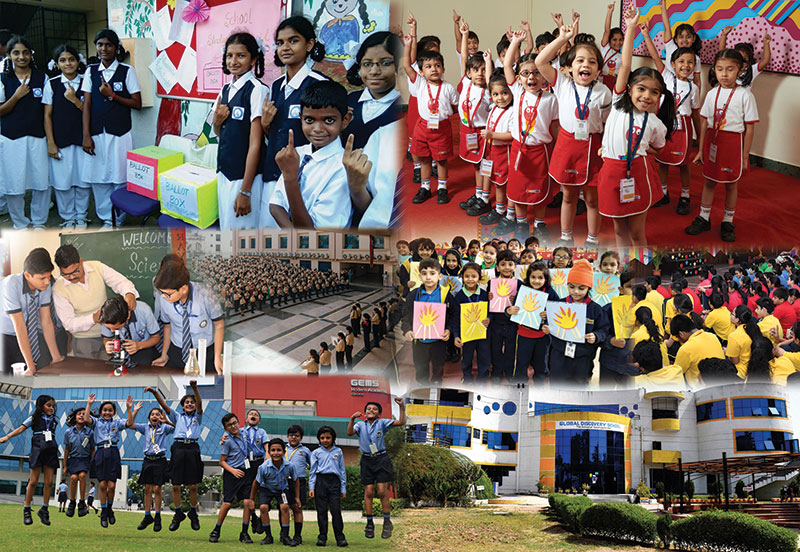 Despite the overwhelming majority of post-independence India's 300 million-strong middle class availing privately provided English-medium school education, its attitude towards private initiatives in education is schizophrenic. On the one hand, upwardly mobile middle class households vote en masse for private education — especially pre-primary-class XII education — with their feet and wallets. On the other hand, the bourgeoisie's addiction to unmerited subsidies — in effect a transfer of resources from the poor to the relatively rich — readily dispensed by India's profligate politicians and the neta-babu brotherhood which has dominated and crippled the national development effort — makes this relatively flourishing class resentful about paying the market price of good quality education. Although few middle class households choose to send their children to government schools even though they provide free-of-charge education, they are readily in the vanguard of protests against private schools raising their rising tuition fees. They want — demand — first world private education at third world prices.
This sustained demand of the country's powerful and influential middle class for private education at rock-bottom prices has prompted almost all state governments to enact legislation to cap school fees, particularly annual fee hikes that are inevitable within an economy in which double-digit inflation is normative. Largely ignorant of the reality that private education in contemporary India is cheaper than in any other country worldwide, the Indian bourgeoisie has persuaded Parliament, state governments and even the learned judges of the upper judiciary to enact and uphold legislation which severely circumscribes the fundamental right of private citizens to engage in the business of education provision at all levels.
Indeed since the 1970s when the country's hyper-socialist prime minister Indira Gandhi packed the Supreme Court with ideologically "committed" judges, in numerous convoluted judgements, the apex court has ruled that privately provided school and higher education is necessarily a philanthropic activity and has repeatedly deplored the "commercialisation of education", a phrase that's become the mantra of populist politicians, the establishment, business-illiterate academics, and jholawalas who dominate the national development discourse. The logic of education being permitted as a legitimate business activity on a par with provision of food, shelter and clothing, has eluded — and continues to elude — the establishment, including learned justices of free India's much-acclaimed independent judiciary.
In the historic Union budget of July 1991, the Indian economy was substantially liberalised and deregulated. And in 2002 in a historic judgement in T.M.A. Pai Foundation vs. Union of India & Ors, delivered by a full 11-judge bench, the Supreme Court (by a thin majority) recognised the fundamental right of all citizens to establish and administer education institutions of their choice as a "vocation". The majority upheld the right of private professional education institutions to devise their own admission processes subject to admitting meritorious students in a fair and transparent manner, and to levy "reasonable" tuition fees to earn investible surpluses (profit) for re-investment in institutional development.
Inevitably, this radical, in the Indian context, judgement of the Supreme Court, was reviewed and diluted. In the Islamic Academy Case (2003), a five-judge bench mandated the establishment of fees fixation committees chaired by retired high court judges in the states to determine whether tuition fees levied by private professional education institutions are reasonable. This judgement opened a Pandora's box prompting most states to enact legislation capping the tuition fees levied by private schools.
Surprisingly, private school fees are most severely controlled in the western seaboard state of Gujarat which has a good reputation for private enterprise, and is the bailiwick of prime minister Narendra Modi. Fees of private primary, secondary and higher secondary schools are capped at Rs.15,000, 25,000 and 30,000 respectively per year. School managements charging more than these absurdly low legislatively prescribed fees have to receive the express consent of a Fees Regulatory Committee (FRC) appointed under the Gujarat Self-Financed Schools (Control of Fees) Act, 2017. And thus far, the FRC has permitted partial revision of a mere eight private schools which filed revision applications with the committee. Inevitably, the Self-Financed Schools Association of Gujarat has filed a writ petition against the arbitrary tuition fee ceilings imposed by the Gujarat government, which is pending adjudication.
In providing high quality English-medium K-12 education, Gujarat has always been a laggard state with most investment flowing into higher education institutions. And just after several globally benchmarked private schools have been established statewide in the new millennium, the state government has ill-advisedly imposed these arbitrary tuition fee ceilings. This has caused great confusion, disruption and frustration within the community of private education providers and is making running of private schools promoted with substantial capital investment unviable," says Kiran Bir Sethi, an alumna of the top-ranked National Institute of Design, Ahmedabad and promoter-director of the Riverside School, Ahmedabad (estb.2001). In the latest EducationWorld India School Rankings 2018-19, Riverside (annual tuition fee: Rs.2.20 lakh) is ranked among the country's Top 10 in the category of international day schools and #1 in Gujarat.
It's important to note that although the tuition fee ceilings imposed by the BJP government of Gujarat are the most arbitrary and draconian, following the judgement of a smaller bench of the apex court in the Islamic Academy Case, almost all state governments have imposed tuition fee ceilings on private schools to curry favour with the country's influential but feeble-minded middle class which foolishly believes it can purchase first world education at third world prices. In the process, the Indian bourgeoisie is complicit with post-independence India's self-serving neta-babu brotherhood which has never accorded great importance to developing the country's high-potential human capital, in levelling down the country's 320,000 private independent schools, the one bright spot in its dystopian education landscape.
Against this backdrop of privately promoted schools overwhelmingly preferred by the country's slowly — perhaps too slowly — expanding middle class and even by low-income households (according to Prof. Geeta Kingdon of the Institute of Education, University College, London, during the period 2010-17, 24.5 million children migrated from government to private schools countrywide) being persecuted, a positive development is the growth of private chain schools. With the advantages of economies of scale, they are unobtrusively dispensing good quality, English-medium K-12 education to the country's aspirational middle class eager to provide superior schooling to their children to enable them to make their way in the fast globalising world of the 21st century. Despite numerous hurdles strewn in their way by venal officials ubiquitous in the education ministries of the states, several determined edupreneurs are converting standalone or small number of K-12 institutions into statewide and even national school chains.
This hitherto untold story of the mushrooming of private chain schools and steady expansion of their footprint is a positive development in the national interest because chain schools with the advantages of distributed overheads, shared teacher training and other resources deliver good quality education at substantially lower prices than standalone or small groups of private schools. As such, they are better positioned to meet rising popular demand for affordably priced English-medium K-12 (as also pre-primary) education.
"The emergence of chain schools is a very welcome development because their brands — as in any consumer product — provide assurance of quality, standardised education. India's IITs are a good example of an education brand which provides the comfort and assurance of world class technical education. Similarly over the past half century, several school chains such as DPS, Ryan Group of Institutions, KVs among others, have also established good reputations for providing high quality primary-secondary education at affordable prices. Some lesser known chains such as the KLE Society, which has promoted numerous higher and professional education institutions in several southern states, have also promoted large numbers of K-12 schools in tier-II and III towns of Karnataka. The KLE Society has established highly valued primary-secondary schools for children of aspirational middle class households who otherwise would have no option but to attend dysfunctional government schools. Such private school chains need appreciation and acclaim," says Dhirendra Mishra, the promoter-director of Life Educare Pvt. Ltd, a Delhi and Raipur-based K-12 education consultancy (estb.2009) which has aided and enabled the establishment of over 40 greenfield schools at capital costs ranging from Rs.5-70 crore across India.
In a climate of hostility towards privately provided goods and services created by the ideologically confused Congress party and the Nehru-Gandhi dynasty which ruled over post-independence India for over half a century, this is a minority opinion. Despite the fact that the country's acquisitive and flourishing middle class has almost entirely been educated in private schools, especially in chain schools promoted by Christian missionaries and later by K-12 institutions such as the Ryan International Group, Narayana Group (Telangana/Andhra), Vellamal (Tamil Nadu) and DPS (Delhi), there's little appreciation of the huge role they have played in building India's middle class which is powering — albeit sub-optimally — the wheels and engines of the trudging Indian economy. On the contrary, it is quite the fashion in politics, academy and even the media dominated by shallow intellectuals and jholawalas to vilify private initiatives in education for "commercialisation" while doing precious little to improve dysfunctional government schools.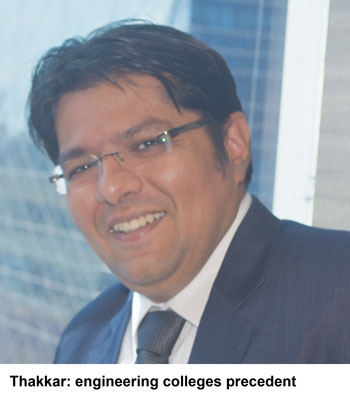 However, unlike political pundits who to demonstrate intellectual variety often superficially comment on education issues, education consultants who specialise in the subject are aware of the massive — and unsung — contribution private chain school promoters have made to post-independence India's national development effort, and expansion of the middle class in particular. According to Atul Thakkar, vice president, investment banking and head of education practice at the Mumbai-based Anand Rathi Financial Services, with the country's birth rate levelling off even as the number of private schools keeps multiplying, the demand-supply gap for private school education is set to reverse.
"Therefore in the near future it will become increasingly difficult for standalone, high-priced private schools with their high overheads and admin costs to survive. The private school sector is likely to suffer the fate of standalone private engineering colleges which are closing down by the dozen across the country. On the other hand, privately promoted school chains with the advantage of distributed overheads, shared teacher training and admin costs, which enable them to offer standardised education at affordable price, are likely to flourish. It's also important to bear in mind that in chain schools teaching-learning innovations can originate in any school and they are better equipped to establish R&D facilities," says Thakkar.
Although our ideologically confused academics, media pundits and even the middle class — their prime beneficiaries — are loath to acknowledge the huge contribution made by branded chain schools to the national development effort, your editors entertain no such prejudice. In the pages following, we profile some of the country's major school chains which in a commendable spirit of enlightened self-interest have made — and continue to make — significant contribution to the national socio-economic development effort, and steady expansion of India's relatively productive middle class.
Narayana Educational Institutions, Hyderabad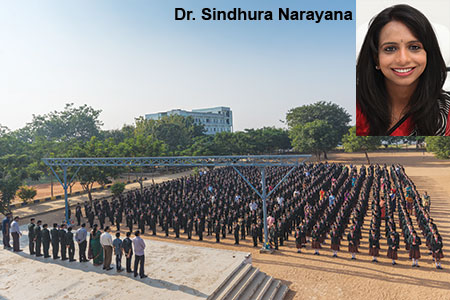 In 1979, Dr. P. Narayana, a science postgrad with a Ph D in statistics awarded by Sri Venkateshwara University, Tirupati, began informally coaching students in mathematics at his home in Nellore (Andhra Pradesh). Since then, the Hyderabad-based Narayana Educational Institutions (NEI) has evolved into peninsular India's largest K-12 education chain with 325 CBSE-affiliated schools and 300 junior (Plus Two) colleges with a student strength of 420,000, 21,000 teachers and 19,000 non-academic staff on their muster rolls.
"The notable feature of Narayana schools and junior colleges is that we offer outcomes and career-oriented education. All our institutions provide integrated curriculums and remedial education if necessary, to prepare children for school-leaving board exams as well as national engineering and medical college entrance tests. Academics is complemented by sports and life skills education to provide students a broad-based, well-rounded education. It's this combination that has enabled NEI to steadily evolve into India's fastest growing schools chain with over 300 schools and 200,000 students across 15 states added during the past seven years," says Dr. Sindhura Narayana, an alumna of NTR University of Health Sciences, Vijayawada and managing director of the Narayana Group.
With NEI's sound reputation established and demand exceeding supply for high-quality career-oriented K-12 education, the management is now set to respond by promoting NEI schools in north and eastern India.
Facts File
Established: 1979
Number of schools: 325 K-12 schools; 300 junior colleges
Affiliation: CBSE/state boards
Aggregate enrolment: 420,000 students
Faculty: 21,000
Geographical spread: 52 cities, 15 states
Tuition fees (per year): Rs.40,000-100,000
Ryan International Group of Institutions, Mumbai
Promoted in 1976 by Dr. Augustine & Mrs. Grace Pinto with modest beginnings in Mumbai, the Ryan International Group of Institutions (RIGI) has blossomed into one of India's largest school chains and most respected brands in K-12 education. Comprising 137 schools with an aggregate enrollment of over 270,000 students mentored by 17,000 teachers, RIGI schools are operational in 40 cities countrywide. Many of its 500,000 alumni have risen to top positions in business and industry and have created millions of jobs within the Indian economy.
RIGI's unique contribution to the growth and development of the Indian economy is its pioneering efforts to establish quality English-medium schools beyond metropolitan India in tier-II, III and IV cities. "We believe that in the interests of balanced growth of the Indian economy high-quality English-medium education should be available to children in tier-II/III cities as well as small town India. That's why you will find well-equipped Ryan schools in small towns such as Jalna in Maharashtra, Dhamtari in Chhattisgarh, and Shahjahanpur in Uttar Pradesh. We believe that children of aspirational middle class households of India's hinterland are as entitled to high quality English-medium K-12 education as children in metropolitan India," says Grace Pinto, promoter-managing director of RIGI. Last year, RIGI was conferred the World's 100 Greatest Brands 2018 award by URS Media & Asia One at the India UAE Business & Social Forum Conference held in Dubai.
Facts File
Established: 1976
Number of schools: 137
Affiliation: CBSE/CISCE/IB/CAIE/state boards
Aggregate enrolment: 270,000
Faculty: 16,000
Geographical spread: 40 cities in 16 states
Tuition fees (per year): Rs.20,000-91,000
Podar Education Network, Mumbai
Mahatma Gandhi was the first president of the Podar Group of Schools established in 1927 by the late Seth Anandilal Podar. Over the past 91 years, the trust has promoted and established 124 primary-secondary schools, 350 pre-primaries, a state board-affiliated junior college, the Podar World College affiliated with the University of London and University of Wolverhampton (UK), and a teacher training college affiliated with Cambridge International (UK). The group's IB/Cambridge-affiliated Podar International School, Santacruz, Mumbai headed by its celebrity principal Dr. Vandana Lulla is ranked #6 countrywide in the EW India School Rankings 2018-19 in the category of international day schools.
Looking back at the steady and continuous development of the Podar Education Network (PEN) into an education services conglomerate which is a household name in pre-primary and K-12 education, Dr. Pavan Podar, chairman of PEN, is "proud" of the group's contribution to Indian education. "The success of Podar education institutions is due to our well-trained teachers who are acquainted with the latest digital technologies and the contemporary education we offer, which prepares children to meet the challenges of changing times," says Podar.
Facts File
Established: 1927
Number of schools: 124 + 350 preschools
Affiliation: CBSE/CISCE/IB/state board/Cambridge International
Aggregate enrolment: 150,000
Faculty: 6,800
Geographical spread: 9 states
Vidya Bharati Schools, Lucknow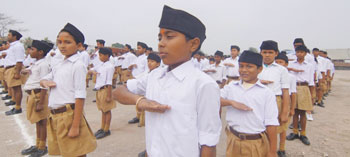 Promoted by the Vidya Bharati Akhil Bharatiya Shiksha Sansthan, an education NGO registered in 1977 by the Rashtriya Swayamsevak Singh (RSS), a Hindu cultural organisation which is the ideological mentor of the Bharatiya Janata Party (BJP), Vidya Bharati Schools (VBS) with 13,067 schools is India's largest K-12 chain. Famously secretive and media shy, the proclaimed objective of VBS is to "develop a national system of education which would help build a generation of young men and women committed to hindutva and infused with patriotic fervour". Although VBS institutions are affiliated with an eclectic mix of exam boards including CBSE, state boards, NIOS, the standard curriculum is an amalgam of board textbooks supplemented with specially written texts to educate students in the culture and customs of the subcontinent's golden age of Hinduism and the tenets of hindutva. Therefore in addition to board-prescribed subjects, all students compulsorily learn moral education, physical education (martial arts), music, Sanskrit and Vedic maths.
Vidya Bharati schools trace their origin to the Saraswati Shishu Mandir School established in Gorakhpur (Uttar Pradesh) in 1952 by Nanaji Deshmukh, a leader of the Bharatiya Jan Sangh, the political arm of the RSS and precursor of the ruling BJP. Over the next two decades, RSS and its affiliated organisations promoted similar schools "to educate the young generation according to Indian values and culture" in states countrywide. With the number of schools growing rapidly, in 1977 the RSS established the Vidya Bharati Akhil Bharatiya Shiksha Sansthan with its registered office at Lucknow and functional headquarters in Delhi to professionally manage the VBS chain of schools.
Facts File
Established: 1952
Number of schools: 13,067
Aggregate enrolment: 3.4 million
Faculty: 150,190
Affiliation: CBSE/state boards/NIOS
Geographical spread: 29 states
Seth Anandram Jaipuria Schools, Delhi NCR
The first Seth Anandram Jaipuria School (SAJR) was promoted by industrialist-philanthropist Seth Mangturam Jaipuria in Kanpur in 1974. Its mission: providing children modern world-class education anchored in Indian traditions and values. Forty-five years later, the number of SAJR CBSE/CISCE-affiliated K-12 schools has increased to eight with an aggregate enrolment of 20,000-plus students in nine cities of Uttar Pradesh and Uttarakhand. "Our core philosophy is that all education must be rooted in Indian culture and traditions. Therefore, while we have embraced latest pedagogies and digital technologies from around the world, the ethos of our schools is essentially Indian," says Shishir Jaipuria, the Delhi-based managing director of Ginni Filaments Ltd and chairman of the Jaipuria Group of Educational Institutions which also includes four preschools, two B-schools and two colleges.
The group's flagship CISCE-affiliated SAJR, Kanpur is ranked among the Top 5 co-ed day schools of UP and #2 in Kanpur while SAJR, Ghaziabad is ranked #37 in Delhi NCR and #2 in Ghaziabad in the EW India School Rankings 2018-19. Moreover, in the CBSE/CISCE class X and XII board exams held in March, these two SAJR schools created history with eight students ranked among the country's Top 10 in terms of average score.
With the Jaipurias having learned about the needs and aspirations of the world's largest child and youth population during the past almost half century since they ventured into education, Shishir Jaipuria plans to provide the benefits of high-quality English-medium education to a larger number of educationally under-served households in north India. "We intend to roll out much-needed high-quality education institutions in tier-II and III cities of Uttar Pradesh, Punjab, Haryana, Madhya Pradesh and Rajasthan. The target is 50 schools through the franchise model by end 2025, and 20 new preschools under our Little One brand. We have budgeted Rs.600 crore for this purpose," says Jaipuria.
Facts File
Established: 1974
Number of schools: 8+4 preschools
Affiliation: CBSE/CISCE
Aggregate enrolment: 20,000
Geographical spread: 9 cities
Billabong High International Schools, Mumbai
The first Billabong High International School (BHIS) was promoted in 2000 in Mumbai by Lina Ashar, an early childhood education leader and founder of the Kangaroo Kids chain of preschools (estb.1993). After establishing Kangaroo Kids as India's premium brand in early childcare and education over a period of 26 years, in 2017 the Kangaroo Kids and BHIS group of institutions were taken over by EuroKids International, which has a network of 1,000-plus owned and franchised preschools countrywide.
Since then, the BHIS group has metamorphosed into one of India's most respected schools chain with 30 owned and franchised K-12 institutions and aggregate enrolment of 20,000 students across the country. In 2016, BHIS was conferred the Best School Brand award of the Economic Times.
"Our prime objective is to design engaging curriculums which make learning a joyful experience for children. Based as it is on contemporary cutting-edge research in neurosciences, our curriculum is designed to enable students to learn by understanding, rather than rote. Moreover, we take special care to go beyond academics and integrate sports and performing arts into our curriculum. Thirdly, we pride ourselves on delivering integrated multi-disciplinary education to develop our students' creativity, critical thinking and application skills," says Seshasai KVS, an alum of BITS-Mesra and IIM-Bangalore, and former CEO of Zee Learn who was appointed chief executive of Kangaroo Kids Education Ltd in 2017.
Seshasai has set a target of promoting 10-12 company owned schools during the next two years while continuing to provide curriculum and continuous teacher training support to franchised schools.
Facts File
Established: 2000
Number of schools: 30
Aggregate enrolment: 20,000
Affiliation: CISCE/CBSE/Cambridge International
Geographical spread: 21 cities
Tuition fees (per year): Rs.80,000-100,000
Kalorex Group, Ahmedabad
In 1996, the Ahmedabad-based Calorx Foundation (regstd.1995) established Gujarat's first Delhi Public School (DPS) franchisee school in Bopal, a suburb of western India's premier textiles manufacturing city. Since then, the number of education institutions under the Kalorex Group umbrella has grown to over 40 in 14 cities of Gujarat, Rajasthan, Karnataka and Tamil Nadu. They include: two CBSE-affiliated DPS schools, the IB-affiliated Calorx Olive International School, Ahmedabad and five CBSE Calorx Public Schools in Ahmedabad, Rajula, Mundra, Bharuch (Gujarat) and Jaipur (Rajasthan). Moreover, the group also includes 30-plus preschools. All told Kalorex institutions — a mix of foundation-owned and managed schools and preschools — have an aggregate 12,000 students mentored by 1,300 teachers on their muster rolls. In the latest EducationWorld India School Rankings 2018-19, DPS, Bopal is ranked #4 in Ahmedabad and several Kalorex preschools are ranked among Gujarat's Top 20 in the EW India Preschool Rankings 2018-19.
"The Kalorex mission is to provide excellent K-12 education at all price points to children of varying learning needs. In all our schools, we work hard at preparing students to succeed at the national and international levels. We believe this is possible because of the intensive and continuous training we provide our teachers in new pedagogies such as flipped and blended learning through modern digital technologies," says Dr. Manjula Pooja Shroff, an alumna of Utkal University, London School of Economics and IIM-Ahmedabad and the CEO and managing director of the Kalorex Group.
Twenty-five years after the Calorx Foundation inaugurated its first school in Ahmedabad, Dr. Shroff believes she has fully understood the type of schooling 21st century India's children need. "Over the next decade the footprint of the Kalorex Group will be established in 100 cities countrywide," she predicts.
Facts File
Established: 1995
Number of schools: 8+32 preschools
Affiliation: CBSE/IB/state board
Aggregate enrolment: 12,000-plus
Faculty: 1,300
Geographical spread: 14 cities in 4 states
VIBGYOR Group, Mumbai
An engineering graduate of the highly ranked Manipal Institute of Technology, Udupi, Rustom P. Kerawalla, who had promoted several successful entrepreneurial ventures in the hospitality and financial service businesses, decided to focus his energies on developing India's abundant but severely neglected human capital resource. In 2004, he promoted his first CISCE-affiliated VIBGYOR School in Goregaon in suburban Mumbai. Since then, Kerawalla has nurtured the VIBGYOR Group into one of India's fastest growing proprietorial schools chain with 33 K-12 schools affiliated with the Delhi-based CISCE/CBSE exam boards and Cambridge International (UK) with an aggregate enrolment of 48,000 students mentored by 6,000 teachers in nine cities including Pune, Vadodara, Surat, Bangalore and Lucknow. Unsurprisingly, VIBGYOR schools enjoy excellent reputation and are top-ranked in their cities in the EW India School Rankings 2018-19. For instance VIBGYOR High School, NIBM Road, Pune, is ranked #5 in the city and VIBGYOR High, Padra Road is ranked #4 in Vadodara.
"I believe that the future of India will be determined by the speed at which we develop our human resource and reap the advantage of hosting the world's largest child and youth population. Fifteen years after I quit industry in favour of education, I am satisfied that I made the right decision. Currently, VIBGYOR schools in four states are setting new benchmarks for quality education. Our distinguishing feature is that all VIBGYOR schools provide students our unique integrated curriculum designed to provide a balanced blend of classroom learning, sports, performing arts and extra-curricular activities, to enable the 360 degree development of children," says Kerawalla.
Facts File
Established: 2004
Number of schools: 33
Affiliation: CBSE/CISCE/Cambridge International
Aggregate enrolment: 48,000
Faculty: 6,000
Geographical spread: 9 cities
Global Discovery Schools
In 2012 a team of technocrats working with top-ranked blue-chip corporates (HP, Oracle, Cisco, Reliance, L&T and Unilever) inaugurated the first Global Discovery School (GDS), Vadodara, under the aegis of the Global Education Research Foundation. Its objective: "to provide holistic ICT-driven education to nurture high achievers". Since then, the number of GDS schools modeled on the foundation-owned GDS, Vadodara, has increased to 13 franchised CBSE-affiliated K-12 schools in 13 cities including Hyderabad, Bhopal and Mumbai-Bhiwandi across the country.
"While delivery of holistic 21st century ICT-driven schooling is our premier objective, we have taken great pains to incorporate well-researched experiential learning pedagogies and best practices of India's ancient gurukul system, Montessori, Waldorf, Reggio-Emilia, Kumon and multiple intelligences precepts and practices into the common curriculum of GDS schools. We are confident that our thoroughly researched and well-designed curriculum best prepares children for higher education and equips them with life skills to face real world challenges in workplaces beyond academia," says Akhil Shahani, the highly qualified — Kellogg School of Management, USA and University of Liverpool — Mumbai-based chairman of Global Discovery Schools.
Inspired by the enthusiastic public response to GDS institutions, Shahani and his team led by Pankaj Bindra, co-founder and managing director, have drawn up a plan to establish 20 new primary-secondaries — including seven in Mumbai — under the franchise model.
Facts File
Established: 2012
Number of schools: 14
Affiliation: CBSE
Aggregate enrolment: 5,386
Faculty: 311
Geographical spread: 13 cities
Tuition fee (per year): Rs.30,000-70,000
Jain Group of Institutions, Bangalore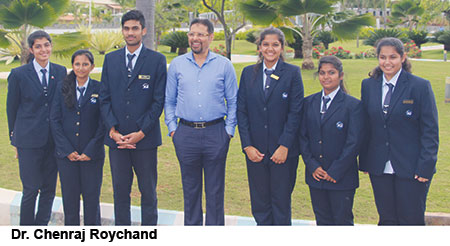 Promoted by Dr. Chenraj Roychand, a former Reliance Industries textiles distributor who transformed into an edupreneur by promoting the Sri Bhagwan Mahaveer Jain College, Bangalore (now Jain University) in 1990, the Jain Group of Institutions (JGI) has evolved into one of the country's largest education conglomerates comprising 77 institutions offering kindergarten-postgrad education in 64 campuses and 26 cities countrywide, with an aggregate enrolment of over 72,000 students and 10,000 teachers.
JGI's first K-12 institution — the carefully nurtured, CBSE-affiliated Jain International Residential School (JIRS, estb.1999) — equipped with superb state-of-the-art infrastructure, has been developed into one of India's top-ranked co-ed boarding schools — #2 all-India and #1 in Karnataka in the latest EW India School Rankings 2018-19. JIRS is also the first K-12 school in Karnataka to receive accreditation for 'quality school governance' from the National Accreditation Board for Education and Training (NABET).
"When I took the decision to exit from industry and trade to focus my attention on developing high-quality education institutions which the country urgently needed, my objective was to provide world-class education in stimulating, caring and rewarding environments where every child and youth would be given full support to fulfill her fullest potential. An important and distinguishing feature of Jain schools is the high importance we accord to sports education with children being mentored by highly qualified professionals," says Roychand.
With a good track record of almost three decades in education provision, Roychand is all set to roll out a detailed blueprint to launch three international schools, and begin construction of the second phase of its 40-acre Jain Academy of Sporting Excellence, India's first sports academy for class III-XII students which is taking shape in Bangalore.
Facts File
Established: 1990
Geographical spread: 26 cities
Affiliation: CBSE/CISCE/IB/state boards
Aggregate enrolment: 45,000
Faculty: 5,000
Number of schools: 54
Sunbeam Group of Educational Institutions, Varanasi
Nationally acknowledged for introducing contemporary English-medium K-12 education in the educationally neglected districts of eastern Uttar Pradesh, the Varanasi-based Sunbeam Group of Educational Institutions (SGEI) comprises 28 institutions including six owned schools, 18 associate schools, two women's colleges, an autism centre and the Gramin School, Karsana, a free school offering vocational education. All told SGEI boasts an aggregate enrollment of 22,000 students mentored by 3,000-plus teachers in Uttar Pradesh.
The seeds of the Sunbeam Group were planted four decades ago by Dr. Amrit Lal Madhok and Deesh 'Ishrat' Madhok who promoted the first Sunbeam School in the Bhagwanpur area of the holy city of Varanasi in 1972. After they retired in 1989, the reins of SGEI were handed to their son Deepak, an alumnus of Benaras Hindu and Allahabad universities and former civic administrator of the Uttar Pradesh Public Service Commission. On receiving his call Deepak quit the civil service in 1990 to help his parents realise their mission of providing best English-medium education to the underserved children of Uttar Pradesh. Since then together with wife Bharti, an English literature postgraduate of Kurukshetra University, and former Haryana cricket star, the duo has transformed SGEI into the fastest growing private schools chain of India's most populous (215 million) state. The group's flagship Sunbeam School, Lahartara has been consistently ranked among the state's Top 3 primary-secondaries in the annual EducationWorld India School Rankings during the past decade.
Moreover, in India's most populous state where education is severely neglected — and English-medium education even more so — SGEI has masterminded the promotion of 18 CBSE-affiliated franchise schools in tier-III and IV towns including Jaunpur, Ghazipur and Mau. "The small towns of Uttar Pradesh are totally under-served. The mission of SGEI is to take quality English-medium education to every district of UP. Over the past two decades, we have made good progress by also licensing 18 associate schools which offer the CBSE curriculum combining academic rigour with sports and co-curricular education," says Deepak Madhok, chairman of SGEI.
Facts File
Established: 1972
Number of schools: 24
Affiliation: CBSE
Aggregate enrolment: 22,000
Faculty: 3,000-plus
Geographical spread: 18 cities
Tuition fee (per year): Rs.75,000-90,000
Shriram Millennium Schools, Delhi NCR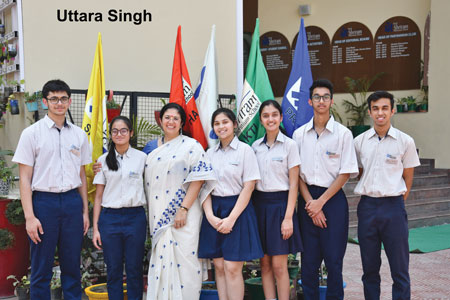 The Shriram Millennium School (TSMS), Noida was promoted in 2010 by Shri Educare Ltd, founded by well-known educationist Manju Bharat Ram (1945-2012), also promoter of the national capital's top-ranked and highly selective The Shri Ram School. Since then, Shri Educare has promoted two TSMS schools in Gurgaon and Faridabad with an aggregate enrolment of 2,307 students mentored by 212 teachers. Unsurprisingly TSMS, Noida is ranked this satellite city's #3 co-ed day school and TSMS, Faridabad #1 in the city in the EW India School Rankings 2018-19. Recently the three TSMS were conferred the Rex Karmaveer Global Education Change Champions Torchbearers School Awards 2019.
"We believe in providing child-centred, progressive inclusive education that nurtures the potential of every student through innovative pedagogies. Therefore all our schools adhere to the highest international K-12 education standards. We don't believe in chasing numbers blindly and will expand slowly, ensuring that every TSMS school delivers our promise of child-centred inclusive education of the highest standard," says Uttara Singh, Director of the Shriram Millennium chain of schools.
Facts File
Established: 2009
Number of schools: 3
Affiliation: CISCE/CBSE/Cambridge International
Aggregate enrolment: 2,307
Faculty: 212
Geographical spread: 3 cities
Seth M.R. Jaipuria Schools, Lucknow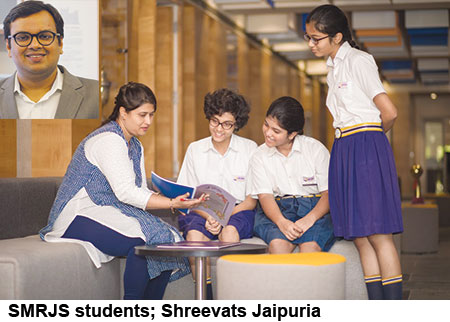 The Lucknow-based Seth M.R. Jaipuria Schools group is one of north India's fastest growing K-12 schools chain. During the past six years, it has grown from one school in Lucknow to 25 across 19 urban habitats of north India.
"Our mission is to make high-quality English-medium education accessible to students from new middle class households beyond India's metros and state capitals. We believe that it's in the national interest for children in tier II-IV cities and small towns to be provided qualitative private school education in English, the global language of business and commerce," says Shreevats Jaipuria, vice-chairman of Seth M.R. Jaipuria Schools.
The group's flagship CISCE-affiliated Seth M.R. Jaipuria School, Gomti Nagar, Lucknow (estb.1992) is ranked #2 in Uttar Pradesh and Lucknow in the EW India School Rankings 2018-19. Modelled on this highly respected school, the 24 franchised/partnered schools of the group are scattered across tier-III cities and small towns such as Faizabad, Barabanki, Sultanpur, Hardoi, Fatehpur and Gonda in UP, India's most populous (215 million) and educationally under-served state. "We provide full academic support to our partner schools including detailed lesson plans, intensive teacher training and support and opportunities for students to compete in inter-school academic, co-curricular and sports competitions," says Jaipuria, who plans to establish high-quality schools in every district of Uttar Pradesh.
The group also manages four Jaipuria Institutes of Management in Lucknow, Noida, Jaipur and Indore.
Facts File
Established: 1992
Number of schools: 25
Affiliation: CBSE/CISCE
Aggregate enrolment: 24,000
Faculty: 2,000
Geographical spread: 19 cities
Tuition fee (annual): Rs.30,000-90,000
Presidency Group, Bangalore
The Bangalore-based Presidency Group of Institutions (PGI), promoted by educationist Dr. Nissar Ahmed in 1976, comprises seven primary-secondaries, a pre-university college, undergraduate college and Presidency University with campuses in Bangalore and Mangalore. Five of the seven Presidency schools are ranked among Bangalore's Top 40 co-ed day schools with Presidency School, RT Nagar ranked among the city's Top 10 in the latest EW India School Rankings 2018-19.
"The distinguishing feature of Presidency schools is our intensively-researched curriculum incorporating thematic/integrated pedagogies designed to develop students' critical thinking and knowledge application skills. This common curriculum is supplemented by values and life-skills education. Our goal is to nurture competent and confident learners ready to make the best of their higher education and prepared to take on the complex challenges of 21st century workplaces," says Nafeesa Ahmed, an alumna of Mount Carmel College, Bangalore and University of London and director of PGI.
Encouraged by the enthusiastic response to its education initiatives from Bangalore's citizenry, the PGI management is set to spread its wings. On the cards is establishment of a chain of Presidency Early Years preschools, introduction of the Cambridge & IB international curriculums in its schools and promotion of new schools in tier II-III cities across south India.
Facts File
Established: 1976
Number of schools: 7
Affiliation: CBSE/CISCE
Aggregate enrolment: 15,000
Faculty: 1,100
Geographical spread: 2 cities
Tuition fee (per year): Rs.66,000-84,000
Maharishi Vidya Mandir schools, Bhopal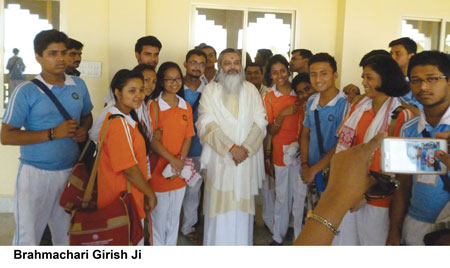 Conceptualised and established to commemorate the wisdom and teachings of the late Maharishi Mahesh Yogi (1918-2008), the spiritual guru who attained worldwide fame as the mentor of the British music band the Beatles that rocked the world in the 1960s, the number of Maharishi Vidya Mandir (MVM) schools has multiplied to 156, 40 preschools, eight colleges and two universities in 126 cities countrywide with an aggregate enrolment of 102,500 students mentored by 6,500 teachers.
Uniquely, 94 MVM schools provide academically rigorous mainstream CBSE K-12 education (the remainder are affiliated with state exam boards) with the value addition of learning yoga and mind calming, transcendental meditation and brain development techniques developed by the Maharishi.
"In addition to CBSE and state board-prescribed curriculums, all MVM schools offer the Maharishi Consciousness pedagogy which is a unique blend of Vedic education and the Maharishi Technology of the Unified field which includes practice of cognition enhancing transcendental meditation and Siddhi programmes that enable children to attain their full creative potential," says Brahmachari Girish Ji, incumbent chairman of MVM schools.
Facts File
Established: 1991
Number of schools: 156
Affiliation: CBSE/state boards
Aggregate enrolment: 102,500
Faculty: 6,500
Geographical spread: 126 cities
Tuition fee: Rs.27,480-38,520 p.a
Superhouse Group, Kanpur
The Kanpur-based Superhouse Education Foundation, registered in 1996 by Mukhtarul Amin, chairman of the Superhouse Group of companies, with interests in leather, textiles and exports (brand name: Allen Cooper) has quickly established a good reputation for providing good quality English-medium education in the educationally underserved Hindi heartland state of Uttar Pradesh (pop.215 million).
Since it promoted its first Allenhouse Public School in 2007, the group has accelerated its education dissemination activity. Currently, the foundation has 19 education institutions including six Allenhouse Public schools, two colleges, three Allen Kids preschools and eight CBSE-affiliated DPS (Delhi Public School) institutions in Lucknow, Kanpur, Bareilly, Saharanpur and Unnao run under the franchise model.
"All our schools provide world-class infrastructure, broad-based, differentiated curriculums and highly-trained teachers. In educationally underserved UP, we are determined to provide a safe and stimulating learning environment to nurture future-ready children equipped with scientific temper, creative bent of mind and high moral values," says Amin.
Looking to the future the group proposes to step up its education initiatives. Plans include promotion of education institutions in Agra, focusing on its recently launched Academy of Performing Arts and launch of a finishing academy in addition to upgrading teacher development and training.
Facts File
Established: 1996
Number of schools: 17
Affiliation: CBSE
Aggregate enrolment: 30,000
Faculty: 1,000
Geographical spread: 7 cities
Tuition fee: Rs.68,000-70,000 p.a
Cadmus-Sodha Schools, Jamnagar
A household name in the Saurashtra region of the industrially advanced but academically laggard, western seaboard state of Gujarat (pop. 62 million), the Jamnagar-based Cadmus-Sodha Group of ten schools is among the country's best professionally managed chain of private budget schools. Currently, it dispenses high-quality, contemporary K-XII education to 7,000-plus children in Gujarat, and has the unique distinction of promoting imperial Britain's first low-cost private school as well as three affordable private schools in the Honduras, Central America.
The high statewide, national and perhaps international profile of the Cadmus-Sodha Schools is entirely attributable to the primary-secondary education evangelism of Ekta Sodha, who has degrees in education, international leadership and education management awarded by Newcastle University, UK, and Prof. James Tooley, co-founder of Cadmus Schools (India, Honduras, England & Ghana). Sodha was also former general secretary of the Delhi-based National Independent Schools Alliance, which is in the vanguard of a crusade to save India's private budget schools promoted by edupreneurs as alternatives to dysfunctional government schools. Tuition fees in the Cadmus-Sodha schools affiliated with the Gujarat state board are Rs.700-1,200 per month. At these rock-bottom prices, they offer "a unique pedagogy based on technology and high-quality assessment programmes".
"Unlike government schools which indifferently provide poor quality education, we are fully accountable to parents and committed to providing quality K-XII education to children of low-income households. Although not all our schools teach in the English medium, in all of them there is heavy emphasis on English language learning through technology-enabled pedagogies. That's why response to our schools is overwhelming and we are inundated with invitations to establish our affordable schools in rural districts of Gujarat and overseas," says Sodha.
Facts File
Established: 1987
Number of schools: 10
Affiliation: Gujarat State Education Board
Aggregate enrolment: 7,000
Faculty: 260
Geographical spread: 4 cities in India and 3 overseas
Tuition fees (per year): Rs.700-1,200
Shemford Group of Schools, Delhi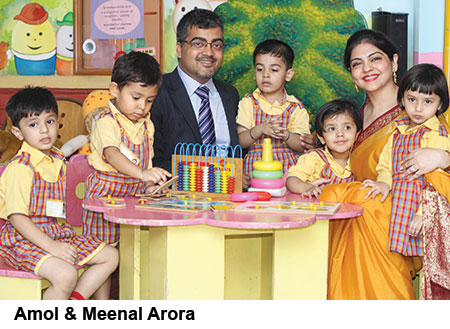 The Delhi-based Shemford Group of Schools is among the country's fastest growing franchised school chains having earned an entry into the Limca Book of Records (2013) for "opening the maximum number of schools in the shortest possible time". Dissatisfied with the regimented drill-and-skill school system, the first Shemford School in Delhi was promoted by educationists Dr. D.R. Arora and Dr. Bimal Arora, to provide youngest children "stress-free play-based early learning". Since then, the group's institutions have multiplied rapidly with 650-plus franchised preschools including two owned and 648 CBSE-affiliated schools sited in 200 cities countrywide providing comprehensive, contemporary pre-primary to class XII education to 40,000 children.
"Dr. & Mrs. Arora were among the first educationists in India to become aware of the franchise model for rapid roll-out of standardised pre-primary and high schools. This model has worked well — we provide our franchisees standard curriculums, excellent lesson plans and high-quality teacher training and support. All Shemford schools implement our ShemfordEduMax curriculum which combines academic learning with life skills, personality development and health/wellness programmes," says Amol Arora, Delhi-based vice chairman and managing director of the Shemrock and Shemford group of schools.
A graduate of the Delhi College of Engineering and a business management postgrad of the University of California, Irvine, Amol together with wife Meenal, an alumna of the Shri Ram College of Commerce, Delhi and Nottingham University, UK, have taken over from the founders to drive the spectacular growth of Shemford schools over the past two decades. "Our future plan is to sustain and grow our franchise network in India and enter new markets abroad," says Amol.
Facts File
Established: 1989
Number of schools: 650
Affiliation: CBSE
Aggregate enrolment: 40,000
Faculty: 5,000
Geographical spread: 200 cities
Tuition fee (per year): Rs.40,000-70,000
Vels Group of Institutions, Chennai
In 1992, Dr. Ishari K. Ganesh, a commerce, law and business admin postgrad of Madras University, registered the Vels Educational Trust in memory of his father Ishari Velan. Since then over the past quarter century, the Chennai-based Vels Group of Institutions has transformed into a heavyweight education conglomerate comprising 25 institutions including 12 K-12 schools, Vels deemed university and engineering, medicine, dental and nursing colleges with an aggregate enrolment of 25,000 students mentored by 5,000 faculty.
The group's schools portfolio comprises eight owned K-12 schools affiliated with the Delhi-based CBSE, two schools affiliated with CISCE/Cambridge International, two franchised CBSE schools in Chennai. "In Vels schools, our focus is on providing children experiential education to prepare them for higher education through development of 21st century competencies and skills. We believe our well-designed experiential pedagogies balanced with sports and co-curricular education, provide children with the flexibility to switch professions and vocations, if necessary. This will equip them to cope in the uncertain jobs markets of the future. Proof that we are on the right track is that Vels students regularly win laurels in national and international academic, co-curricular and sports competitions," says Dr. Arthi Ganesh, a computer applications and education graduate of Madras and Lucknow universities, and pro-chancellor of Vels deemed university.
Firmly committed to the belief that well-trained teachers and continuous professional development are the prerequisite of high quality primary-secondary education, Dr. Ganesh has drawn up detailed plans to sign up student and teacher exchange programmes with foreign institutions, and to deliver high-quality teacher training to government and private schools in rural Tamil Nadu to bridge the urban-rural learning outcomes gap.
Facts File
Established: 1992
Number of schools: 12
Affiliation: CBSE/CISCE/Cambridge International
Aggregate enrolment: 10,040
Faculty: 669
Geographical spread: Chennai and Telangana
GEMS Group
The globe-girdling Dubai-based GEMS Education Group owns and/or manages over 250 K-12 schools in 53 countries. The group was founded by K.S. and Mariamma Varkey, who famously promoted the Our Own English School in Dubai in 1954. Since then their son Sunny Varkey has expanded the GEMS footprint worldwide and has become the first edupreneur to sign Bill Gates and Warren Buffet's Giving Pledge. GEMS made a soft-launch entry into India in 2010 with the Gems International School, Gurgaon. Since then, the group has expanded its India operations cautiously and has launched nine CBSE/CISCE/IB-affiliated K-12 Gems schools across the country with an aggregate enrolment of 5,000-plus students.
More significantly, acknowledging the pent-up demand for quality English-medium education in the Indian hinterland, in 2013 Gems promoted its first Dream India Schools in Madhya Pradesh, Chattisgarh and Uttar Pradesh with the objective of providing "affordable English-medium education" to children of low-income households in the country's tier II-IV cities and towns. Within a short span of six years, the number of Dream India schools has multiplied to 83 state-board affiliated schools in 70 cities countrywide.
"Whatever the question, education is the answer," says GEMS chairman Sunny Varkey. "Our mission is to put high quality education within the reach of every child."
Under a bipartite plan, upscale schools under the GEMS brand are sited in metros and large cities, while Dream India schools provide good quality English-medium education to children in small town India with heavy emphasis on teaching communicative English and computer literacy. "GEMS is one of the most world's most admired education providers and we hope to steadily expand our operations in India," say Dr. Farooq Wasil, global head — Affordable Schools and Amrita Vohra, director (education) of GEMS India.
Facts File
Established: 2010
No. of schools: 9 Gems, 83 Dream India
Affiliation: CBSE/CISCE/IB/state board
Aggregate enrolment: 35,000
Faculty: 2,300
Geographical spread: 79 cities & towns
Tuition fees (per year): Gems schools: Rs.55,000-150,000; Dream India: Rs.11,000-16,000
Kendriya Vidyalayas, Delhi
Promoted and funded by the Central government through generous budgetary allocations for education of children of Central government employees in transferable jobs, the country's CBSE-affiliated Kendriya Vidyalayas (KVs) are widely acknowledged as the crown jewels of public K-12 education. Within this pampered chain of 1,204 co-ed class I-XII day schools hosting 1.27 million children established across the country, outstanding examination results are de rigueur. In the CBSE class X 2019 exam results announced in May, the KVs outperformed all CBSE-affiliated including private schools, with a national pass percentage of 99.47 percent. In the class XII exam KVs recorded 98.54 percent pass percentage.
India's highly admired KVs are managed by the Delhi-based Kendriya Vidyalaya Sangathan (estb.1965), an autonomous organisation under the jurisdiction of the Union human resource development (HRD) ministry. The proposal to establish standardised Kendriya Vidyalayas or Central schools across the country was made by the Union government in 1962 "to provide uninterrupted education to the wards of transferable Central government employees". Consequently the first 20 Central schools were promoted in the academic year 1962-63 in cities and towns with a large concentration of defence personnel. Since then, the Central government and its various organisations have financed the promotion of 1,204 KVs with an estimated aggregate expenditure of Rs.5,007 crore.
Moreover, unlike state governments which make miserly allocations for public schools, the Union government makes generous provision for them and heavily subsidises the K-12 education of its employees' children. In the Union budget 2019-20, an allocation of Rs.4,862 crore has been made for KVs. This translates into a subsidy of Rs.85,000 per student per year.
Facts File
Established: 1962
Number of schools: 1,204; Affiliation: CBSE
Aggregate enrolment: 1.27 million
Faculty: 45,477
Geographical spread: 29 states and seven Union territories
Tuition fees (per year): Rs.20,000 onward
Jawahar Navodaya Vidyalayas, Delhi
Conceptualised in 1984 by the late prime minister Rajiv Gandhi (1944-91) as free co-education boarding schools modelled on India's top-ranked private boarding schools for a small minority of rural India's most meritorious boys and girls, over the past 29 years the number of JNVs has steadily multiplied to 628. True to their promise, these free-of-charge boarding schools deliver excellent class VI-XII education to the small minority of 260,000 students who are obliged to pass a stiff entrance test for admission into them. According to an evaluation study conducted by the Delhi-based government think tank NITI Aayog, "Navodaya's average pass schools affiliated to CBSE" and as good as the Kendriya Vidyalayas.
Promoted and fully funded by the Central government (Union budget 2019-20 allocation: Rs.3,068 crore), the JNV chain of co-ed CBSE rural boarding schools are managed by the Delhi-based Navodaya Vidyalaya Samiti (NVS, estb.1985). The first two experimental JNV schools were constructed in 1985 in Amravati (Maharashtra) and Jhajjar (Haryana) districts. Encouraged by the enthusiastic response of rural households countrywide to this initiative, the National Policy on Education 1986 proposed and the Seventh Plan (1987-1992) formalised the construction of at least one JNV in all of the country's rural districts, subject to state governments providing 30 acres of free-of-charge land for hosting these centrally-funded co-ed rural boarding schools. Currently, all states of the Indian Union except Tamil Nadu, host one or more JNVs.
Admission into JNVs is for toppers of a national IIT/JEE-style entrance exam — the Jawahar Navodaya Vidyalaya Selection Test (JNVST). In 2019, 3.1 million students wrote JNVST, of whom 51,000 have been admitted.
Facts File
Established: 1985
Number of schools: 626
Aggregate enrolment: 261,000 students including 103,000 girls
Faculty: 12,000-plus
Geographical spread: 28 states and seven Union territories