Dr. Amrita Vohra — Director, GEMS India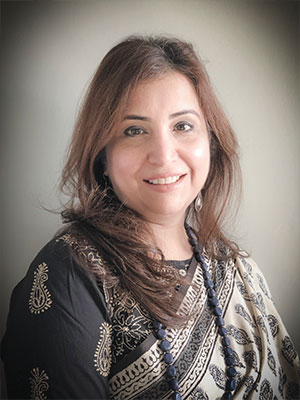 An alum of Lucknow University who later qualified as a Programme Leader for Teacher Professional Development and Educational Leadership from Cambridge University, Dr. Amrita Vohra is the Delhi-based director (education) of GEMS Education India — a wholly-owned subsidiary of the Dubai-based Varkey Group-promoted GEMS Education — which manages 11 K-12 schools in India with an aggregate 6,000 students instructed by 550 teachers. Vohra is also the executive principal of the group's flagship GEMS International School, Gurgaon (estb.2010).
NEP 2020 overview. NEP 2020 is progressive and comprehensive. But the actual impact of any policy depends on effective implementation. I sincerely hope the progressive ideas and goals propounded by the new policy — critical and creative thinking, 100 percent foundational literacy and numeracy by 2025, blended learning, blurring of subject boundaries, experiential learning among others — are implemented in all schools countrywide. Most progressive schools in our country are already working on these ideas. I hope they will be recognised as harbingers of change and invited to form private-public partnerships.
Switch of K-12 schools to online/blended learning during the current Covid-19 crisis. For years, progressive educators have advocated technology-aided learning, but have been met with resistance. Therefore, it's satisfying that a range of innovative remote/online learning solutions has emerged in response to the pandemic. As boundaries blur between countries and subject disciplines, our children will learn to navigate this new free education space.
Increasing government interference in fees and online education delivery. Contrary to public perception, a large number of private schools are levying only tuition fees and have made generous concessions to support parents in financial distress. A special bond is also emerging as the classroom has now virtually entered students' homes, and parents are witnessing the dedication of teachers. Meaningful partnerships between parents and school managements is the need of the hour.
Gems India recent initiatives
Introduction of remote learning pedagogies and guidelines for students, teachers and parents. Our team of teachers was sufficiently trained to take on the challenge of online education when the lockdown was announced in March.
Blended teaching-learning models have been implemented in all our schools to make learning personalised, and differentiated instruction has been seamlessly integrated.
Assessment processes have been revamped to include self and peer evaluation, metacognition and growth mindsets. Dedicated reflection time is allocated to help children identify learning gaps even as teachers facilitate learners with SID (scientific information database) marking and constructive feedback.
Top 3 proposals for re-inventing India's K-12 education system.
First, the government must ensure that every child has access to digital education. Teacher education must make maximum use of technology and ideally follow the 'joint practice development' model. Second, the blended learning model must become normative in K-12 education with best practices freely shared with budget private schools. Third, revamp assessment — internal and external — processes to stimulate the 'growth mindset' of children to nurture globally conscious individuals committed to sustainable development.
Also read: Dr. Amrita Vohra – Progress & differentiated instruction in early childhood