The Gurukul Chronicles by Smara (Radhika Meganathan)
Publisher: Vishwakarma Publications, Price: Rs.295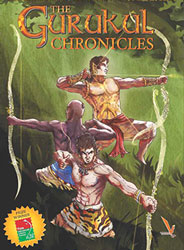 This book, targeted at adolescents, explores the lives and times of three low-profile but interesting characters of the Mahabharata — Ekalavya, Aswathama and Karna (or Radheya). These three young men are bound by a common thread: they are all archers in search of their destiny.
Although tomes of the mythology genre have retold the tales from the Mahabharata, this collection is different because the author has re-imagined the stories of its main protagonists. Divided into three sections, one for each archer, Smara traces their coming of age journeys with empathy detailing their constant practice, resilience and success. The characterisation is detailed and engaging, evidence of the author's thorough research.
A top prize winner at the International Pune Literary Festival, this book is highly recommended to introduce children to Indian mythology.
The Parrot and the Merchant by Pippa Goodhart (Author)
Marjan Vafaian (Illustrator), Publisher: Puffin, Price: Rs.984
A charming picture book beautifully illustrated by award-winning artist Marjan Vafaian, The Parrot and the Merchant brings to life 13th century Persian philosopher Jalaluddin Rumi's finest fables which centre on Mah Jahan, a peripatetic merchant who collects birds.
Mah Jahan travels far and wide to trade her goods, and collects countless colourful birds kept in cages. When leaving on a tour of India, she promises to bring back gifts for all her servants, and her favourite talking parrot. The parrot requests that instead of buying her a gift, she should visit a jungle; greet his friends and return with their messages. But when she visits the parrot's natural habitat, she learns an important life lesson.
Secret Tales from the Himalayas by Bulbul Sharma
Publisher: Good Earth, Price: Rs.335
Set in a Himalayan forest in Sirmaur, this slim volume is a mix of facts and fiction. The story begins when a woodcutter is commissioned to fell an ancient Deodar tree high up in a Himalayan forest. The animals and birds are determined to save their friendly tree. They hatch a plan to distract the woodcutter. While the story unfolds, the author subtly introduces facts such as how the Himalayan mountain range was formed, and its flora and fauna including the Monal pheasant, black-faced langurs and magical plum trees.
Moreover, each scene in the book is hand-drawn and brightly painted with dry pastels and water colours. A charming, entertaining and educational read for young children.