Encouraging children to read books depicting diverse cultures and lifestyles is a good way to enable them to make sense of the new globalised world order. They need to develop empathy for people from varied religious and cultural backgrounds and understand their fears and dreams. Here is a selection for young readers – Mini P.
The Proudest Blue: A Story of Hijab and Family by Ibtihaj Muhammad
Publisher: Little Brown Books for Young Readers Price: Rs.1,760
Written by US-based social justice activist Ibtihaj Muhammad, the first Muslim American woman in hijab to win a fencing bronze medal at the Olympic Games (2016), this is a charmingly illustrated story about the first day of school in America of two sisters, one of whom wears a hijab (veil).
With her new backpack and light-up shoes, Faizah knows the first day of school is going to be special. It's the start of a brand new year and it's her older sister Asiya's first day of hijab — of beautiful blue fabric, like the ocean waving to the sky. But not everyone sees the hijab as beautiful. Despite her sister being subjected to hurtful, confusing words, Faizah finds new ways to be strong. An endearing tale of sibling bonding, this book empathetically captures the tribulations of emigre community children in the US.
Sulwe by Lupita Nyong'o
Publisher: Penguin Price: Rs. 501.50
Sulwe has skin the colour of midnight, darker than everyone in her family, or her school. Sulwe just wants her skin to be lighter, to be beautiful and bright, like her mother and sister. Then a magical journey in the night sky opens her eyes and she comes to love her deep dark skin colour.
Written by Oscar-winning actress (12 Years a Slave) LupitaNyong'o, Suklwe is a heartwarming story to inspire children to celebrate their own unique beauty. Through this story, Nyong'o addresses and confronts her own battle with 'colorism'.
The picture book is illustrated byVashti Harrison, best known for Little Leaders: Bold Women in Black History.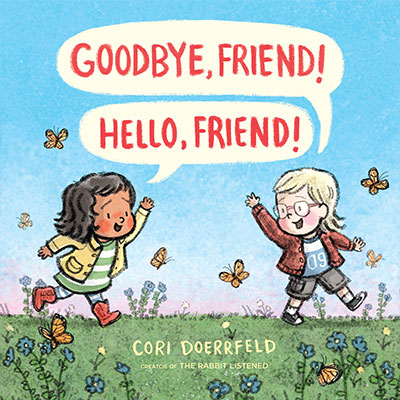 Goodbye, Friend! Hello, Friend! by Cori Doerrfeld
Price: Rs.1,141, Publisher: Dial Books

Change and transitions are hard, but Goodbye, Friend! Hello, Friend! demonstrates how, when one experience ends, another begins. This illustrated book by US-based children's author Cori Doerrfield follows two best friends as they say goodbye to snowmen, and hello to rain puddles. They say goodbye to long walks, butterflies, and the sun… and hello to long evening talks, fireflies, and the stars. But the hardest goodbye of all comes when one of the friends has to move to another city. A beautiful tale of friendship and parting, it highlights how children can adapt to change and new experiences with grace and resilience.
Also read: 3 books for success