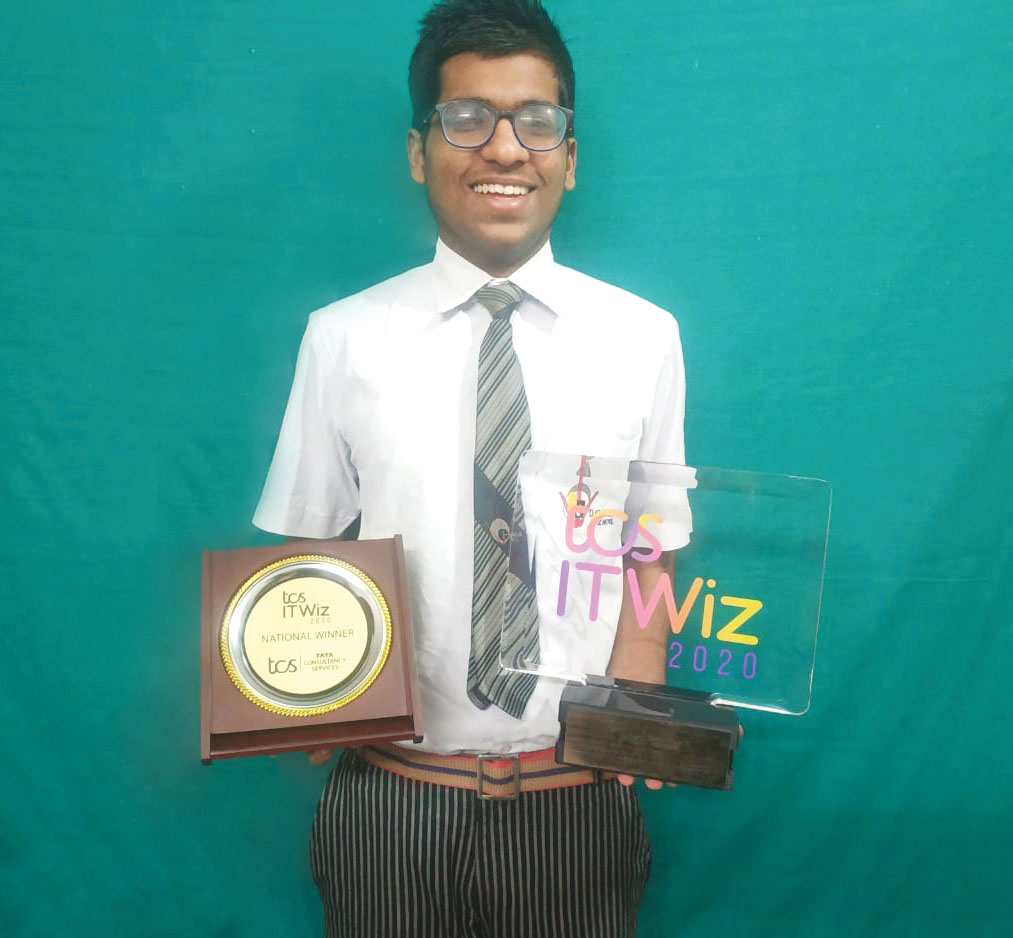 A class XII student of the CBSE affiliated G.D. Goenka Public School, Siliguri, Abishek Agarwal was recently (February) crowned champion of the TCS IT Wiz (TCSITW) 2020, held online for the first time. In the national finals staged on December 30, Abhishek bested three finalists of St. Jude's Public School, Kotagiri (Tamil Nadu), School for Excellence, Dewas (Madhya Pradesh) and Little Flower Public School, Bengaluru. Nithin Nagaraj of Little Flower, Bengaluru was adjudged runner-up.
Earlier in the four elimination rounds which began in early October, Abishek bested 9,900 students countrywide in the 22nd edition of TCSITW to win Amazon vouchers valued at Rs.30,000, a gold medal, a winner's certificate and an outsized champions trophy for his school.
A general knowledge quiz started in 1999, TCSITW is the world's largest inter-school quizzing competition sponsored by IT behemoth Tata Consultancy Services (TCS, annual revenue: Rs.1.67 lakh crore, headcount: 4.17 lakh) to "build awareness, emphasise the importance of IT skills and enable students to view technology from a holistic perspective". The grand finale of the 22nd edition of the competition presided by N.G. Subramaniam, COO of the company, was conducted as usual by renowned quizmaster Giri 'Pickbrain' Balasubramaniam.
The elder of two children of single mother Hemlata Rateria, coordinator of G.D. Goenka Public School, Siliguri, Abishek is delighted that all finalists were from tier-II and III cities and towns. "New ICT-driven study programmes have closed the learning gap between schools in metros and small towns of India, especially in these Covid pandemic times. For instance, I learned the finer points of advanced programming from YouTube. Our school management is also supportive of co-curricular activities such as quizzing and science competitions. My computer science teacher Mrinmoy Paul and quiz teacher Prashanto Chakraborty in particular, took great pains to prepare me for TCSITW 2020," acknowledges Abishek.
Currently in the thick of preparing for his class XII board exams, this new digital technologies enthusiast has his future mapped out. "I intend to write IIT-JEE and graduate in computer science engineering. Thereafter, I aspire to research newage technologies," he says. Go Bro!
Baishali Mukherjee