Category: Health Education
AddressHealth Solutions India Pvt. Ltd (AH, estb.2010), Bangalore, provides children in the 3-18 years age group a range of preventive health services and education programmes. They include annual health check-ups, comprehensive health education curriculum, mental well-being and counseling programmes and school infirmary services. The company has signed up with 496 schools countrywide and impacted 3.9 lakh children over the past decade. With offices in Bangalore, Delhi NCR, Pune and Hyderabad, AddressHealth is committed to its mission of "serving 6 lakh children by 2022".
AddressHealth Leader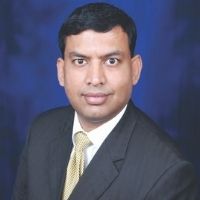 Dr. Anand Lakshman
Founder & CEO
Dr. Anand Lakshman is founder and CEO of AdressHealth. A graduate of the Mysore Medical College and a Masters in Public Health from Tata Institute of Social Sciences, Mumbai, he served as medical consultant with the World Health Organisation and the New Delhi-based Micronutrient Initiative.
Parameters
Programme quality
AddressHealth is an ISO 2001: 2015 standards certified and accredited company.
Infirmary services with trained and qualified nurses who are regularly monitored by doctors and pediatricians.
Medical checklist compatible with state and national health guidelines.
Programme meets the Rashtriya Bal Swasthya Karyakram (RBSK) health guidelines.
Health education curriculum is in sync with National Council of Educational Research and Training (NCERT) guidelines and compliant with the Center for Disease Control's Health Education Curriculum Analysis Tool, Atlanta.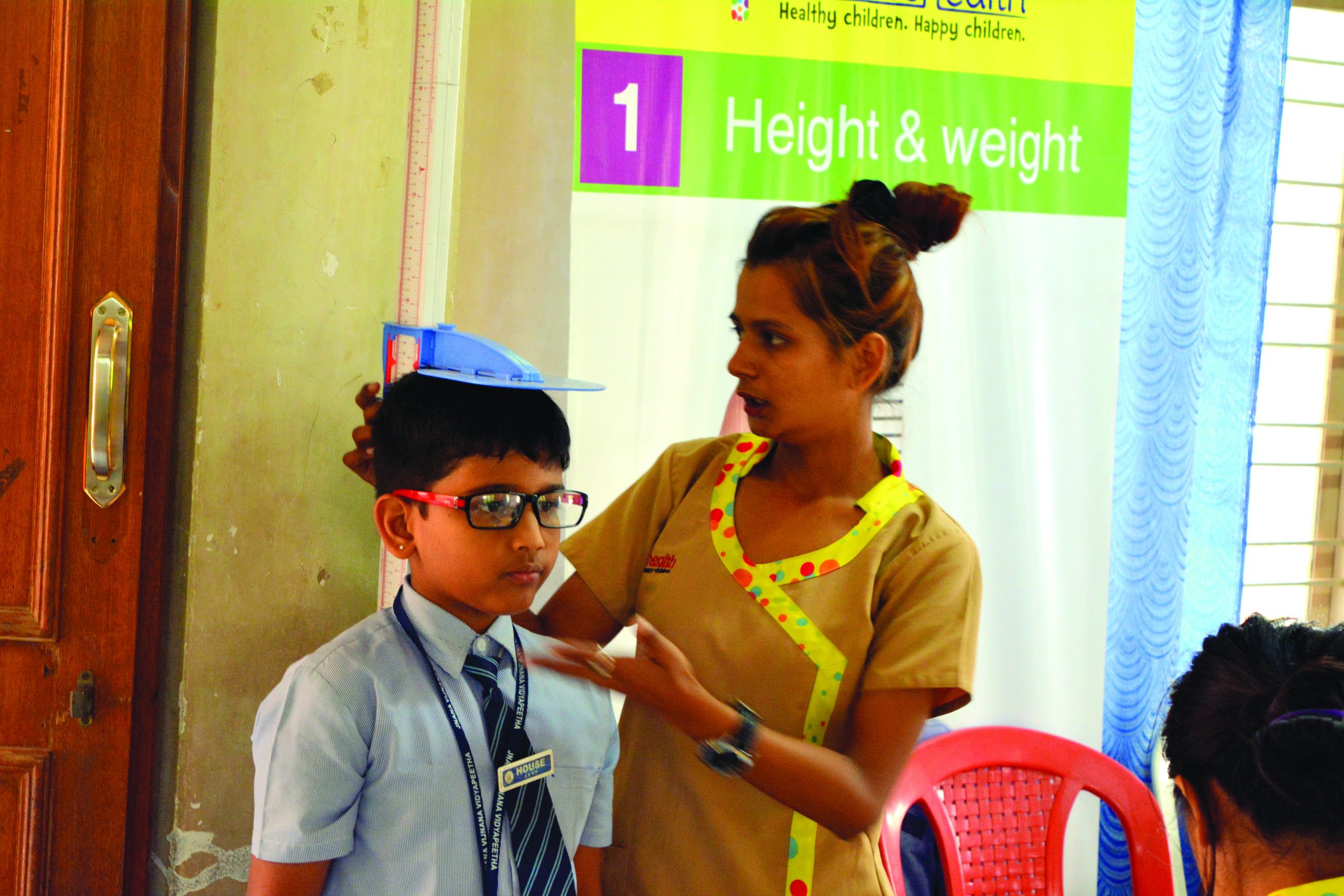 Concept ideation
Non-hospital centric service which provides quality healthcare education and infirmary services to schools.
Evidence-based health programmes created by multidisciplinary experts with domain knowledge of public health, pediatrics, child psychology and child nutrition.
Students' mental well-being programmes covering socio-emotional development and mindfulness.
Technical support
Online Learning Management System helps in regular training and skill upgradation of infirmary nurses and health educators.
First-aid skills workshops for staff/teachers, data managed and stored securely in electronic format.
Value for money
Annual health checks are priced a nominal Rs.150 per child.
Health education programmes comprise eight medical doctor-led sessions and study material priced at Rs.350 per year per student.
School infirmary services include medical equipment, essential drugs and a full-time nurse.
Customer Satisfaction
"We take the health and well-being of our children very seriously. However, working closely with AddressHealth made me realise there is so much more that we can do. I recommend AddressHealth health programmes to all schools." — Manju Balasubramanyam, principal, Delhi Public School, Bangalore North.
"AddressHealth is our school health services partner since 2012. The school infirmary provides all necessary medical equipment and supplies and video consultations with the company's panel of doctors through its 'telehealth' network has proved beneficial. Our students have also given positive feedback on the health education curriculum and workbooks." — S.A. Nair, academic director, BGS National Public School, Bannerghatta Road, Bangalore.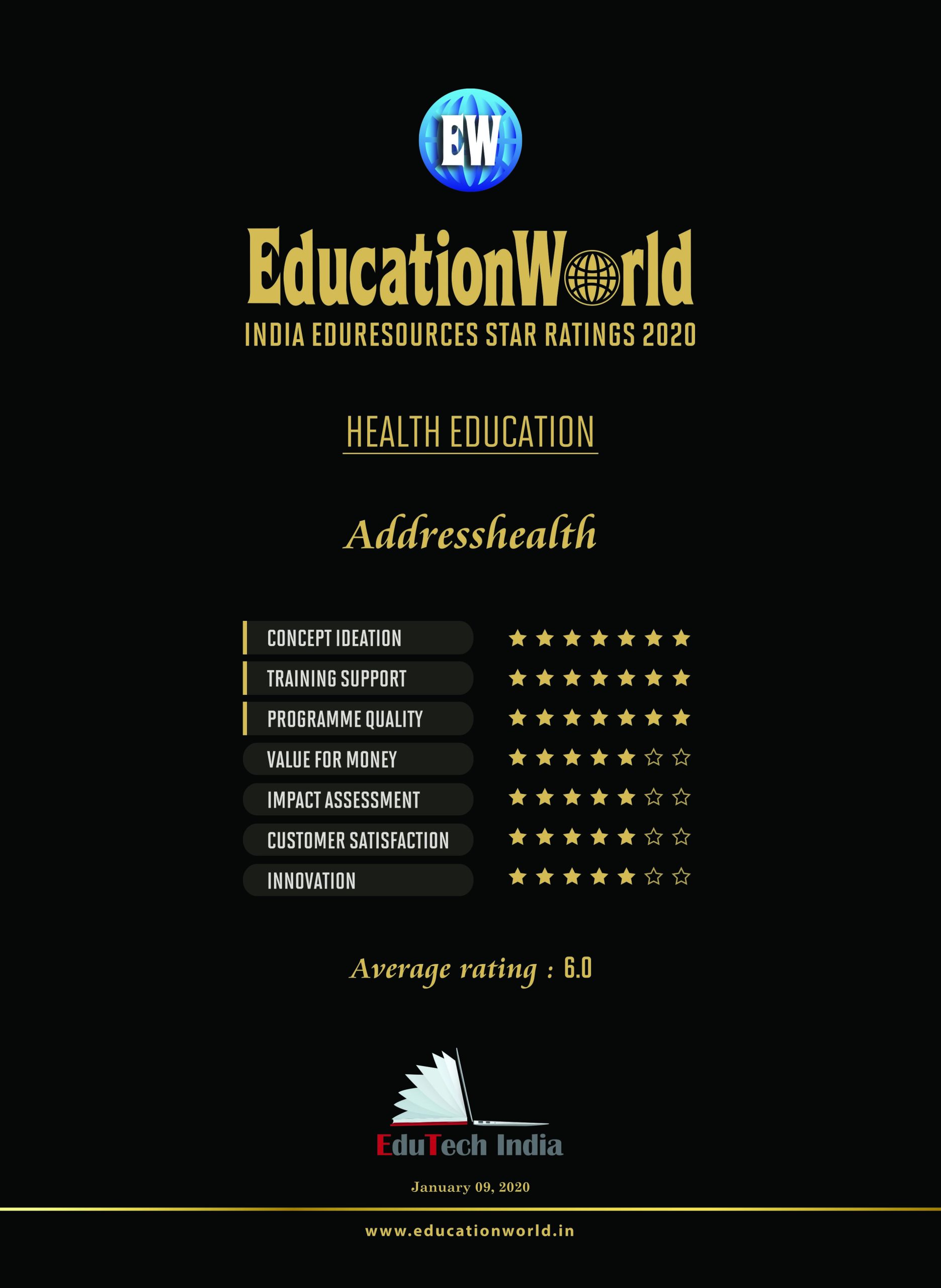 Impact assessment
Wide spectrum health screening in partner schools has covered 3.9 lakh children countrywide.
Valuable child health data collected on obesity, malnutrition, dental and vision problems.
During health screenings, 200 children were diagnosed with previously undetected cardiac murmurs and 100 with hearing defects.
Mental well-being scores of children improved by 41 percent after participation in AddressHealth's Nurturing Schools Program.
Innovation
Introduced Dr Newton, a magazine integrating age-appropriate academics with health messages for pre-primary to class VII students.
School infirmary nurses are connected with AddressHealth's pediatricians' network through a real-time online platform.
Contact details
www.addresshealth.com
[email protected]
98803 30575