Promoted by the International Society for Krishna Consciousness, the Akshaya Patra Foundation, Bangalore (estb. 2000) has engineered a unique public-private partnership model to provide free mid-day meals to 1.4 million primary school children in ten states Paromita Sengupta
In the 15 years since it undertook to provide cooked mid-day meals to 1.4 million children in 10,600 primary schools in Karnataka, Andhra, Rajasthan, Uttar Pradesh, Tamil Nadu, Chhattisgarh, Gujarat, Odisha, Telangana and Assam, Bangalore-based NGO The Akshaya Patra Foundation (TAPF, estb.2000) has engineered a public-private partnership model which has dramatically improved student enrolments in primary schools in ten states by 22 percent during the past four years.
TAPF is a not-for-profit, secular trust promoted by the Bangalore unit of the International Society for Krishna Consciousness (ISKCON), aka the global Hare Krishna movement. ISKCON was founded in 1966 by A.C. Bhaktivedanta (aka Srila Prabhupada) in New York to spread the message of Bhakti Yoga whose tenets require all bhakts to dedicate their thoughts and activities to please Lord Krishna who, according to the Bhagavad Gita which incorporates the Krishna Leela (tales of Krishna), enjoyed a very happy childhood. Currently, ISKCON is a global confederation of over 550 centres, 60 farming communities, 50 schools and 90 vegetarian restaurants.
In the millennium year, after 126 nations signed the United Nations Millennium Declaration and enunciated its five Millennium Development Goals which included all children in primary schools and eradication of child malnutrition by 2015, Madhu Pandit Dasa and Chanchalapathi Dasa, trustees of ISKCON, Bangalore were persuaded by several business leaders of the garden city (including T.V. Mohandas Pai and Abhay Jain (founder-trustees), Ramadas Kamath, V. Balakrishnan and Raj P. Kondur) to promote the Akshaya Patra Foundation ("inexhaustible vessel" in Sanskrit) to provide free cooked mid-day meals to 1,500 children in five government schools in Bangalore. Moreover, it was the aspiration of Srila Prabhupada that no child should go hungry within ten miles of ISKCON centres.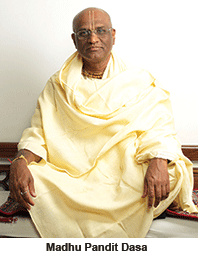 Since then, TAPF has partnered with the Central and state governments, corporates, individual donors, small and medium-scale enterprises to raise a corpus of Rs.79 crore for enabling and expanding the free mid-day meals programme to serve 1.40 million children in government and aided schools in ten states through its 24 centres across India. By employing mass production and modern assembly line technologies in hi-tech Swedish-style stainless steel kitchens, voluntary community service and sophisticated logistics, TAPF delivers nutritious meals to over a million children at a rock-bottom cost (to the foundation) of Rs.750 per child for 232 days which is topped up by state government subsidies averaging Rs.1,016 per child. For state governments which in their other primaries expend an average Rs.7.40 per child for the mid-day meal, the public-private partnership with TAPF enables a saving of Rs.3.01 per day.
"I attribute the success of India's largest NGO-run mid-day meals programme to the commitment and dedication of ISKCON missionaries, and the professionalism and best practices we have adopted from the corporate sector with the aid and advice of our trustees. We are proud and satisfied that we have been successful in providing mid-day meals to help bring children back to school and alleviate classroom hunger," says Chanchalapathi Dasa, an alum of the PSG College of Technology, Coimbatore, and the Indian Institute of Science, Bangalore who took to the spiritual path and became an ISKCON missionary in 1984.
TAPF kitchens
One of TAPF's 24 kitchens countrywide modeled after the foundation's hallmark Hubbali facility, the three-storied 23,000 sq. ft Vasantpura kitchen in Bangalore was constructed in 2006 at a cost of Rs.7 crore. Designed indigenously by a team led by Madhu Pandit Dasa, a civil engineering alum of IIT-Mumbai, it combines design, technology, smooth inventory management and high productivity processes. TAPF's model kitchen in Bangalore smoothly processes 15,000 kg of rice, five tonnes of vegetables and 20,000 litres of protein-rich curries to produce 100,000 meals in less than six hours.
In 400 remote rural locations, TAPF's scaled down replicas of the model kitchen are run by local women self-help groups under the guidance of TAPF managers and personnel.
Purchase & Inventory
Foodgrains are provided free-of-charge by the state government weekly/monthly and stored in rust-resistant galvanized iron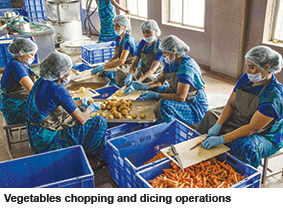 silos with holding capacity of 10-15 tonnes. Fresh vegetables are sourced from local suppliers who can be relied upon to consistently adhere to prescribed quality norms and standards. Solar panels convert solar energy into electricity for lighting and other needs. "Repeat bulk purchasing at fair prices has enabled us to develop a reliable and quality conscious supply chain for foodgrains and other inputs of the mid-day meals programme," says Chetan D, state operations manager, who supervises production at TAPF's kitchens in Bangalore.
The second floor is where much of the weighing, straining and cleaning processes including those of spices and condiments are done. On this floor, fresh vegetables are cleaned in automatic vegetable washing machines and chopped and diced by the staff in the kitchen on the first floor in semi-automatic machines connected with metal chutes.
Mid-Day Meals Production
Preparation of the 100,000 meals daily is completed on the first floor which houses massive stainless steel cauldrons in which rice and curries are cooked using piped steam provided by an external boiler fuelled by bio mass, biodegradable briquettes.
In all 24 TAPF kitchens in ten states, meals are customised to suit local tastes. For instance, government school children in Karnataka are provided four varieties of sambar per week to avoid repetition. Schools in north India are served wheat rotis, while in the southern states they are provided nutritious rice-based meals. TAPF mid-day meal managers pride themselves for never having received a single food-poisoning complaint despite the foundation having served over a billion meals since 2000.
Logistics
A fleet of 40 customised Tata Motors and Swaraj Mazda delivery vans, maintained and serviced by an in-house team of automobile engineers and mechanics, transport cooked mid-day meals to children in 649 schools in Bangalore and its peripheries. The fully prepared meal packed in stainless steel containers is carried from kitchen conveyor belts into insulated vans purpose-built to transport the containers with zero spillage. Under a similar reverse process, empty containers are back from schools to be washed and dried by water and steam jets to be ready for use the next day.
Future Plans
Consolidation and optimisation of operations rather than expansion is the priority of the Bangalore-based TAPF. "Right from the start, our objective was to build a scalable PPP model for replication countrywide. I believe we have been successful in substantially achieving this objective. However, it's important to note that TAPF covers only 1.4 million of India's 230 million children in primary schools across the country. Our hope is that 230 similar PPPs on the TAPF model will spring up so that all children in primary education receive nutritious, hygienic and empowering mid-day meals," says TAPF founder-trustee Chanchalapathi Dasa.
It's a consummation devoutly to be wished