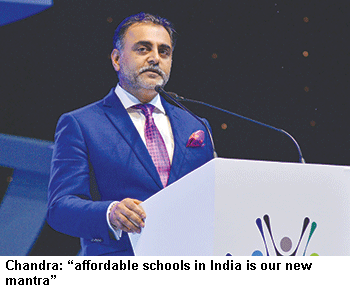 Amreesh Andrew Chandra is the Delhi-based group president of GEMS Education (India), a wholly owned subsidiary of the parent company based in Dubai, which is arguably the world's largest provider of K-12 private education with 250 schools in 16 countries.
Newspeg. GEMS Education staged a two-day Festival of Education in partnership with the Rajasthan government in Jaipur on August 5-6.
History. An economics postgraduate of Kanpur University, Chandra acquired valuable education and business experience first as the trustee-cum-executive principal of his family-promoted St. Paul's School, Gorakhpur and subsequently as founder-director of the education consultancy company, Chandra Edu Links Pvt. Ltd, where he facilitated several international projects such as Macedonia Education One World and Malta's first educational city — MEC — in partnership with Malta Enterprises, a quasi-government organisation.
Last October he signed up as CEO of GEMS Education (India) which has had a number of false starts in the subcontinent. For starters, under a new plan, a public-private partnership with the state government of Rajasthan, which he describes as a "leader in transformation of public education with no state coming close to what Rajasthan is achieving in terms of improving its government schools", was initiated.
After extensive parleys, an MoU (memorandum of understanding) was signed last November between GEMS Education and the Rajasthan government. Under the agreement, GEMS (India) adopted 50 government schools for overall improvement, and five DIETS (District Institutes of Education and Training) for upgrading teacher education. GEMS also undertook to revamp the Public Central Library of Jaipur and transform it into a centre of effective learning and a resource hub. The fourth initiative is the Festival of Education.
Direct talk. "Chief minister Vasundhara Raje is keen on showcasing the Festival of Education across the state. Our hope is that this festival will become as popular and renowned as Jaipur's Literature Festival, and will be held annually except that it will travel across the state. The next edition is slated for Udaipur," says Chandra.
Future plans. Although based in Dubai, GEMS Education has a formidable presence in India as well. It entered in 2006 with a school in Punjab and now has 377 schools in two categories — seven premium high-end schools and another 370 in the affordable category under the Dream India Schools brand name — with an aggregate enrolment of 200,000 students in nine states.
"Affordable schools in India is our new mantra and we want to reach into tier II and III cities and towns. We want to maintain a 70:30 ratio between affordable and premium schools and are looking at acquisitions, management contracts and adoption of government schools," says Chandra.
Wind beneath your wings!
Autar Nehru (Delhi)