Baby-wearing is gaining popularity in India with a multiplying number of women finding it practical and convenient to strap their children to themselves. It also promotes parent-child bonding with both infants and mothers experiencing less stress and anxiety – K.P. Malini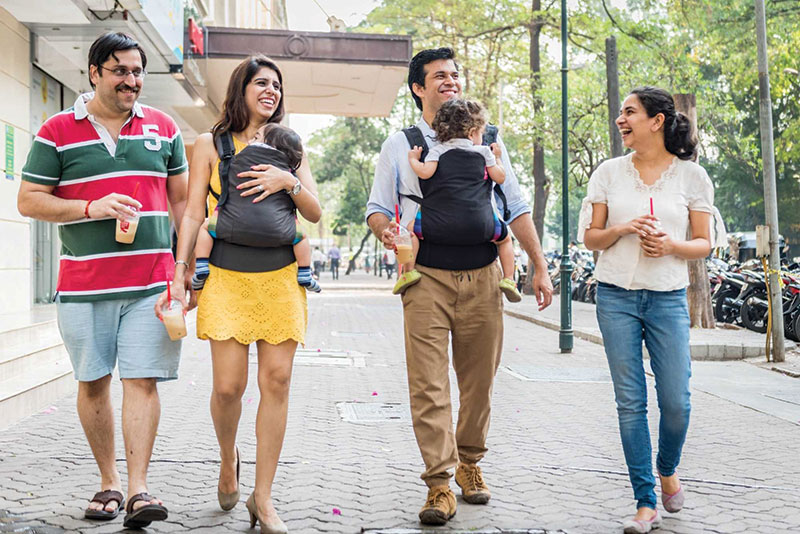 With her baby strapped to her back, the legendary Rani Lakshmi Bai of Jhansi fought off British soldiers who attacked her from all sides. Although she died in battle, the queen managed to save her son, the heir to the throne of Jhansi. This 19th century queen became a symbol of valour and inspiration during the freedom struggle.
In the new millennium, she has re-emerged as a brand ambassador of the baby-wearing movement. While for the Rani, baby-wearing kept her infant close and safe during the do-or-die battle against the British, for latter-day parents, baby wearing helps them bond with their infants. "Baby-wearing is becoming very popular because of the pure joy that parents experience by having their child up close and personal with them. It boosts 'attachment parenting'," says Rashmee Bhatia, a baby-wearing consultant and founder of Mumbai Sling Library (MSL), a group that lends baby-wearing products to mothers through pop-up events.
Baby-wearing is gaining popularity in India because a multiplying number of women find it practical and convenient to strap their children to themselves. Recently in the Pinkathon, an annual marathon promoted by actor/model Milind Soman to raise awareness about breast cancer, a special baby-wearing walk was organised.
Baby carrier options
Baby carriers are of two types — the frame or the wrap. The frame is like a backpack, while the wrap is more like a sling (ring slings, mei tais, pouch slings, stretchy wraps and woven wraps).
The frame type baby carrier is more common and available in most showrooms and online shopping sites. It has a padded structure to support the baby's head, back and bottom, and can be fastened with adjustable buckled straps. It is usually worn in front with the infant facing inwards towards the parent. The drawback with frame type baby carriers is that older infants tend to feel uncomfortable and restrained.
The ring sling is a light-weight carrier which can be worn diagonally across the body, usually carrying the baby on the hip. The sling is a long piece of soft, non-stretchable cotton or linen which is threaded through two rings and fastened around the body. The disadvantage of the ring sling is that when used for long, it can cause back strain to the parent carrying the baby.
Mei tais on the other hand are tied around the waist instead of using buckled straps. The fabric is folded up to create a pouch for the baby to sit in.
Carried baby, happy baby
"It isn't just parents who use baby carriers. Grandparents and other caretakers also use them. Baby-wearing allows a parent or care-giver to free her hands to accomplish tasks such as the laundry and is a safer alternative to parking infants in a pram or shopping cart. However, the prime benefit is that infants are calmer, happier, experience less colic, and sleep better. Consequently mothers are content and generate more oxytocin which leads to better breast milk production. It also helps new mothers get over post-partum depression," says Bhatia adding that contrary to popular belief, baby carrying can be started as early as the first six weeks after birth.
Dr. Sajeevan E.S, consultant paediatrician at the Pathoor Nursing Home, Chemmad (Kerala), concurs. "For hundreds of years, women in villages and tea plantations have strapped their babies to their backs. It allowed them to not only continue working the fields but also the satisfaction of having their infant close to them. Now it's become an urban trend. But parents need to careful about carrying their babies correctly as incorrect postures can cause back strain to the wearer and within new-borns it can cause hip dysplasia," warns Dr. Sajeevan
Wear it right!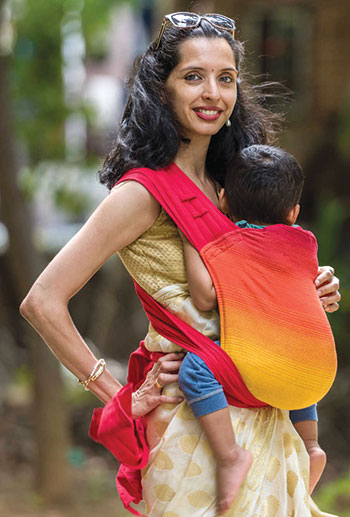 Dr. Sajeevan E. S, consultant paediatrician, Pathoor Nursing Home, Chemmad (Kerala), offers parents valuable advice on baby-wearing.
Right position. If the infant is not positioned properly in the carrier, she can suffer hip dysplasia. The most appropriate position to carry the chid is the abduct position, where the baby's legs are supported away from the middle line of the body. Use a wide broadbase carrier with the baby seated in such a way that knees are in a slightly higher position than hips.
Travel safety. When traveling by car, a baby car seat is safer than a carrier.
Feeding rule. Infants must not be placed in the carrier immediately after feeding, as there is a possibility of them vomiting and choking.
Mother safety. While baby-wearing, never bend from the hips to pick up something from the ground. Bend the knees cautiously and pick up the item, to avoid injury to your child.