-Reshma Ravishanker
The video of a student alleging that she was forced by her teacher to pray to Allah in class despite expressing her unwillingness has gone viral on social media.
The incident took place during a class at the Orchids The International School (Estb 2014), BTM layout and has been trending on social media since the parent uploaded it on one of the platforms.
The incident allegedly took place when a teacher from this CBSE affiliated school with over 400 students, Sarika Rana was explaining the concepts of 'Money' in a mathematics class.
A student, presumably in primary school, has alleged that she was forced to pray to Allah despite her refusal to do so. "A few weeks ago our teacher was teaching us a chapter on Money. Everyone was getting the wrong answers. The next day ma'am made us pray to Allah," the student says in the video.
a teacher named Sarika Rana from @Orchids_School BTM Layout, Bengaluru is has forced kids to Pray to All@ claiming All@h is a better god.@swati_gs @ShefVaidya

— G Pradeep (@pradeep_gee) January 5, 2022
The parent intervenes to ask in detail what happened to which the child explained through actions that she was asked to perform a prayer as per Islamic tradition with hands held together.
"My classmates and I kept insisting that we are Hindus and did not want to pray to Allah. But ma'am did not listen and she said that we had to pray to Allah and that Allah was a better god," the student alleges. She also said that the students who refused to follow instructions were shouted at by the teacher and asked to continue their prayers.
The school received widespread criticism on social media with parents expressing their displeasure overusing the school as a ground for the promotion of individual religion.
In a tweet by the Orchids International School on January 5, which was subsequently secured from the public eye, the school, functioning under St Theresa Educational Cultural and Social Development Society issued an official statement that an investigation conducted found these allegations to be baseless. The school said, "The alleged action of eye palming exercise, spoken about in the video is an activity called the Two Minute eye exercise conducted during online sessions which are intended to rest their eyes due to the screen time."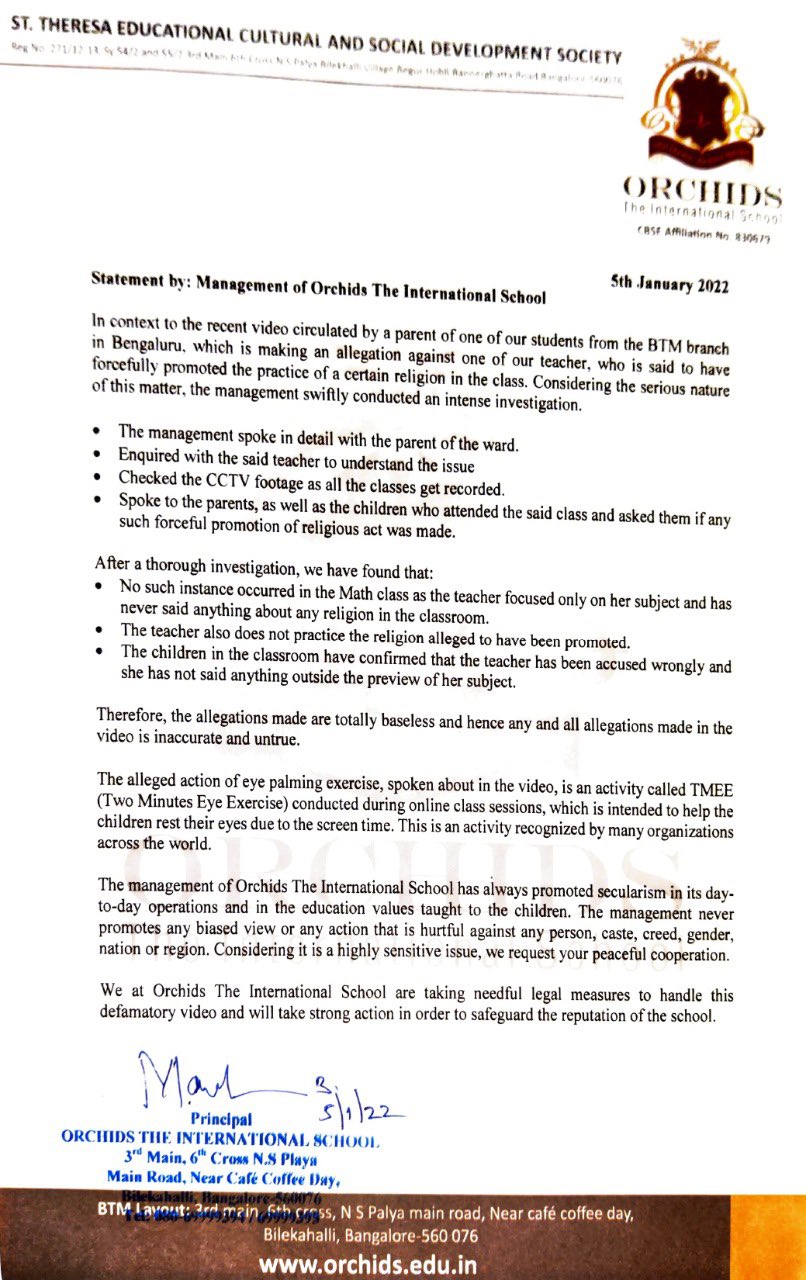 News
,
States