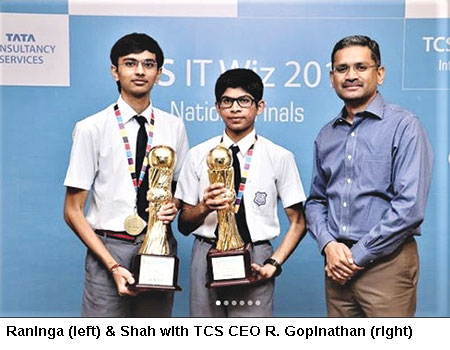 A team comprising Bhavya Raninga (class XII) and Nihar Shah (class X) — students of the CBSE-affiliated St. Kabir's School, Vadodara — was recently (November) crowned national champions of the TCS IT Wiz (TCSITW) 2018. In the national finale staged in Mumbai, the duo outsmarted teams from St. Paul's English School, Bangalore; St. Jude's, Kotagiri; Navy Children School, Kochi; Loyola School, Jamshedpur, and Centre Point School, Nagpur. The team from St. Jude's Kotagiri was adjudged runner-up.
Following three rigorous elimination rounds which began in early August, the duo — regional and final qualifiers in the past — bested 13,908 teams of 1,200 schools from 12 cities countrywide in the 20th edition of TCSITW to win Amazon vouchers valued at Rs.210,000, a gold medal each and the outsized champions trophy for the school.
A general knowledge new technologies testing quiz started in 1999 by the Mumbai-based Tata Consultancy Services Ltd — India's most valuable company in terms of market capitalisation (Rs.7.4 lakh crore) — TCSITW is the largest inter-school IT Quiz in India open to students of classes VIII-XII countrywide. The objective of this annual inter-school quiz is to "build awareness, emphasise the importance of IT skills and enable students to view technology from a holistic perspective".
The duo is obviously elated about winning the country's most prestigious open inter-school quizzing trophy. "Our school is very supportive of co-curricular activities such as debates, quizzing, environment clubs etc. Our computer science teachers Swarna Durga and Dilip Chaini in particular, took great pains to prepare us for TCSITW and other inter-school contests. They have enabled us to win several general knowledge and science quiz contests over the past two years, and groomed us to work as a team," says Nihar Shah.
Currently, Bhavya Raninga and Nihar Shah are in the thick of preparing for their class XII and X board exams. While Nihar Shahwants to research new-age technologies after completing his Plus Two, Bhavya is an aspiring medical practitioner. "But that's in the future. Right now, we are focused on winning national and international quiz competitions," she says.
Way to go!
Paromita Sengupta (Bangalore)