Arundhati Nath & Parvathy Menon recommend motivational books to inspire children to set their sights high
Stories for Boys Who Dare to Be Different
True Tales of Amazing Boys Who Changed the World without Killing Dragons
By Ben Brooks
Publisher: Hachette
Price: Rs.899
There's a reason why this book made it to the New York Times bestsellers list. It's a wonderfully inspiring collection of 100 stories of famous and not-so-famous men of the past and present, who made the world a better place through their virtues of compassion, generosity, and self-belief. Among the individuals profiled are Frank Ocean (American singer-songwriter who recalls washing cars and mowing lawns as a teen), Spanish painter Salvador Dali, former US President Barack Obama, Ai Weiwei (Chinese contemporary artist and activist) and athletics star Jesse Owens.
Ben Brooks, a Berlin-based author of several books including Grow Up and Lolito, which won the Somerset Maugham Award in 2015, has done a great job of presenting 100 inspiring tales of grit, determination and success.
10 Indian Women who were the First to do What They Did
By Shruthi Rao
Publisher: Duckbill Books
Price: Rs.200
In this book, award-winning children's author Shruthi Rao presents inspiring short biographies of ten remarkable women achievers of India. This informative and well-researched collection illustrates how these ten women overcame patriarchal attitudes to realise their dreams. Among the women featured are Savitribai Phule (1831-1897), social reformer, women's rights activist and India's first woman teacher in higher education; Kadambini Ganguly (1861-1923), India's second woman physician and Anasuya Sarabhai (1885-1972), pioneer of the women's labour movement in India and star athlete P.T. Usha.
501 Facts Factory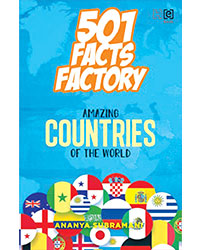 By Ananya Subramani
Publisher: Hachette India
Price: Rs.299
501 Facts Factory lives up to its title. It is replete with lesser known facts about countries around the world. For instance, which country hosts the World Armwrestling Federation? Azerbaijan, also famous for its mud volcanoes. Or where would you go if you want to see cockroaches race? Brisbane, which has been hosting roach races since 1982.
More than 1,000 languages are spoken in India but Austria has two separate national flags — one for its government and one for citizens. When flown by citizens, it has three horizontal stripes — red, white and red. When hoisted by the government, it sports an eagle and a coat of arms.
Author Ananya Subramani, an English literature postgrad of University of Leeds, UK, has put together a compelling and fascinating 500 facts file.