With India's metros fast reaching saturation point, the expansion of small town India's neo middle class has fuelled demand for high-quality globally benchmarked K-12 English-medium schools, especially in tier II-IV cities – Summiya Yasmeen
With the Indian economy growing at 7 percent-plus annually — the highest annual growth rate of all large economies worldwide, according to spokespersons of the BJP/NDA government at the Centre — India's middle class is expanding commensurately even as income inequality between the country's top 10 percent and rest of the population is increasing. And with metropolitan and larger cities fast reaching saturation point, the country's estimated 600 tier II-IV cities are experiencing exponential expansion of the middle class. Inevitably, fast-paced growth of the non-metro neo middle class has fuelled demand for high-quality globally benchmarked K-12 English-medium schools in small town India.
According to latest (2011) census data, there are 53 cities with a population of 1 million-plus and 256 with populations ranging from 100,000-999,000 countrywide. Ernst & Young's India Attractiveness Survey 2015 indicates that tier-II cities such as Surat, Jaipur, Indore and Patna are clocking annual economic growth rates of 40 percent, way higher than Kolkata and Mumbai. Between 2001 and 2011, while economic growth plateaued in several metros, the E&Y survey says that "tier-II cities continued on their growth trajectory with their economies growing at an unprecedented rate". "In 2014, FDI (foreign direct investment) projects in smaller cities surged 79 percent, compared with just 21 percent in metropolises. Cities such as Chakan, Halol, Jaipur, Mohali, Sanand, Thrissur, Vapi and Varanasi are increasingly becoming industrial hubs."
Similarly, E&Y's more recent report titled India's Growth Paradigm — How Markets beyond Metros have Transformed (2017), identifies 42 'new wave' cities — "a new emerging class of cities, with millions of aspirational consumers who are vying for attention on the national stage". Among these "new wave cities", two new metros — Jaipur and Surat — are top-ranked followed by ten 'high potential' cities (Kanpur, Jabalpur, Indore, etc) and 30 'emerging markets' (Agra, Dhanbad, Gwalior, Madurai, Hubli-Dharwad, etc). These 42 new wave cities are India's fastest growing urban habitats in terms of annual GDP growth in the 2015-20 quinquennium, says the E&Y report.
With the benefits of economic liberalisation and industry deregulation belatedly flowing into India's tier II-IV cities, the aspirational middle class with higher disposable incomes has been quick to discern that high-quality, globally benchmarked English medium school education offers their progeny a good chance to enter nationally top-ranked higher education institutions and land highly-paid jobs in India and abroad, and enjoy the material comforts to which they aspire. Rising demand for high-quality English-medium education has prompted new-age education entrepreneurs ('edupreneurs') to establish internationally benchmarked private K-12 schools which are developing the hitherto neglected human capital of small town India.
"Over the past decade, the action in K-12 education has shifted from the metros to small towns. With tier II-IV cities becoming the new centres of India's economic growth story, there's pressing demand from parents for English-medium education for their children. Since millennial parents tend to be apprehensive about sending their children to boarding schools, they want day schools of high standard in their native towns. Fortunately, a new tribe of edupreneurs has sprung up to meet this rising demand. Well-qualified and familiar with new digital technologies, they are promoting quality schools affiliated with national and international exam boards at several price points in tier II-IV cities," says Dhirendra Misra, an alumnus of Bhopal University who taught at St. Joseph's School, Hoshangabad and Good Shepherd International School, Ooty before promoting Life Educare Pvt. Ltd, a Delhi and Raipur-based K-12 education consultancy company in 2009.
Since then, Life Educare has aided and enabled the establishment of over 40 greenfield schools at capital costs ranging from Rs.5-70 crore in several tier II-IV habitats including Amethi, Bagalkot, Morbi, Angul and Amravati. Misra, who has traversed over 500 of India's 701 districts, says there's a English-medium private K-12 schools boom in small town India. "Last year, we received 300 inquiries from aspiring school promoters based in tier II-V cities. They are eager to meet the rising demand for English medium schools affiliated with the Delhi-based CBSE — India's largest national school examination board with over 20,000 affiliated schools. However, because education is still heavily regulated by state governments, promoters need proper guidance and hand holding. Fortunately, state and municipal governments in small towns are becoming more cooperative in granting permissions to greenfield schools, than local governments in the metros," says Misra.
Nevertheless, Misra warns that even after procedural and regulatory hurdles are cleared, edupreneurs are likely to be confronted with acute shortages of qualified and trained teachers. "Though tier II-IV cities are experiencing an economic boom, public infrastructure including roads, water, sanitation and recreational facilities remain under-developed. Therefore there's reluctance among well-qualified English-literate teachers to migrate to small and district towns. Consequently school promoters also need teacher recruitment and incentivisation aid and advice," adds Misra.
Although poor infrastructure and parochial social ambience of tier II-IV cities are a disincentive for top-rated principals and teachers, the BJP-NDA government's Smart Cities Mission — an urban renewal and retrofitting programme launched in 2016 with the objective of developing 100 cities across the country to make them citizen-friendly and sustainable — offers hope of better times to come. Bangalore-based architect and managing partner of Kumar & Swamy Architects, Sanchali Harsha says that infrastructure and living conditions are rapidly improving in tier II-IV cities. Kumar & Swamy, which has designed the top-ranked Aditi Mallya International, Canadian International and Kumaran's schools in Bangalore, has shifted its attention to constructing K-12 schools in regional towns, such as Arni (Tamil Nadu), Bagalkot (Karnataka) and Vellore (Tamil Nadu).
"Tier III-IV cities are no longer dusty backwaters without motorable roads. They are fast competing with metros in every aspect — in fact public infrastructure particularly roads, are better than in metros, official corruption is less brazen and local communities are more involved in civic administration. The large number of greenfield schools springing up across small town India are positively impacting their economies, society and culture. Mostly promoted by local entrepreneurs keen on giving back to their communities, they compare favourably with top private schools in the metros on several parameters including teacher-pupil ratio, sports facilities and parental involvement. With construction costs 40-50 percent lower than in metros, edupreneurs are able to keep tuition fees affordable and achieve financial stability quickly," says Harsha.
Sanjay Pratap Singh, promoter-director of the preschool-class VII Sapient International Academy (estb.2018) sited in Singrauli (pop.226,786) — a small town in eastern Madhya Pradesh, which hosts energy plants of NTPC, Coal India, Reliance Power and Essar — outlines the challenges of managing contemporary schools in small town India. "Though households in tier III-V cities and towns are more prosperous than they were a decade ago, affordability is still a big factor for most parents. That's why our
tuition fees are a modest Rs.1,200-1,500 per month even though we have invested heavily in digital technologies and sports facilities. We provide spacious classrooms, well-equipped labs and excellent co-curricular and sports education including martial arts and athletics training. Low fees apart, there are other challenges. For instance in small towns government officials wield greater influence than in larger cities," says Pratap Singh.
Acknowledging and anticipating that a schooling revolution in the non-metros has the potential to deliver the country's much-trumpeted demographic dividend, since the annual EducationWorld India School Rankings (EWISR) were launched in 2007, your editors have been assessing and ranking unheralded primary-secondaries in small town India. In the latest EWISR 2018-19 league table of India's Top 1,000 schools, an estimated 135 schools sited in tier II-IV cities and towns have been rated and ranked on 14 parameters of education excellence including academic reputation, co-curricular education, faculty competence and infrastructure.
In the pages following, we present interviews with promoters/leaders of small town India's bright diamond schools which topped EWISR 2018-19. Our objective is to provide philanthropists, NGOs and edupreneurs — may their tribe increase — insights into establishing, managing and sustaining excellent schools in oft-forgotten provincial India.
R.D. Public School, Betul
A commerce and education alumna of Calcutta and Barkhatullah (Bhopal) universities, Ritu Khandelwal is founder-director of the R.D. Public School, Betul (RDPS, estb.2007). Affiliated with the Delhi-based CBSE, the K-12 RDPS is sited on a four-acre campus in Betul (pop.1 million), in southern Madhya Pradesh, which the state government is planning to transform into a small and medium-scale industries hub. Ranked Betul's #1 co-ed day school in the EducationWorld India School Rankings 2018-19, RDPS has earned a good reputation in southern MP for providing a rigorous academic programme complemented by a wide range of co-curricular and sports activities to its 5,000 students mentored by 180 teachers (tuition fee: Rs.20,000-25,000 per year).
History. Though Betul district has a population of over a million, the city was educationally under-served and bereft of an English-medium CBSE school. "To remedy this situation, in 2007, inspired by my father-in-law, the late Vijay Kumar Khandelwal, a former BJP member of Parliament from Betul constituency, we decided to promote an English-medium CBSE-affiliated school," recalls Ritu Khandelwal.
Initial challenges. According to Khandelwal, Betul is a socio-economically under-developed town with most households engaged in agriculture and small-scale businesses. "Therefore parents here are very price conscious. But since it was our mission to provide middle class households in Betul high-quality English-medium education, in our inaugural year we fixed the tuition fee at a mere Rs.400 per month. The response was overwhelming. In our very first year, we enrolled 1,200 children — perhaps the largest first batch of any school in Madhya Pradesh. This proved our assessment right: there was — and remains — high pent-up demand for English-medium schools affiliated with national examination boards," says Khandelwal.
Inevitably, the next big challenge was to recruit teachers with acceptable English language fluency. "We have overcome this problem by intensively and continuously training our teachers," she says.
Achievements. RDPS students have given a good account of themselves in the CBSE class X and XII board exams during the past decade with many admitted into the IITs and top-ranked universities countrywide. "In 2014 and again in 2016, our students won awards at the CBSE National Life Skills Summit. Moreover, one of our former students Sanket Pandya's book on philosophy The Revamp Undertone (2012) became a bestseller in the US," says Khandelwal.
Future plans. "Although we are pleased to have made a breakthrough in Betul, there's much more we want to do. Next year we will be introducing career counseling and guidance programmes for secondary students. We also want to increase enrolments in our sister organisation R.D. Coaching Classes which offers fully residential integrated coaching for national competitive exams," says Khandelwal.
Delhi Public School, Dhenkanal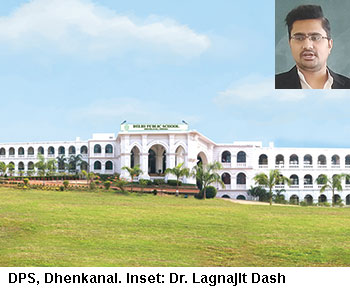 A postgraduate in psychiatry from the Institute of Medical Sciences, Bhubaneswar, Dr. Lagnajit Dash (31) is the youthful director of Delhi Public School, Dhenkanal (DPS-D). Promoted in 2014, DPS-D is ranked #1 in Dhenkanal district (pop.1.2 million) sited 75 km from Odisha's administrative capital Bhubaneswar, in the category of co-ed day schools in the EW India School Rankings 2018-19. A franchisee of the well-reputed Delhi Public Schools Society, which has promoted 220 DPS owned and franchised schools in India and abroad, DPS-Dhenkanal is a K-12 CBSE-affiliated school with an enrolment of 1,100 students tutored by 46 teachers. The five-year-old school is set in a 11.7-acre campus featuring Smart classrooms, modern science, computer and language labs, well-equipped library, football/cricket ground, badminton and basketball courts.
Why did you choose to establish your school in Dhenkanal?
First, Dhenkanal is the home of my maternal grandparents and parents. Second, Dhenkanal is a highly literate district which has produced chief ministers, judges, Union ministers, and IAS/IPS officers. However, none of the town's schools were affiliated with the CBSE national exam board. With our experience of running engineering colleges in Dhenkanal — the Synergy Institute of Engineering & Technology was promoted by my father, Binod Dash in 1999 — we believed this fast-growing city needed a CBSE school which would prepare students for competitive national exams as well as equip them with 21st century holistic education. Moreover, we wanted to reduce the migration of talented students to schools in Bhubaneswar and outside the state. This school is our gift to the people of Dhenkanal.
What are the challenges of running a school in a small town?
In our first year, we had only 47 students. We were taken aback with the low admissions in spite of offering excellent facilities at affordable fees of Rs.1,600-3,000 per month. We even thought of closing down the school. However, we got back on track in the next academic year. The excellent all-India reputation of DPS helped allay parents' fears about the quality of education provided.
Nevertheless, the biggest challenge is recruiting and retaining qualified teachers. Second, parents here don't appreciate the concept of holistic education. They believe student participation in sports and cultural activities is unnecessary. But fortunately this mindset is changing slowly and parents are beginning to understand the importance of a well-rounded education. Third, it's a challenge to keep tuition fees affordable while providing excellent facilities and education.
What are three distinguishing features of DPS-Dhenkanal?
International standard infrastructure; provision of special needs education — a first for a school in Dhenkanal — and a well-designed curriculum which promotes all-round development of children.
Highlight two significant achievements.
DPS-D was adjudged #1 in Dhenkanal and among the Top 10 in Odisha for two consecutive years in recent EW India School Rankings. We also received the best public school award 2017 from the Odisha Cultural Foundation.
How satisfied are you with the growth and development of DPS-D?
Very satisfied. Our first batch of 33 class X students who wrote the CBSE school-leaving exam in 2018 recorded 100 percent pass with four students scoring 90 percent-plus.
What are your future plans for the school?
As our first batch of class XII students are getting ready to write the CBSE board exam in 2020, we are working hard to ensure their success. Moreover, we are preparing our students to actively participate in community service projects in the city.
The Geekay World School, Ranipet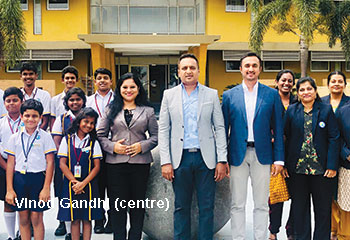 Vinod Gandhi is managing director of the CBSE and Cambridge International-affiliated The Geekay World School (TGWS), Ranipet, promoted in 2010 by the Gandhi family which owns and manages the Geekay Group of companies (leather, hospitality, mining etc). Ranked Tamil Nadu's #1 co-ed day-cum-boarding school in the EducationWorld India School Rankings for four years consecutively (2015-18), TGWS is the sole Cambridge International (UK)-affiliated school in Ranipet (pop.50,764), an industrial hub known for its leather industry. A motorable 20 km from Vellore and 100 km from Chennai, TGWS' globally-inspired infrastructure includes air-conditioned classrooms fitted with Smart boards, modern boarding facilities, skating rink, swimming pool, basketball and tennis courts to 672 students including 50 boarders mentored by 89 teachers.
Why Ranipet?
Born in a city and brought up in a small town where our parents had to settle down for business reasons, my brother and I had to move to Bangalore and Chennai for quality education. We didn't want the next generation of parents to make this difficult decision. This consideration prompted us to promote TGWS in the small but high potential industrial town of Ranipet.
What were the pains of establishing a 21st century school in this small town?
The biggest was to build a team to transform our vision into reality. Secondly, we had to recruit most of our human capital, especially well-qualified teachers from Chennai and other larger cities, which involved heavy expenditure on residential accommodation and salaries. We also had to invest substantially in training teachers to deliver Cambridge International curriculums. It was also a challenge to educate our parents community about the cost-benefits of internationally benchmarked school education.
Three distinguishing features of TGWS.
We don't make our students do different activities, we encourage them to do activities differently. Our deeply researched curriculum — The Geekay Integrated Primary Programme and Integrated Middle School Programme — encourages inquiry-based teaching-learning and has integrated sports, visual and performing arts education into the school's culture. Second, TGWS has developed excellent leadership and community service programmes. Third, our teacher-student ratio of 1:10 enables us to deliver personalised learning.
Shortage of trained teachers is a special problem in small town schools…
We are confident that we have overcome this challenge to a great extent through our attractive human resource policy. We pay handsome salaries, provide free residential accommodation, food and recreational facilities, recognition awards, and continuing in-service and professional development opportunities for our teachers. A harmonious working environment is our strong point and teacher attrition is low.
Significant achievements of TGWS.
TGWS has been ranked the #1 day-cum-boarding school in the entire state of Tamil Nadu for four consecutive years in the highly-respected EducationWorld India School Rankings. This is a very significant achievement. Moreover within a decade of establishment, our students are winning laurels in inter-school, state and national sports and games. In June we will be sending a team to the United World Games to be held in the Austrian capital of Vienna.
Future plans. We are planning to establish preschools in small towns neighbouring Ranipet and Vellore, and sign up with the National Open Schooling board to provide differentiated instruction to our special needs children.
Accord School, Tirupati
An alumnus of BITS-Pilani and the Hult International Business School, USA, Vivek Vemuru is executive director of the CBSE-affiliated Accord School, Tirupati, ranked #2 in Andhra Pradesh in the co-ed day-cum-boarding schools category in the EW India School Rankings 2018-19. Sited on a 10-acre modern campus in the temple town of Tirupati (pop.374,000), one of 100 cities countrywide selected by the Central government to be developed as a Smart City, Accord offers excellent academic and sports facilities to its 1,774 students including 370 boarders mentored by 110 teachers.
Why the choice of Tirupati?
This is a question we asked six years ago. Our answer: "Why should metros have the best schools and why can't children from small towns get access to international standard education?"
Our chairman V. Chandra Shekhar Reddy registered the Prashanth Educational Society in 1984 and was successfully managing three state board-affiliated schools in Tirupati. However, during his experience of three decades as an educator, he met numerous parents who wanted education which would equip their children to compete internationally. They were sending their children to international schools in Chennai, Hyderabad and Bangalore. To meet this demand for a good English-medium school in Tirupati, he laid the foundation of Accord School in 2013. Since then, we have established a school of international standards which can compete with the best in metros. Our 10-acre campus houses a large sports complex with synthetic tennis and basketball courts, swimming pool, 400 m athletic track, skating rink, a six-courts badminton hall and three auditoriums.
What were the initial promotion hurdles?
The biggest hurdle was to educate small-town parents about the importance of holistic education including co-curricular and sports activities. Most of them were obsessed with academic success. We had to convince them that in today's age, students must be equipped with skills such as creativity and critical thinking, teamwork and effective communication for which co-curricular and sports education is essential.
I believe we have been successful in our efforts with parents, and student enrolment has jumped from a mere 46 in 2014 to 1,774 in 2018.
What are the special challenges of running a school in a small town?
Unfortunately, we live in a country where a person can buy a B.Ed degree for Rs.20,000. Although CBSE mandates stringent qualifications for teachers, it's very difficult to find trained teachers prepared to serve in small towns. Therefore, we have to invest heavily in training locally recruited teachers and from within the state. Moreover, with many students coming from small towns with non-existent preschool education and semi-educated households, our teachers have to go the extra mile.
What are three distinguishing features of Accord?
Enabling infrastructure to ensure holistic development of children; well-trained teachers and IT resources such as Smart Boards and Byju's digital content. Moreover, we are proud that Accord is the only school in Tirupati which has been consistently ranked among the best in Andhra Pradesh and nationally by EducationWorld.
Two significant achievements of your school?
Our greatest achievement is the trust we have earned from our parents community. Through word-of-mouth publicity, we have achieved 100 percent increase in student enrolment during the past four years. Second, our students have consistently performed well in the CBSE cluster and Andhra Pradesh sports federation events.
Your future plans for the school.
We will be expanding to classes XI-XII this year. This will be a big challenge because Andhra Pradesh is dominated by junior colleges which are essentially cram schools that prescribe 14 hours of study, six hours practice and four hours sleep per day. It will be a daunting task to convince parents of Plus Two children to pull them out of conventional cram schools. Nevertheless, we plan to build another residential hostel over the next two years.
MD International School, Bijnor
An alumna of IILM, Gurgaon (University of Bradford), Naina Jain is additional secretary of MD International School
(estb.2014), sited on a five-acre campus in Bijnor (pop.115,000), Uttar Pradesh, 173 km from Delhi. MD International School (MDIS) is ranked Bijnor's #1 co-ed day school in the EW India School Rankings 2018-19. This CBSE K-12 school has 2,581 students and 102 teachers on its muster rolls. Infrastructure facilities include Smart classrooms, well-equipped labs, dance, art and craft rooms, indoor gymnasium, multipurpose ground and electromagnetic shooting range.
Why the choice of Bijnor?
It was a long cherished dream of our family to promote a progressive English-medium school in Bijnor — our hometown — which would compete with the best schools of Delhi and Dehradun. The foundation of MD International School was laid by my grandfather S.K. Jain in 2014.
What are the challenges of running a modern, well-equipped school in Bijnor?
All small town schools struggle to recruit and retain good teachers. Secondly, many of our students don't have Internet access at home or reliable mobile phone service. Therefore, it's difficult for teachers to assign homework and research projects. Third, since most parents are first generation learners, they can't provide academic support at home. Moreover in small cities, catchment areas are wide and travel distances to and from school are long. This dissuades parents from actively participating in school activities.
What are the three distinguishing features of MDIS?
First, we have a clear vision for the school which centres on a shared commitment to promote academic excellence, intellectual growth, art, high standards of ethical awareness, sportsmanship and community service. Second, we provide a safe and secure learning environment guided by contemporary child safety practices. Third, our teachers give individual attention to every student.
What are some milestone achievements of MDIS?
Within four years of establishment, we have attained our full student capacity of 2,600. Moreover, the school has received many awards and recognitions for its pursuit of academic, co-curricular and sports education excellence from several organisations including the British Council, EducationWorld and Asia One.
How satisfied are you with the performance of MDIS?
Very satisfied. We have instituted good governance systems and all stakeholders are united in their commitment to providing a healthy learning environment which promotes the all-round development of children.
Future plans. We will continue to improve our values-based education, form global partnerships and engage in community service.
Macro Vision Academy, Burhanpur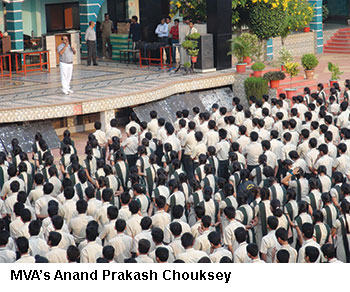 A maths postgraduate of DAVV University, Indore, Anand Prakash Chouksey is director of Macro Vision Academy (MVA, estb.2002), a CBSE-affiliated K-12 co-ed day-cum-boarding school sited in Burhanpur (pop.210,891) — a small town on the bank of the River Tapti in Madhya Pradesh. Over the past 17 years, MVA has established a statewide reputation for academic excellence with 2,000 of its students having entered IITs, NITs, AIIMS, and other top-ranked engineering and medical colleges countrywide. Built on a modern 42-acre campus, MVA has 2,803 students including 1,498 boarders mentored by 110 teachers on its muster rolls.
Why the choice of Burhanpur for MVA?
Students in large cities have access to international schooling options while children in small towns are deprived of good quality education. Therefore our children had to sign up with expensive coaching institutes to prepare for public entrance exams. MVA was established to offer a balanced combination of CBSE curriculum study and tutoring for national and international competitive entrance exams.
Major challenges of managing a small town school.
It's a challenge all the way. Fortunately, because we are a day-cum-boarding school, we have been able to attract students from surrounding areas and quality teachers — we provide free on-campus residential accommodation to teachers and subsidised schooling for their children.
Three defining features of MVA. Synchronisation of CBSE board and public exams syllabuses and teaching-learning through Apple iPads which has earned MVA the title of Asia's first Apple Distinguished School. Thus far, 2,000 of our students have been admitted into the IITs, NITs, IIITs, AIIMS, premier medical and law colleges, and foreign universities.
Coping with teacher shortages. Teachers are a school's most important and valuable asset, and their welfare and development is our #1 priority. Therefore, we recruit teachers from across the country, pay them well and provide them free board and lodging in a stress-free, healthy environment. Moreover, they are given a 75 percent tuition fee waiver for their children.
Landmark achievements. We are very proud that MVA is Asia's first Apple Distinguished School. We have also been awarded Great Place to Study Certification by the Global League Institute, Delhi.
Future plans. We are committed to continuous teaching-learning and institutional improvement. We want our students to be fully prepared for the challenges of higher education and 21st century workplaces. Future plans include construction of an indoor stadium and auditorium.
Edify School, Amravati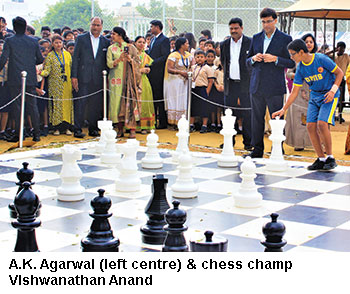 A.K. Agarwal is the Hyderabad-based director of the DRS Group of companies with investments in transportation, logistics, pharma, etc and also MDN Edify Education Pvt. Ltd which has a network of 30 K-12 schools, with an aggregate enrolment of 28,000 students mainly in tier II-IV cities countrywide. This school was promoted in 2016 and offers the CBSE curriculum to its 1,150 students mentored by 80 teachers. Sited on a six-acre campus in Amravati (pop. 646,801) in Maharashtra's Vidarbha region, Edify is ranked Amravati's #1 co-ed day school in the EW India School Rankings 2018-19. Infrastructure facilities include Smart classrooms, skating rink, 200 metre athletics track, tennis and basketball courts, eight labs, two libraries and eight performing and visual arts rooms. Tuition fee: Rs.4,000 per month.
What factors prompted you to establish Edify, Amravati?
Students in tier II-V cities have the potential to contribute significantly to India's development if provided high-quality education. They are hardworking and sincere but lack the education to prove their worth. Edify schools were promoted to provide children living in small towns including Amravati, access to quality education at affordable price.
What are the challenges of managing schools in small towns?
The biggest problem is information asymmetry between parents and schools. Most parents are unaware of the revolutionary changes in education in metro India and around the world. Learning is no longer about getting good marks in exams. Progressive teaching and experiential learning are essential to prepare children for 21st century jobs. Therefore, a major challenge is to educate parents about the value of holistic education. Moreover, there's a shortage of competent and well-trained teachers.
Three distinguishing features of Edify, Amravati.
First, we provide excellent classrooms, labs, sports and performing arts facilities to deliver holistic education to children. For instance, every child plays a chosen sport four times per week, engages in community service projects, and attends three laboratory classes every week.
Second, our unique 3C Curriculum nurtures independent thinking and boosts development of multiple intelligences. The 3C Curriculum has won an entry in the World Book of Records for integration of character, competence and content in a trans-disciplinary manner.
Third, we have established excellent connect with parents in Amravati through initiatives such as home meetings, coffee mornings, etc.
Can you highlight two significant achievements of Edify schools?
The government of Andhra Pradesh has awarded Edify the title of Green Schools and the Uttarakhand government for schools with most child-centric curriculums. We have also been honoured with the International School Award of the British Council.
How satisfied are you with the growth, development and performance of this school?
With a high retention rate of 98 percent for students and teachers, we believe our efforts are yielding results. We are happy to be fulfilling our vision of nurturing progressive individuals capable of making a positive impact upon larger communities.
HIM International School, Itanagar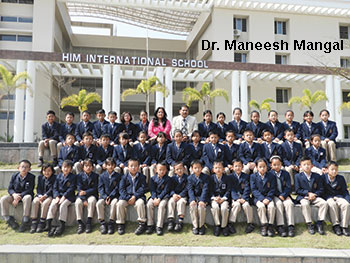 An alum of Barkhatullah University, Bhopal and Lingaya's University, Faridabad, Dr. Maneesh Mangal began his career in Scholars Home, Dehradun and Al Noor International School, Bahrain, before he accepted an offer to head HIM International School in remote Itanagar (pop. 59,000) last year. Itanagar is the administrative capital of the north-eastern state of Arunachal Pradesh which is often claimed as Chinese territory. The CBSE-affiliated HIM International (estb. 2017) stands on a sprawling 18-acre green, undulating campus and offers its 200 (K-VII) children mentored by 24 teachers, excellent infrastructure including air-conditioned Smart classrooms, labs, modern hostels and excellent sports facilities. In the EducationWorld India School Rankings 2018-19, HIM International is ranked Arunachal's #1 school in the co-ed day category.
Location choice of Itanagar?
HIM International was promoted by educationists Nannu and her husband Katung Wahge, PWD chief engineer in the government of Arunachal Pradesh. With middle and upper middle class parents sending their children to boarding schools in other states, our younger generation was becoming alienated, and many students never returned. The objective of HIM International is to provide the choice of high-quality internationally benchmarked English-medium education, deeply rooted in Arunachal's culture and traditions.
What are the peculiar challenges confronting HIM International?
Our greatest problem is recruiting qualified teachers. This apart, because of local unavailability of high-quality instructional/academic materials such as lab equipment, we had to invest considerable amounts in importing them. Moreover, it's a challenge to convince parents accustomed to sending their children to Delhi, Guwahati, Shillong, Darjeeling and other Indian cities that we can provide comparable quality education.
Three defining features of HIM International.
Child-centred curriculum; international standard infrastructure; highly-trained teachers.
Significant achievements. I believe we have succeeded in recruiting well-qualified teachers. Second, our specially designed curriculum integrates the best traditions and culture of the state.
How satisfied are you with the progress of the school?
Fairly satisfied. Within two years of establishment, the school has attracted over 200 children into our nursery and primary sections. As we add a grade every year, enrolment will increase thanks to our good reputation as Arunachal's #1 school.
Future plans. We plan to sign up exchange agreements with top-ranked schools in India and abroad to develop HIM International as a centre of excellence in extra-curricular and sports education. We also plan to apply for affiliation with the Cambridge International (UK) board.
Ryan International School, Ajmer
An alumnus of Warwick and Aston universities (UK) plus the Cass Business School, London, Ryan Pinto is CEO of the Ryan International Group of Institutions (RIGI) — India's largest chain of 137 wholly-owned proprietory K-12 schools with an aggregate 270,000 students countrywide. In recent years, RIGI has focused its attention on promoting its branded high-quality English-medium schools in India's educationally under-served tier II and III habitations. Ryan International School, Ajmer (RIS-A, estb.2014) is a CBSE-affiliated K-10 school with 1,800 students and 75 teachers on its muster rolls. Built on a three-acre campus in Ajmer (which also hosts the top-ranked Mayo Boys and Girls boarding schools), this co-ed day school offers its students landscaped gardens, spacious classrooms, well-equipped labs and modern indoor and outdoor sports facilities.
Why the choice of Ajmer?
The prime objective of the group's founders Dr. A.F. Pinto and Mme Grace Pinto has always been to reach high-quality, affordable English-medium education to children in all corners of the country. That's why we have a large number of RIGI schools in small towns across the country. RIS-A was established in Ajmer for the same reason.
What are the challenges of running schools in small towns?
The initial hurdle is always of recruiting quality faculty. However, with the intensive teacher training system we have developed in RIGI schools, we are able to bring teacher trainers and experienced teachers from our other schools who intensively trained RIS-A teachers. Moreover, the geographical footprint of RIGI gives us a deep talent pool from which to select and train our teachers. A second hurdle is that we have to make special efforts to explain the benefits of holistic education to parents.
What are the three distinguishing features of RIS-Ajmer?
We equip students with 21st century skills by providing experiential education; we have integrated physical education into the curriculum; and the school has started a community outreach programme to nurture societal changemakers.
How satisfied are you with the performance of RIS-Ajmer?
Within two years, it has become the day school of choice for parents in Ajmer. Our tried and tested pedagogies have immediately improved learning outcomes of our children, which is often quoted by grateful parents. Moreover, RIS-A students have got the opportunity to experience world-class RIGI events such as INMUN (Indian Model United Nations) and ICFPA (International Children's Festival of Performing Arts).
Future plans.
We want to make RIS-Ajmer the best co-ed day school of Rajasthan within the next five years. To attain this objective quickly, we have undertaken several initiatives in tech-enabled education, tinkering labs, English enhancement and international exchange programmes.
Witty International School, Bhilwara
Well-known motivational speaker, Mumbai-based Vinay Jain is promoter of the Witty Group of Institutions (estb.2001) comprising six schools in Mumbai and two in Rajasthan with an aggregate enrolment of 5,250 students. In 2016, Jain promoted a Witty International School (WIS) in his hometown Bhilwara (pop. 370,000), a tier III city in the water-scarce state of Rajasthan and a hub of the state's textiles industry. Sited on a five-acre campus, WIS offers "21st century infrastructure" including Smart classrooms, 24×7 CCTV surveillance, iPad lab, green turf, basketball and badminton courts, and swimming pool, to its 750 students (play group-class VIII) mentored by 75 teachers. The three-year-old WIS is ranked Bhilwara's #1 co-ed day school in the EW India School Rankings 2018-19.
After Mumbai, why the small town of Bhilwara?
There is no dearth of quality schools in India's metropolitan cities and to some extent in second tier cities. However, similar high-quality schools are denied to children in tier III-V towns, with the result that when they proceed to big cities for higher education, they are unable to cope with academic and other pressures. Moreover, parents in small towns are highly aspirational and hungry for English-medium education for their children. This awareness prompted me to provide high-quality schooling to children in my hometown of Bhilwara.
What were the initial promotional hurdles?
WIS' educational philosophy is centred on providing experiential learning experiences to children. Therefore, we discouraged rote learning. Creating this mind-shift in parents has been an uphill task. Moreover building a like-minded team, which believes in the Witty philosophy has been a challenge, in particular hiring teachers with good English language skills.
What are the three distinguishing features of WIS Bhilwara?
Well-researched age and class-appropriate curriculums; regular quality audits; sustained teacher training; parenting seminars and a child-friendly, state-of-the-art fully air-conditioned campus with excellent facilities for sports and co-curricular education.
Please highlight two significant achievements of WIS-B.
EducationWorld has ranked WIS #1 in Bhilwara in the category of co-ed day schools in 2018-19 and the International Didactic Association conferred the Rising Star of the Year 2018-2019 award on this school at the Asian Skills Summit held in New Delhi.
What are your future plans for the school?
Our road map involves applying for CBSE and Cambridge International exam boards affiliation, and transforming into a day-cum-boarding school.
Rajarshi Rananjay Sinh Global School, Amethi
Former national badminton champion and politician (Congress), Ameeta Sinh is the co-promoter (together with husband Sanjay) of the Rajarshi Rananjay Sinh Global School (RRSGS) in Amethi (pop.12,808), Uttar Pradesh — a backward, semi-rural town which enjoys national recognition because it is the Lok Sabha constituency of Congress party president Rahul Gandhi. Promoted last year, this K-VII English-medium co-ed day school has 238 students and 16 teachers on its muster rolls. Tuition fee: Rs.2,250-2,750 per month. A proposed CBSE-affiliated K-12 school which is being developed on a seven-acre campus, it hosts Smart classrooms, well-equipped science, computer and language labs, and indoor games facilities. Unsurprisingly, RRSGS is ranked Amethi's #1 co-ed day school in the EW India School Rankings 2018-19.
History. According to an RRSGS spokesperson, education is strongly supported by the royal family and Rajkumar Ranveer Sinh established the town's first school — Anand Pathshala — in 1906.
"My father-in-law the late Rajarshi Rananjay Sinh also dedicated his life to promoting education. In 1932, he upgraded Anand Pathshala to Sri Ranveer Inter College, and later founded Rajarshi Vaidik Bal Vidya Mandir, Sri Ranvir Junior High School, Rani Sushma Devi Girls Inter College. In 1959, he established a degree college — Ranvir Rananjay Post Graduate College, Amethi, which was awarded A Grade by NAAC recently," says Ameeta Sinh.
In common with English-medium schools in district towns, recruiting qualified teachers, with good English language communication skills is the major challenge. "Moreover, with most parents being first generation learners themselves, they are unable to offer home academic support to children which makes our teachers' job doubly difficult," says Ameeta.
Nevertheless, she believes that RRSGS has made a good start in providing English-medium holistic education in a conducive learning environment. "Continuous in-service training is mandatory for all teachers and we are seeing visible improvement," says Ameeta.
She also derives considerable satisfaction that within one year of promotion, RRSGS has been ranked Amethi's #1 co-ed day school in the EducationWorld India School Rankings 2018-19. "Our children are also performing well in national competitions. In the Science Olympiad Foundation's Olympiad 2018, they won a total of 37 gold, silver and bronze medals. In the short time period of one year since we admitted our first batch, many of our children are speaking English fluently. There is a discernible change in their body language, confidence levels, creativity and learning skills. This excellent response has prompted us to draw up a plan to transform RRSGS into a day-cum-boarding school equipped with a sports and music academy," says Ameeta.
Also read: Edupreneurs Empowering Small Town India