There's a new awareness among sports organisations and coaches about the importance of balanced nutrition to improve track and field performance – Odeal D'Souza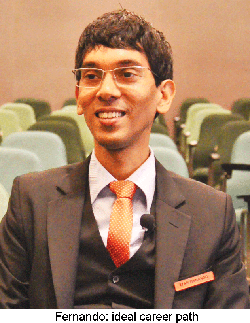 ONCE THE MONOPOLY of the well-heeled amateurs, the increasingly professionalised sports industry is a booming $700 billion (Rs.46 lakh crore) business worldwide. Suddenly, physical fitness and well-being is the mantra of 21st century life, and a new consumer-driven sports culture has captured the popular imagination in post-liberalisation India. With incremental corporate sponsorships of televised new sports tournaments such as the Hockey India League, Pro Kabaddi League, Indian Super League (football), Indian Badminton League, and the Indian Premier League (cricket), the demand for sports professionals is zooming. As a result, a plethora of new career options has emerged in sports tourism, goods and apparel manufacturing and retail, sports management, media, medicine, sponsorships and sports nutrition, among others.
Significantly, there's new awareness within the communities of sports organisations and coaches of the importance of balanced nutrition to improve and enhance track and field performance. Consequently sports nutrition has developed into a full-fledged career option. Sports nutritionists aid and advise athletes to adopt 360-degree dietary regimes to boost fitness levels aligned with high intensity training programmes. They develop long-term food charts for balancing diets with the essential nutrition-friendly minerals, vitamins, carbohydrates, proteins, fluids and fats.
STUDY PROGRAMMES
Although a higher secondary school certificate is sufficient qualification for admission into a sports nutrition diploma programme, a bachelor's degree in nutrition, dietetics, food and biotechnology is advisable to provide a strong theoretical foundation for this vocation.
Among the better known higher education institutions which provide specialised study programmes in sports nutrition are the Nirmala Niketan College of Home Science, Mumbai, which offers a Masters in sports nutrition for graduates in dietetics and FSN group (fitness, sports & nutrition) and the Society for Clinical Nutrition and Metabolism, which offers diploma courses in sports nutrition through distance learning. The Institute of Sports Science and Technology, Pune also offers a distance diploma in sports and exercise nutrition for higher secondary students. Other study options include a postgrad diploma in nutrigenomics (scientific study involving nutrition and genetics) of the Sardar Patel University, Anand (Gujarat), and top-up nutrition courses and Ph D programmes of the National Institute of Nutrition, Hyderabad.
PAY AND PROGRESSION
Sports nutritionists are employed by the Central and state governments and local, regional, national and international sports academies, sports organisations, food corporations, fitness clubs, gymnasia, wellness centres, all the way upto physicians engaged in bariatric and cardiac surgery. Start up salaries vary between Rs.15,000-25,000 per month while postgrads can expect Rs.25,000-45,000. For nutritionists employed by leading sports academies and federations, Rs.50,000-100,000 per month is normative. Another lucrative option in the long run is to start an independent practice.
PROFESSIONAL PROFILE
"Even if somewhat belatedly, sports organisations and institutes in India are becoming well aware of the critical role of nutritionists in enhancing and optimising the performance of sportspersons," says Ryan Fernando, a well-known Bangalore-based sports nutritionist and co-founder of R.D Nutrition Pvt. Ltd (estb. 2011) which owns and manages eight well-equipped Qua Nutrition clinics which employ 50 dieticians, nutrition and research experts in eight cities countrywide. The company's high-profile client list includes two-time Olympic freestyle medal winner Sushil Kumar, cricketers Robin Uthappa, Shikhar Dhawan, Harbhajan Singh and Pragyan Ojha, and golfer Sharmila Nicollet.
A biochemistry graduate of Goa University with a Masters in food biotechnology from the University of Strathclyde, UK, Fernando returned to India in 2000 and signed up as a nutritionist with well-known US-based company Amway to promote its protein supplement Nutrilite. It was during this time that he became aware that sports nutrition in India was restricted to promotion of nutrition supplements. This awareness prompted him to sign up for an online sports nutrition certificate programme of ISSA (International Sports Science Association), USA, to enable him to promote R.D Nutrition six years ago.
"Sports nutrition and neutrigenomics enable optimisation of physiological functions of athletes to ensure maximum performance. For young people interested in sports and games, this is an ideal career path," advises Fernando.