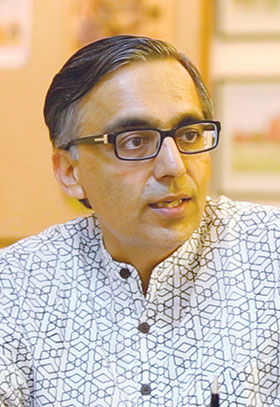 In my over 30-year career as an education writer, school coach and consultant, I have come across many people who say they own a tract of land and would like to build a school. But is land ownership the prime consideration for setting up a school? Others say 'we are promoting a township and must set up a school'. And of course, real estate developers believe that running a school is great business!
However, to my mind it's important to understand the purpose of a school before setting out to build a bricks and mortar institution.
A school is an institution designed for teaching students/pupils under the direction of teachers. Most countries have a formal school system, which is commonly compulsory. In these systems, students progress through several stages of schooling. The names of these stages vary by country, but generally they are primary schools for young children, and secondary and high schools for teenagers after they have completed elementary education. Later, they go on to college and university.
The term 'education' encompasses a whole gamut of experiential learning which is provided by teachers in classrooms and often, in spaces beyond. It is the quality of the learning experience, how it is designed and delivered that differentiates a good from ordinary school.
There are three important functions of the educational process in the classroom, apart from mere learning. They are: to develop the problem-solving and creative capabilities of children and to arouse their curiosity and inquisitive spirit. Therefore, before beginning work on constructing a school, promoters need to ask themselves whether they have made arrangements for their schools to offer teaching-learning systems that encourage the development of these capabilities of students.
Whether driven by the spirit of enlightened self-interest or philanthropy, education entrepreneurs (aka edupreneurs) need to be fully aware of the purposes of education before setting out to build schools. It is imperative for them to understand that they will be moulding the lives of young children.
When a potter starts his work with clay, his mind and body have to be in unison and as he strives to build a work of art for utility he also has to invest empathy, care and devotion into the process. A great potter doesn't make pots because there is mud with properties of quality clay, or merely to earn a livelihood. The potter's labour of love is what creates a masterpiece. Likewise, all artists have canvases to paint. However, only the fully committed can combine the emotions and skills required to paint enduring works of art.
The advice of Gulab Ramchandani, the famous headmaster of The Doon School, Dehradun and later an education consultant, was always: "Once you start to work on a school project, you will need to forget all other work in your life, pour your heart and soul into this very project and only then, will you build an institution which offers quality education."
Ramchandani invariably advised aspiring edupreneurs against promoting a school as a business enterprise. He took pains to remind them that provision of quality education requires happy teachers, favourable student-teacher ratios, modern infrastructure and adequate space and classroom facilities. Above all, they should be led by dynamic principals and competent, humane teachers. Therefore, even if you have a large enough land tract, you have a long way ahead to establish a school of quality — and it's not going to be an easy task. Across the country, there are schools with ornate buildings but too few students, because they lack competent leadership.
Therefore one of the first duties of an edupreneur is to appoint a competent, experienced principal because her role includes leadership, teacher appointments and evaluation, and maintaining student discipline.
This means school promoters should always bear in mind that the owner's role is that of a resource provider and the principal must be invested with the freedom to lead and to mould it into a great institution. Comments A.N. Dar, former principal of the top-ranked Scindia School, Gwalior and mentor of the capital-intensive Genesis Global, Noida: "The challenge before promoters is that they need to give space to the principal to lead. The principal and teachers need to be respected, trusted and given time, recognition and encouragement. Many well-known schools are floundering because the owner-promoters don't provide principals the autonomy to lead and build great schools."
An excellent campus staffed by warm bodies isn't necessarily a good school. Good schools need well-qualified principals and teachers with vision and depth of knowledge to deliver quality education to young and impressionable children. In addition they must be endowed with the qualities of compassion, empathy and love of children as also the capability to innovate. Even if you have a piece of land with excellent infrastructure, you still need to partner with the right people and your community to build great schools.
(Sandeep Dutt is a Dehradun-based K-12 education consultant and author of Good Schools of India)