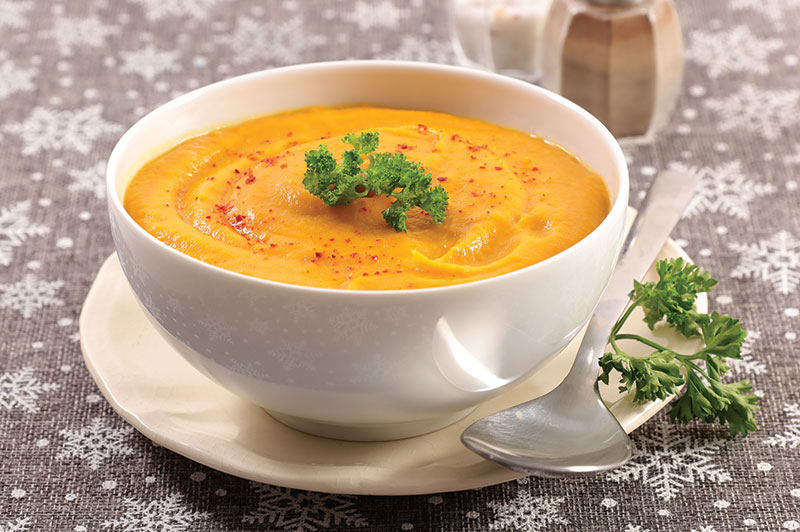 Carrots are a good source of beta-carotene, fiber, vitamin K, potassium and antioxidants. Turmeric contains curcumin, which has powerful anti-inflammatory and antioxidant properties. Adding a pinch of pepper to the turmeric activates the curcumin.
Ingredients
» 3 carrots
» 1 large onion
» 3 minced garlic cloves
» 1 inch finely grated fresh ginger
» 2 inch finely grated fresh turmeric
» ¼ tsp pepper
» 4 cups (950ml) vegetable stock
» 1 tbsp lemon juice
» 1 packet coconut milk
» Olive oil
» Black sesame seeds (for topping)
Preparation guide
» Dice the onion and carrot into small chunks, and grate the ginger and turmeric finely.
» Heat a small amount of olive oil in a large stock pot and saute the onion for three minutes until translucent. Now add the minced garlic, turmeric, pepper and ginger and saute for another one minute.
» Next, add the carrot and saute for two minutes. Then add the vegetable stock and simmer for 20-25 minutes until the carrot is cooked through and soft.
» Use a stick blender to blend the soup until it's smooth. Stir in the lemon juice. Serve with a swirl of coconut milk and black sesame seeds.
Study table snacks
Here are some easily available brain foods which can be kept handy for late nights. A snack not only boosts energy but gives students a break.
Nuts. Keep a stock of protein-rich cashews, almonds, groundnuts and other nuts.
Dry fruits. Dates, dried cranberries, figs and other dry fruits, are all rich in fibre and nutrients.
Cucumber. Sliced cucumber is an excellent alternative to eating carb-packed chips.
Hard-boiled eggs. High protein and low calorie, eggs provide stamina and instant energy.