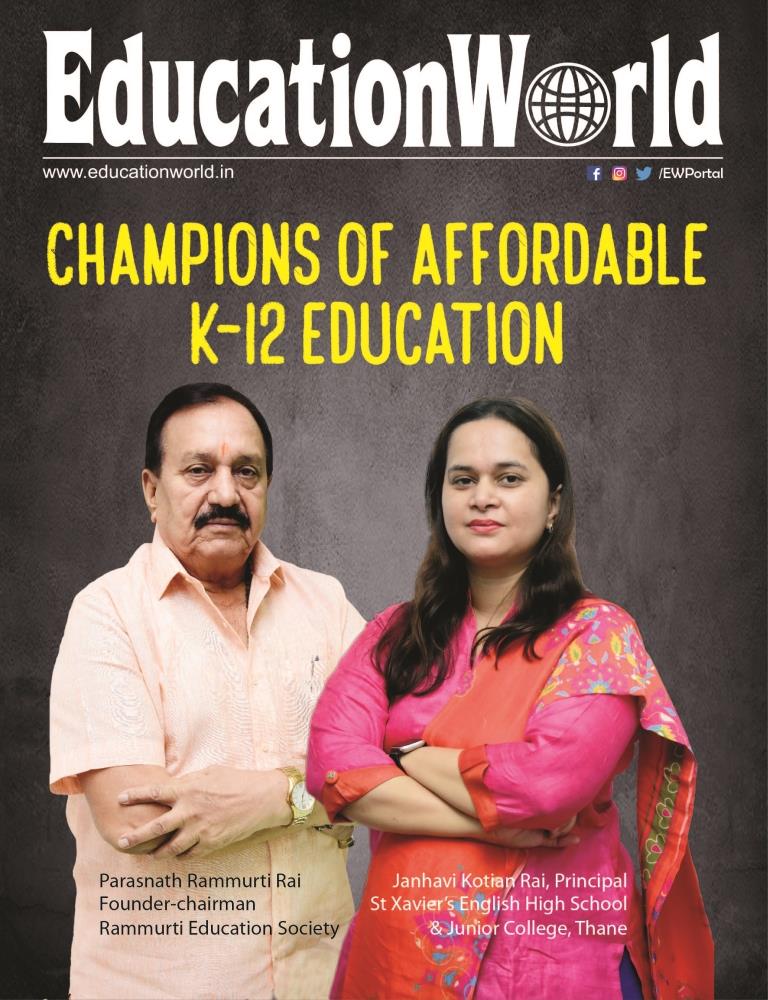 Over two and a half decades back, Mr. Parasnath Rammurti Rai, a humanities alum of Veer Bahadur Singh Purvanchal University, Jaunpur (UP),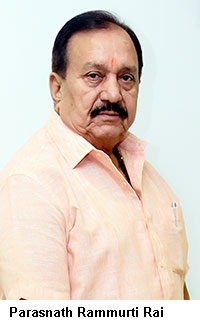 well-known real estate promoter and visionary founder-chairman of Rammurti Education Society (estb.1999) and his wife Late Mrs. Rai, a committed educator, set upon their mission to make affordable English medium education accessible to children of the then economically and educationally underserved Manpada locality of Thane. The duo's dream became a reality with the promotion of Anand Vidyalaya, which was inaugurated in 1993 with three classrooms and 20 students. Rechristened St. Xavier's English High School & Junior College (SXEHS & JC) in 1995, the low-profile co-ed day school affiliated with the Maharashtra State Board of Secondary and Higher Secondary Education (MSBSHSE) has made steady progress over the years to emerge as a progressive 21st century K-12 institution delivering high-quality English medium education at an affordable tuition fee of Rs.1,550 to Rs.1,800 per month. The school is ranked among the Top 20 schools in Thane in the EducationWorld India School Rankings 2018-19 in the category of co-ed day schools.
"In 1993, when SXEHS & JC was established, the suburb of Manpada, Thane was socially and economically underdeveloped. Education was not high up on the priority list of parents. SXEHS & JC was promoted with the objective of providing quality English medium education to children at affordable fees. With 20 students and three classrooms, the school has now transformed into a highly reputed group with three institutions educating an aggregate 8,000 students mentored by 300 teachers on an eight-acre campus. We are committed to living up to our motto 'Quality education for all'," says Mr. Rai, who currently also serves as the president of the Bombay Productivity Council.
While Mr. Rai has been providing strategic direction to the institution over the years, the school's education philosophy was shaped to a large extent by Late Mrs. Rai's belief that "education is not a want but a need". Consequently, the flagship SXEHS & JC has strived to nurture the physical, intellectual and spiritual faculties of its students over the years with the objective of producing well-groomed young men and women. Yet much of the progress the school has made in the past decade can be attributed to the single-minded devotion and untiring efforts of their daughter Janhavi Kotian Rai. An alumnus of Mumbai University, Janhavi has been associated with the school since its inception and assumed office as its principal in April 2008 after the demise of Mrs. Rai. A karate black belt with diplomas in yoga and advanced Ayurveda, she is the school's driving force having shaped its holistic education philosophy which stresses as much on academic rigour as it does on sports and co-curricular education. A champion of women's empowerment, she is committed to delivering values-based education to groom independent and confident young men and women ready to take up leadership positions in the society.
Riding on the success of SXEHS & JC, and to further the group's mission of making affordable English medium education accessible to children from the lower socioeconomic strata, Mr. Rai promoted St. Xavier's English High School (estb.2000) in Panvel. Ranked among India's top budget private schools in the EducationWorld India School Rankings 2018-19, St. Xavier's English High School, Panvel offers quality English medium education to children of low-income households at an affordable fee (Rs 970 to Rs 1030 per month). Affiliated with MSBSHSE, the school has an aggregate enrollment of 1277 students from nursery through class X mentored by 45 teachers.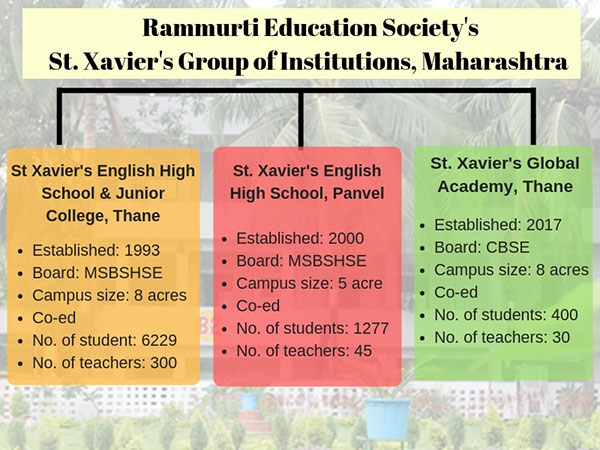 To cater to the steadily evolving education references of the burgeoning middle-class population of modern-day Thane which is witnessing high economic growth with establishment of several business parks, the group promoted the CBSE affiliated St. Xavier's Global Academy, Thane in 2017. The newly launched school, which shares the SXEHS & JC campus, currently offers world-class education to 400 students from class I through VII mentored by 30 teachers, at a modest annual fee of Rs.70,000.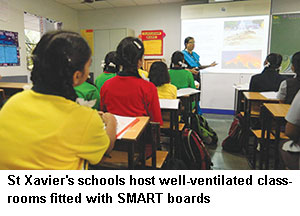 Despite unprecedented changes sweeping India's private education sector since the turn of the century and opportunities to capitalise on the developments, the St. Xavier's leaders have been committed to their primary objective of dispensing quality English medium education at affordable fees to the aspirational lower middle class.
"We believe firmly that education is a fundamental right of every child. Money should not be the basis on which students remain educated or uneducated. Moreover, money should not also be the reason to provide world-class facilities to a child, for every child, poor or rich, should get equal opportunities to develop and grow," says Mr. Rai.
Notwithstanding its affordable fee structure, the management of St. Xavier's Group of f Institutions has generously invested in providing world-class academic, co-curricular and sports infrastructure to support the holistic development of its over 8,000 students who are mentored by highly proficient and committed teachers. Sports infrastructure at St. Xavier's schools includes swimming pool, grounds for cricket, football, kabaddi, malakambh, athletics and karate, among others. The schools also host excellent facilities for music, fine arts and performing arts. The SXEHS & JC campus houses a meticulously maintained organic garden with animal husbandry as well as a solar power plant. Moreover, a paper recycling unit ensures that it a zero waste institute. The school campuses are also well equipped with CCTV cameras and school buses are fitted with GPS locators to ensure round-the-clock security of students.
"From how we began to what we have become, it is a paradigm shift. From a school with three classrooms to an eight-acre self-sufficient campus, SXEHS & JC has grown in leaps and bounds. Our primary objective is to offer children an opportunity to learn and develop into well rounded global citizens. Though we are happy with what we have achieved over the past 25 years, we still have so much more to achieve. Our future plans include professionalising our management and administration systems and expanding St. Xavier's campuses," says Janhavi Kotian Rai, principal of SXEHS & JC, Thane.