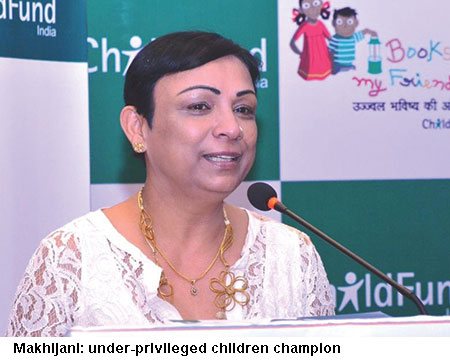 Neelam Makhijani is the Delhi-based country director and CEO of ChildFund India, a subsidiary of the US (Richmond, Virginia)-based ChildFund International (estb. 1938), a non-profit working in 30 countries in the areas of child nutrition, education and skills development. With its head office in Bangalore and branches in Delhi, Mumbai, Jaipur, Bhubaneswar and Bhopal, ChildFund India (annual budget: Rs.70 crore) works with 44 NGO partners in 15 states covering 2.5 million under-privileged children and youth in the 0-24 age group.
Newspeg. ChildFund International celebrated its 80th anniversary last November with a three-day ChildFund Innovation Fair at Richmond.
History. An alumna of London University with leadership certification from Harvard University, Makhijani began her career as a journalist in the New York-based Asian Weekly, followed by stints in non-profits Help-Age (India and UK), Oxfam, UK and Resource Alliance, UK where she served as CEO. In June 2014 she moved to India.
"ChildFund India is 56 years old and has been working for the welfare of underprivileged children, youth, and families in the remotest and most backward areas of the country. Our objective is building an India where all children are entitled to a dignified life and achieve their full potential. We believe that every child has the right to safety, protection, education and healthcare. Our programmes support children from birth until 24 years of age by integrating healthcare, nutrition, sanitation, gender equality, education, skills training, child protection, and humanitarian relief work," says Makhijani. Until 2017, all ChildFund operations were restricted to rural India, but since then this NGO's operations have been expanded to drive progress in slum habitations in Delhi, Mumbai and Bangalore.
Education programmes. Currently ChildFund is working with 3,000 government schools in 15 states of the Indian Union in the areas of teacher training, improving student learning outcomes and enhancing local community involvement in government schools through School Management Committees. "Our focus is on improving children's access to formal education and retaining them — especially girl children — in school, while increasing community involvement in school governance," says Makhijani, adding that ChildFund also works with over 2,000 balwadis countrywide to improve nutrition, sanitation and early childhood education. Moreover, this NGO has conducted life skills education and entrepreneurial and vocational training programmes for youth in the 15-24 age group.
Future plans. In 2018, ChildFund India launched its 'Khilta Bachpan' initiative under which art education, including traditional and folk art, theatre and culture education are provided to underprivileged children. "Through this initiative we hope to arouse the interest of children and young people in music, dance, theatre, and art. The broader objective is to enable poor, deprived and excluded children to develop into confident adults, parents and leaders who will change their local communities for the better," says Makhijani.
Autar Nehru (Delhi)