Category: Information & Communication Technologies
Chennai-based Chrysalis Pvt. Ltd (formerly EZ Vidya, estb. 2001) is an educational research and innovation company focused on improving teaching-learning practices in schools countrywide. The company offers K-12 schools innovative ICT curriculums, teacher empowerment and experiential learning programmes including its flagship product ThinkRoom, developed inhouse after 16 years of intense pedagogic research. Chrysalis has signed up with 700-plus schools countrywide and impacted 250,000 children and over 15,000 teachers thus far. The company also caters to offshore clients in countries such as Singapore, Qatar and Nepal and has launched projects in Liberia and Abu Dhabi.
Chrysalis Leader
Chitra Ravi
Founder-CEO
An English and business management alumna of the Madras University with two years' work experience in Hong Kong & Shanghai Banking Corporation, Chitra Ravi is founder-CEO of Chrysalis Pvt. Ltd. She is widely traveled and has participated in many international training programmes and conventions including 'Views on Understanding: Project Zero' conducted by Harvard University exclusively for educators. She was also among 58 social enterprise leaders to complete the prestigious Stanford Seed Leadership Program in 2019.
Parameters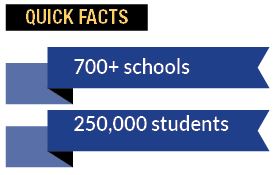 Content
Chrysalis' flagship ThinkRoom academic programme promotes self-directed learning.
Children are encouraged to think independently and contribute positively to society.
Teaching-learning methodologies mapped to children's formative years growth development stages.
Inquiry-based approach guides all pedagogical practices in the classroom.
Values of life integrated into all lessons and activities instead of as a separate subject.
Training support
Teachers undergo 25 hours of a three-stage professional development programme annually.
Continued professional development programmes are conducted 4-5 times a year based on transformation analysis and school-specific issues.
Teachers are given access to a series of online modules throughout the year.
Focused professional development is conducted bi-annually on a needs basis.
Value for money
Moving beyond the service provider role, Chrysalis partners with schools to co-own the vision of enabling every child in the school to blossom into a well-rounded human being capable of contributing positively to society.
Chrysalis enables schools to become self-sufficient in owning and executing the vision of awakening the human potential in every child.
Impact assessment
Chrysalis has so far enabled 250,000 children countrywide to become self-directed learners and independent thinkers capable of contributing positively to society.
In an impact case study conducted by Stanford Seed, Chrysalis scored 87.6 percent on the B Impact assessment that gauges the ability of a business to not only generate returns, but also to create value for its customers, employees, community and the environment.
Innovation
Chrysalis Home — a comprehensive remote learning platform — helps bring a near 'Thinkroom' experience for both teachers and learners.
The "visible pedagogy" followed by 700+ schools across India enables teachers to understand the child's grasp of the thinking and learning processes.
Innovative concepts like 'Big Question', 'PEP' and '4 facets of thinking' facilitates better understanding in children.
Chrysalis Studios nurture independent thinking and self-directed learning in children.
Programme design and quality
Inquiry-based teaching-learning processes rich in global pedagogical research.
Focus of teaching-learning is towards achieving learning outcomes rather than simply covering topics.
Learning environment transformed into an emotionally safe and stimulating environment.
Assessments based on learning outcomes and integrated opportunities within lessons.
Formative assessments are stress-free, unannounced and 'for learning'.
Framework of process recommendations and interventions are planned to review school systems.
Chrysalis executives assigned to schools work on learning transformation along with school leaders, teachers and parents.
Customer satisfaction
"Over the past decade, Chrysalis has not only helped transform our teaching-learning processes but also helped our educators appreciate the unique learning style of every child. As a school leader, I have derived immense benefits from the continuous professional development trainings and the dissemination of research findings that Chrysalis is committedly delivering. I wish team Chrysalis and Chitra all the very best in their endeavour of transforming education to create a harmonious world." — Dr. L. Savitha, principal & secretary, Kautilya Vidyalaya, Mysore.
"Chrysalis stands out among the crowd with its commitment to innovation and research. Ever since we partnered with them in 2011, we have learnt, evolved and progressed in various ways. The entire team at Chrysalis works with a growth mindset under the visionary leadership of the CEO Ms. Chitra Ravi who has spent the last two decades crusading against the mediocre practices in the education ecosystem. Ms. Ravi's calm demeanour, deep commitment and progressive stance is reflected in the Chrysalis team and their excellent work."— Seema Jerath, principal, DLF Public School, Ghaziabad.
Contact details
www.chrysalis.world.in
[email protected]
+91 44 2817 0345