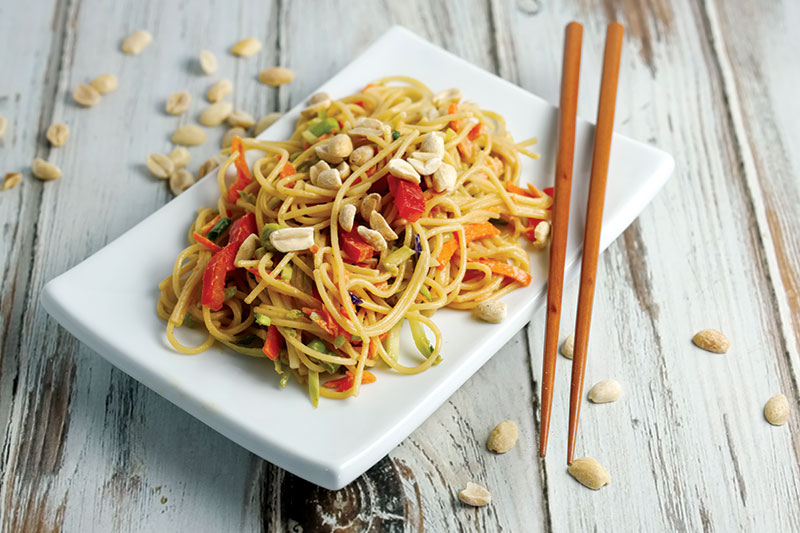 INGREDIENTS
 500g soba noodles
 1 ½ tsp dark sesame oil
 1/3 cup rice vinegar
 1/3 cup soy sauce
 Juice from one lime
 Zest of one lime
 2 tbsp brown sugar
 2 minced garlic cloves
 2 tsp red pepper flakes, or to taste (optional)
 1 cup finely grated carrot
 1/4 cup coarsely chopped salted peanuts
 ½ cup chopped fresh cilantro
Preparation guide
 Cook soba noodles according to package directions in a large pan. Drain, rinse noodles with cold water, and set aside. Pour the sesame oil, rice vinegar, soy sauce, and lime juice into a large bowl. Mix in lime zest, brown sugar, garlic, and red pepper flakes; stir until sugar dissolves. Toss in carrots, peanuts, and cilantro.
 Cut noodles into 3-inch lengths. Stir into dressing mixture. Cover, and refrigerate for at least one hour.
 Toss salad again before serving. If dry, splash with soy sauce and vinegar. Serve cold.
Health benefits
 Soba noodles contain higher amounts of fibre and protein than traditional noodles or pasta. They are made from buckwheat flour, which is an excellent source of nutrients such as protein, fibre, iron, carbohydrates, manganese and thiamine.