Populist or reformist? That's the question.
After 121 public and 53 closed door consultations, Indian National Congress, the ruling BJP government's main rival, released its manifesto on Tuesday, one week before the world's biggest elections begin in India with 900 million eligible voters getting to cast ballots to fill parliamentary seats and choose their next prime minister. While the manifesto titled Hum Nibhayenge (We will deliver) dreams big for the poor and suggest radical changes in many areas, EducationWorld looks at what is on the platter for the education sector.
A mix of the old and new, Congress manifesto has 25 points for education. There are some good ideas, some good checklists ticked off, but there are also several points that have raised concerns among the educationists.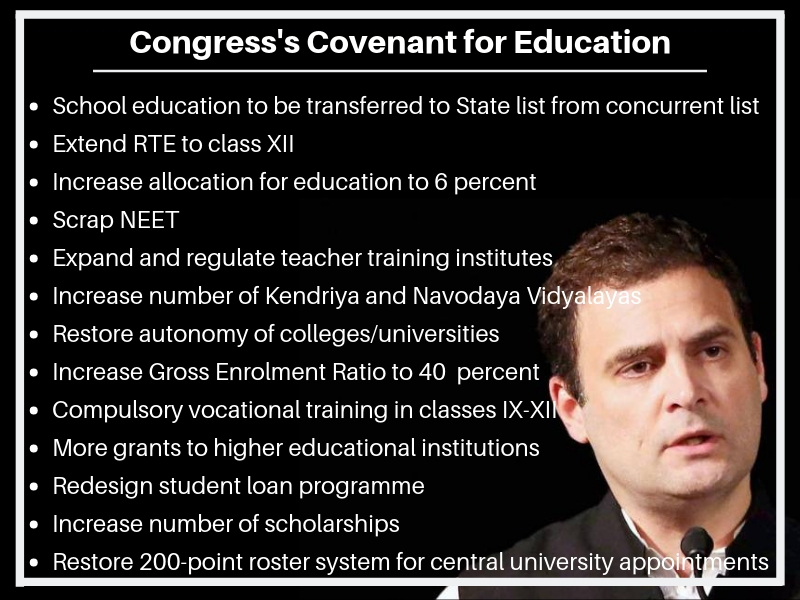 Increased funding: The manifesto promises six percent of GDP spending on education by 2023-24, with specific annual targets in the budgets, a move recommended by the high-powered Kothari Commission as early as in 1966 and reiterated by the T.S.R. Subramanian Committee in 2016. "Education is one of our top priority. If we have promised to increase the funding on education to 6 percent by the end of the fifth year, which is double of what the current government is spending, you know what it means to us!" Rajeev Gowda, convenor of the manifesto committee and head of INC's research committee tells EW. (Disclaimer, the BJP in its election manifesto in 2014 had promised us the same and the spending stands at half at the end of the fifth year.)
But, INC has also proposed to transfer school education to State list from concurrent list in the seventh schedule of the constitution while retaining higher education in the Union list. "It's a matter of who should be doing what. That's how federalism works," Rajeev Gowda explains.
However, the proposal has not gone well with educationists. "It's a retrograde step. The Union government will wash its hands off in the sector and the state government will be entirely responsible for it. We can expect the funding in education sector to touch 6 percent only if the state puts in 4.5 percent and the Centre1.5 percent. States like Bihar, Madhya Pradesh and Rajasthan do not have such capacities. The flexibility in curriculum will also reduce. The proposal will only help regional languages and culture get a higher weightage," says Prof A S Seetharamu, erstwhile professor in Institute of Social and Economic change and consultant in Sarva Shiksha Abhiyan.
Scrap NEET: Playing to populist sentiments, the Congress has also decided to scrap the controversial single entrance test- National Eligibility-cum-Entrance Test (NEET) which was introduced during their regime in 2013. "It's true that UPA-II had introduced NEET with the best intention to streamline medical and dental admissions. However, over the first few years, we have realised that it has loopholes and the stakeholders are unhappy with the process. We have children dying over it. So given a chance, we would like to roll it back," says Gowda. Regional parties in Tamil Nadu—DMK and AIADMK—have also made a similar offer in their manifestos released earlier this week. NEET is a burning issue in the southern state of Tamil Nadu, where two students committed suicide after failing to clear NEET despite scoring high in board exams in 2017 and 2018.
"Scrapping NEET is a ridiculous idea – NEET is such a positive move towards standards across the country that exposes grade inflation and other inadequacies in the state boards, that scrapping it is indicative of callousness towards improvement in education quality," says Meeta Sengupta, founder of the Centre for Education Strategy, a Delhi based think tank and founder of #EduIn, an online discussion forum.
Extend RTE: In yet another promise, INC offers to extend RTE till class XII. "If they are serious about extending RTE, they should make education free and compulsory till class X and free till class XII. It is not feasible to make education compulsory for children above 16 years considering the number of economically backward families dependent on agriculture and related occupation in India, that badly needs more working hands," points out Seetharamu.
Some more big plans: The manifesto promises upgrading public school infrastructure, increasing number of the government-owned, highly successful Kendriya and Navodaya Vidyalayas, increase in funding for higher educational institutions and emphasis on vocational training. It reiterates its promises on increasing the number of special schools, universities, colleges and redesigning and expanding student loans as in its 2014 manifesto.
Another hit is its mention of teacher training– expanding and regulating teacher training courses. It also makes the educationists happy with the promise of more autonomy to higher educational institutions though the path forward is unclear.
"We understand that quality, not accessibility, is the core problem of India's education system today. The poor learning outcomes as reported by Annual Survey of Education Report (ASER) is a matter of grave concern. That, we assure you, is going to be our focus," says Gowda, scoring another nod from educationists.
"Overall, some good ideas, some necessary funding, good checklist ticked for popular impact but one that leaves educators in serious doubt about their ability to even understand the issues, let alone have a clear sense of bringing well designed solutions to the table that meet their own goals of access, quality and equity – but even those are not mentioned in the manifesto," sums up Sengupta.
By releasing manifesto ahead of its rival, INC seems to have got headway on creating a public perception that it means serious business. On the other hand, BJP's emphasis on manifestos has been on decline over the years. In the 2014, Lok Sabha polls, it released its manifesto on the polling day. So, it would be quite a wait to see what BJP has on its mind.
– Sruthy Susan Ullas
Posted in
National
,
News