Impassioned debates about the efficacy of the online learning model, online pedagogies, cyber safety, adequacy of screen time and effects of excessive digital gadgets usage on children's physical and emotional well-being are raging in the media especially social media, WhatsApp groups and Zoom meeting rooms – Jayalakshmi Vaidyanathan, Mini P. & Cynthia John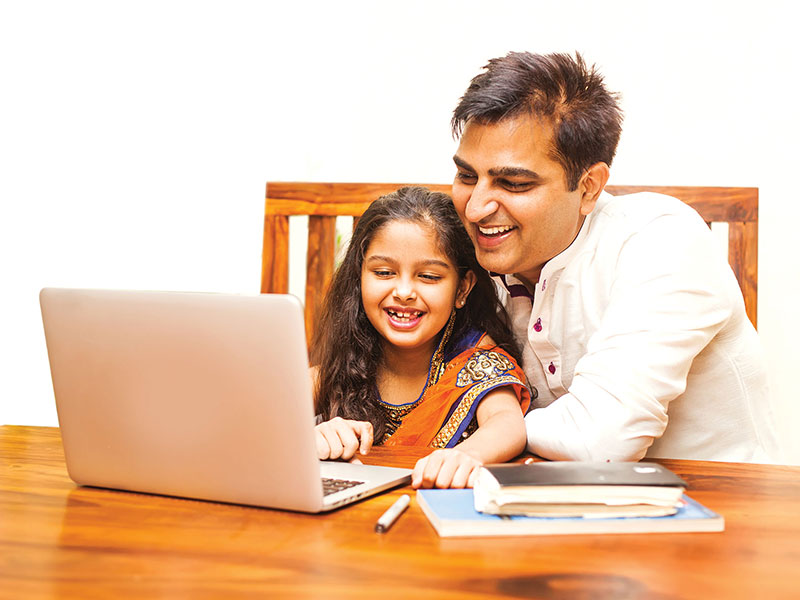 My child is two years old, and yet she has to sit in front of an iPad for two hours every weekday learning rhymes and numbers. It angers me but then my wife tells me we have paid Rs.1 lakh as annual fee for the toddler programme and this is the only way the preschool can justify the fees charged — Parent's complaint on social media
Every day my son sits before a laptop for eight hours attending online classes. The school management says this is necessary to complete the year's academic calendar, despite the government mandating a four-hours per day limit for online classes. This excessive screen time is taking a toll on his eyesight — Sania Fatima, Chennai-based homemaker and mother of a class V student
Online classes are not the same as physical classroom periods. Though teachers are doing their best to explain lessons in online classes, my daughter, who is in class VIII, is experiencing difficulty in understanding concepts. I have had to step in, research and explain them to her. This is becoming very difficult as I have to also put in a nine-hour-day working from home, in addition to completing household chores — Manisha Singh, HR professional, Mumbai
The rampaging Covid-19 pandemic has infected 936,000 citizens and claimed 24,309 lives across the country (July 15). Moreover, it has forced lockdown of all education institutions including preschools and schools since early March, recently extended to July 31 with every likelihood of it being extended to end-August. Meanwhile for middle class India, preschool to Ph D education has moved to the online mode in a big way. School managements, teachers, parents and students are struggling to adjust to this new digital teaching-learning medium.
As teachers labour to rewire traditional classroom curriculums and pedagogies to suit the online medium, impassioned debates about the efficacy of the online learning model, online pedagogies, cyber safety, adequacy of screen time and effects of excessive digital gadgets usage on children's physical and emotional well-being are raging in the media especially social media, WhatsApp groups and Zoom meeting rooms. For the first time in a century since the Spanish flu outbreak of 1918 disrupted global education, the school has pervaded homes and parents are grappling with this black swan event.
During the two months past in particular, thousands of parents hit by job and income losses because of the national lockdown, and their representative associations have petitioned state governments to prohibit private school managements from collecting tuition fees of the March-July quarter and to defer payment of admission and advance tuition and other fees payable for the academic year 2020-21. They are also arguing for lower or nil fees for online classes.
Discerning an opportunity to win the grace and favour of the country's 300 million-strong middle class with children in private schools, most state governments have issued official resolutions and notifications to school managements to defer and/or waive tuition fees for the March-July period and/or make other concessions. Coterminously, all state governments have directed school managements to continue to pay teachers and staff salaries. Moreover well aware that continuously under-funded public (i.e, government) primary-secondaries won't be able to provide online classes or instruction, the majority of state governments has clamped down on online education in private schools on the ground that excessive "screen time" is harmful for children.
In June the state governments of Karnataka and Madhya Pradesh banned online classes for preschool-class V children and the Maharashtra government banned it for preschool-class II. But after parents and teachers rising in anger and indignation against this diktat posted over 40,000 protest tweets on Twitter, the Karnataka state government revoked its online ban order on June 27 and prescribed differential screen time limits for preschool-class X students. However, on July 8, the Karnataka high court issued an interim stay on the limited time order. Likewise in Maharashtra, on July 13 the Bombay high court restrained the state government from taking action against schools offering online classes for preschool-class II children.
As we go to press on July 14, in a bid to settle the dust generated by state governments on online classes, the Union HRD ministry released its 'PRAGYATA: Guidelines for Digital Education' for school heads, teachers, parents and students, limiting screen time for children in differing age groups. It caps online learning for parents of preschool children at 30 minutes per day; two online sessions of up to 30-45 minutes per day for classes I-VIII and four sessions per day for classes IX-XII. However, an explanatory note of the HRD ministry stresses that these are guidelines, not prescriptions (see box p.14).
"These are unprecedented times for schools, parents and governments, none of whom have experienced disruption on such a massive scale. Therefore, it's natural for all of them including parents to react impulsively. Initially some parents opposed online classes. But four months into the pandemic with no signs of schools reopening, most are becoming aware this is the only option for maintaining learning continuity for children. Alternatively children could lose a full academic year. Everyone — schools, teachers, parents and students — are learning along the way and refining online teaching-learning pedagogies and processes. In the interests of children's welfare, schools and parents need to adopt cooperative and collaborative rather than confrontational, approaches to online schooling," says Dr. Pallavi Rao Chaturvedi, a Bhopal-based parenting coach who anchors the popular 'Get Set Parent with Pallavi' YouTube channel and also founder of the Brainy Bear Pre-Schools & Activity Club and vice president, Early Childhood Association.
The peremptory switch from physical classrooms to digital online learning has raised a host of issues ranging from the rich-poor, urban-rural digital divide, apprehensions about excessive screen time, discipline and management of online classrooms, and degree of parental involvement. According to Unesco, "half of the total number of learn ers worldwide — 826 million — have suffered because they don't have household computers and 43 percent (706 million) have no Internet at home, at a time when digitally-based distance learning is used to ensure educational continuity in the vast majority of countries."
In India, according to the National Sample Survey 2017- 18, only 24 percent of Indian households have access to the Internet and a mere 8 percent with children aged between 5-24 years have computers and Internet connection. Also, with 37 percent of the population residing in single-room homes, it's impossible for millions of children to attend online lectures undisturbed. More pertinently, even households with Internet broadband/mobile data connectivity and digital devices routinely experience connectivity problems. A recent nationwide survey by India Guage-QS (Quacquarelli Symonds) indicates that 53 percent of students who use home broadband report poor connectivity.
Despite these abysmal statistics, government spending on bolstering the digital infrastructure for remote learning has been reduced in recent years. In 2020-21, the Union HRD ministry's allocation for digital e-learning was slashed from Rs.604 crore in 2019-20 to Rs.469 crore.
Even as parents grapple with poor Internet connectivity, in many households with two or more children, accessing online classes has become a challenge because of lack of laptop computers/smartphones. According to Mission Antyodaya, a nationwide survey conducted by the Union ministry of rural development, only 24 percent of Indians own a smartphone and a mere 11 percent of households possess any type of computer — desktops, laptops, notebooks, and netbooks.
"My three children are enroled in the same school. Their online classes are scheduled around the same time every day. We have one desktop computer while my husband and I use our laptops and smartphones for work. I have requested the school several times to change the online classes schedule, without any response. So my husband and I have to take turns to make excuses at work so we can give our laptops and smartphone to enable all our three children to attend simultaneous online classes. Schools need to be more cooperative and listen to parents' problems," says a harried Mumbai resident mother who requested anonymity.
Parents have many numerous other complaints about the content and delivery of online classes by private schools. Prime among them is that hastily trained teachers can't engage students and manage digital classrooms. "My ten-year-old son complains that the online classes are dull and boring. Therefore, he often plays Internet games rather than pay attention. With my hectic work from home schedule, it is impossible for me to monitor him. Unless teachers make classes interactive and interesting, online learning will be a big flop. Quite often, children are more tech-savvy than their teachers and play pranks like disconnecting other children from the classroom and muting teachers. Schools need to train teachers properly to manage virtual classrooms and enforce discipline," says Shaili Sharma, a mother of two boys aged five and ten and HR manager at a private firm in Bangalore.
According to a May 2020 ASSOCHAM-Primus study which interviewed 466 students and 483 teachers in government and private schools across the country, 50 percent of students say they find it difficult to understand online lessons in synchronous learning conditions, and 88 percent reported that they were experiencing loss of interaction with teachers, peers and friends.
Although a large number of parents complain about uninteresting online classes, it's undeniable that teachers had little or no time to prepare, learn, unlearn and adapt to online teaching-learning media. It's also pertinent to note that India's 9 million teachers community has traditionally been technology averse and slow to adapt to digital education technologies. However, the consensus of opinion among educators is that nevertheless, the country's teachers community has displayed surprising willingness to adapt to online learning media and technologies in the pandemic era.
"Over the past few months, teachers have enthusiastically confronted the challenge of switching from conventional classroom to online teaching. As we go forward, schools need to train teachers to innovate and improve online pedagogies and create a hybrid learning model that will engage children and ensure good learning outcomes," says Dr. Stella Pandhere, principal of Nurture International School, Bangalore.
T.P.R.P. Rao, CEO of Sprouts Mentoring Concepts, Bangalore concurs. "Schools cannot blindly convert brick-n-mortar classroom content to e-classes. Individual attention is required in online learning. Study material and pedagogies must be delivered differently depending upon whether the student is an auditory, visual or kinesthetic learner. A one-style-fits-all content and teaching style will not engage students or enable real learning," warns Rao.
Yet, even as teachers struggle to adapt to new technologies-driven online education, many complain that far from extending cooperation, parents are indulging in "virtual bullying". "They say they are under tremendous pressure with parents constantly complaining about the poor quality teaching, spelling mistakes, improper pronunciation, harsh tone of voice, lack of warmth towards children etc. Some videos depicting teachers in poor light owing to their pronunciation have gone viral on social media. The (sic) interference by overenthusiastic parents has triggered debates in academic circles," says a news report in Deccan Herald (May 18).
Unsurprisingly parental interference in teacher-pupil interaction is demoralising and resented by teachers. "Instances of parents interfering and bullying teachers in e-classes are rising. They need to understand that for teachers, this disruption and sudden switch to teaching online are major challenges. They are adapting to this new situation the best they can. Respect and dignity of teachers is sacrosanct to building healthy teacher-pupil relationships. Parents should leave the teaching to teachers during e-classes," says Deepa Avashia, a senior teacher leader at the top-ranked The Riverside School, Ahmedabad.
Apart from the rising incidence of parental interference in online classes, the other big debate raging on parents' social media platforms and WhatsApp groups is about the reported adverse effects of digital screen time on children's physical health and emotional well-being, plus fears about cyber safety. Recently, Together We Can, a Kochi-based parents' advocacy group, wrote to Kerala chief minister Pinarayi Vijayan advising a go-slow policy on online learning. "Our appeal is only to slow down, wait, plan and discuss with all stakeholders. Have some protocols and safety guidelines. Prioritise mental health and social emotional learning more than curriculum," says the petition.
The sudden switch from learning in traditional bricks- n-mortar classrooms to online learning from home is also worrying child-sensitive parents across the country. A June 2020 national survey by UK-based NGO YouGov, for which 1,015 parents across India were interviewed, indicates that 52 percent are anxious about their children's mental health and well-being because of inadequate social interaction. And 48 percent expressed anxiety about children developing health problems because of increased time spent online.
"Times of crisis require creative and innovative solutions. Admittedly the switch to online classes ensures learning continuity for children, but it cannot replace the real school environment where children also develop social interaction skills. Nevertheless it's the best solution until the end of the pandemic. Parents who were already struggling to control their children's digital screen exposure have no option but to give them access to the Internet and computer/smartphone, and learn to discharge the role of co-teachers. They need to reduce and closely monitor children's non-education screen time and build safety checks, download parental control apps and install passwords to protect children from online distractions and dangers," says A. Chinmayee, clinical psychologist at People Tree Maarga, Bangalore.
With India's major cities and towns showing no signs of flattening the Covid-19 infections curve and schools unlikely
to reopen before September/October and even then with staggered timings and strict physical distancing and health protocols, online education is here to stay. The advice of educators and parenting experts is that parents must adapt to this new reality and work collaboratively with schools in the best interests of their children.
"It's not an all gloom and doom scenario. A rising number of teachers and students report that they are beginning to enjoy e-classes. Parents, teachers and students must accept this new teaching-learning reality and get on with it, learning and improving along the way," says Padmashree M, principal of Vidya Soudha Public School, Bangalore.
Sane advice, which should be heeded by parents countrywide.
Online classes netiquette
With online teaching-learning becoming ubiquitous and normative, here are netiquette practices parents are advised to follow during their children's e-classes:
Don't interrupt the child with questions and/or give instructions
Don't interfere with the teaching process. Respect the sanctity of the classroom which has now moved online. The teacher is in charge of the class, not you. If you must intervene, request an appointment with the teacher for an online discussion, after class is over
Provide children quiet workspaces at home where movement of people and conversation is minimal
Refrain from feeding preschool children during classes. But, monitor every interaction for security reasons
Eyes alert
Headaches and watery eyes are symptoms of digital strain. Over time, this leads to tired eyes and general fatigue that will diminish the ability of children to concentrate and learn. Here are some tips to protect children from digital eye strain:
Teach children to look away from the screen and give the eyes a break every 20-30 minutes.
Adjust the brightness of the screen to ensure there isn't any reflection or glare from the monitor.
Encourage children to take frequent/ short breaks to stand up and stretch. Stretch fingers, toes and full body. Walk around the house after every 25-30 minute digital session.
Swap between using the mouse with left and right hands.
Keep everything children might need close by and within easy reach during their online study sessions.
HRD ministry guidelines for parent
On July 14, the Union human resource development ministry released its 'PRAGYATA: Guidelines on Digital Education' for school heads, teachers, parents, and students. In a chapter titled 'Guidelines for parents', it recommends measures parents should adopt for the mental, physical and emotional well-being of children, cyber safety and ways and means to create enabling conducive home learning environments. Excerpts:
Screen time recommendations
Pre-primary children. Not more than 30 minutes on a given day for teachers to interact with parents and guide them.
Classes I-VIII students. Online synchronous learning for two sessions of 30-45 minutes on the number of days per week states/UTs governments prescribe.
Classes X-XII students. Not more than four sessions of 30-45 minutes on days as decided by states/UTs.
Physical, mental health and well-being
Keeping in mind the detrimental effects of the Internet and gadgets, judicious use of the Internet may be monitored by the parents. Here are some guidelines:
Interact with children on a regular basis to know their physical and mental well- being.
Watch out for signs of anxiety, depression /anger during digital learning
Check if your child is becoming secretive about her online activities. For example, not talking to you, deleting history of the Internet browser, using encryption software, or quickly flicking the screen display when she sees you. Talk openly about your own Internet use and encourage your child to do the same.
Explain and talk about basic hygiene and healthy lifestyle practices for protection during Covid-19 using digital resources. There are numerous digital resources (videos, animations, booklets, etc) available on the web.
Combine online time with fun-filled offline play, games and other activities, to ensure balance between screen and play time
Ensure involvement of children in physical activities such as yoga during breaks from digital classes.
Safety measures
Keep TV/ laptops/ computers etc in a common area and out of bedrooms. This will restrict usage time and help you keep an eye on the child's overall usage of digital devices.
Develop digital rules in consultation with children, and follow them. The rules could cover things like screenfree areas at home, Internet safety rules, etc.
Discuss with children netiquette such as not to post hurtful messages about others, not to post online photos, videos and other information of friends/others without permission.
Use parental controls in digital devices and enable safe search in browsers.
CBSE has recently released a manual on cyber security for learners. Parents may access it on http://cbseacademic.nic.in/web_material/Manuals/Cyber_Safety_ Manual.pdf.
Teaching and learning
Communicate regularly with the school (counsellor, teacher, other staff).
Create a daily routine for children, particularly younger ones.
Consult with teacher, parents of other children and create simple yet effective learning plans by reflecting on following questions:
What would the children learn this week?
What digital resources, instructions and support children need to achieve the learning outcomes for lesson/unit?
How will children receive these digital resources, instructions and support?
How will I know that my children are learning?
Do not force the child to sit continuously in front of the TV, laptop, mobile and never stress or pressurize the child to continuously do online activities when the child is not ready for it.
The home learning environment needs to have proper lighting, ventilation and be noise-free.
Ergonomics advice
Poor ergonomic practices, prolonged exposure to digital devices and lack of physical activities can have a negative impact on the physical well-being children. Here are some guidelines:
Increase the height of laptop or mobile so that children sit straight while studying. A mobile stand or a few books can be used to place the mobile.
Digital equipment needs to be placed at appropriate and convenient locations for easy access.
A short break from computer/television/mobile phone after every 30-60 minutes will help in reducing strain on eyes, exhaustion, improve blood circulation and reduce stiffness in joints. One can walk around for a few minutes during such breaks.