"Never in over 50 years of my academic career did I even imagine witnessing such conditions as those that have arisen due to the COVID-19 pandemic. This is a time when all of us need to rise as one, and act with determination to overcome the tough challenge posed by the evil of this virus. Indeed, showing that we are undeterred in our pursuit of knowledge and in spreading the tree of wisdom even in these times is something that all those involved in academia – whether teachers or students or parents – should focus on. We all need to show our resilience in the face of adversity and the way we at Shoolini have decided to do this is – by ensuring that we deploy the very best technology, tools and support for online learning and by encouraging all our stakeholders to immerse themselves whole-heartedly in the journey of online learning." – Dr. P.K.Khosla, Vice Chancellor, Shoolini University.
As the Shoolini University has been using its integrated online teaching platform eUniv since its launch by the former President Dr APJ Abdul Kalam in 2013, the transition to online classes as soon as the lockdown was announced in March due to the outbreak of the coronavirus pandemic was smooth and seamless. A frontrunner in the field of using ICT-enabled tools and online resources for effective teaching, Shoolini University has been making rapid strides, blending the latest ICT technologies completely into their academic culture since the lockdown.
Here's how the university uses artificial intelligence (AI) in its module.
AI-enabled online class: The university conducts online classes through Learninns.com. Learninns is a neo post-Covid online solution that allows a seamless online teaching with great features –facial recognition of students, automated class calendars for online classes, automated attendance for online classes, automatic recording and uploading of lectures, quizzes within classrooms that are directly uploaded into gradebooks, detailed analytics on each students' engagement and evaluation and direct integration of programmes like python, C++ for teaching coding. The platform uses AI to highlight and focus on students at risk of dropping out, which is a real concern in these times. Further for cheat-proof examination proctoring, we used Learninns ExamProctor – which is an AI proctoring solution for secure exams.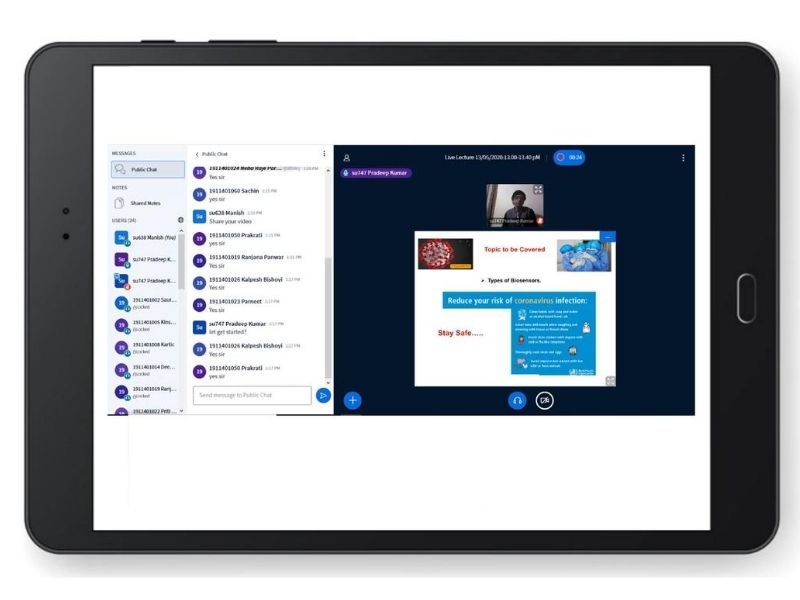 Coaching for interviews: Further through Siqandar.ai, the University allows students to prepare of job interviews through AI based coaching – an innovation which has enabled the University to be shortlisted for the coveted Times Higher Education Asia 2020 Awards (called the Oscars of Higher-ed) for "Outstanding support for students".
Webinar series: Through a series of webinars called "Yogananda Guru Series Webinars", the university hosts virtual interactions with the best brains from diverse fields. The university has integrated their learning systems with the webinar solution of StreamYard for the online interactions to keep students abreast of the latest trends in different industries.
Parents and students speak
"The online education program which has been started by the Shoolini University is very beneficial at this time -the study gap which was created by this epidemic disease has been covered by the faculty; and their system is very good for students. I am very impressed by this."

– Ved Parkash Sharma, father of Goutam Sharma (BA LLB).

"While the pandemic poses grave challenges to individuals, the economy, industries, and the entire world, our university strives to continuously build value for its students. I can proudly say that my university left no stone unturned to provide us a continuous learning platform, right from real time virtual classrooms over e-Univ (our robust LMS), to polls, quizzes, assignments, and assessments. Learning at Shoolini University never did stop! To add to our intellectual growth, the Yogananda Guru Series of Webinars provided us a unique perspective and window to the world."

– Shriya Mahajan, BBA student (2nd Semester).

"We learn to survive and grow through all our troubles and tribulations. Without wasting even a single day after the lockdown was announced in March, Shoolini University started online classes, so that we could continue our studies without a hitch even during such challenging times. These regular online sessions are amazing. I have learnt so much, cleared my doubts and gained as much knowledge as I could. The faculty and the administration at Shoolini have been working tirelessly to provide us the best through the online medium."

– Kashish Sharma, BBA (Semester 2).

As the lockdown began, we all started wondering about its adverse effect on our studies and how they could continue, if at all. Thanks to the online classes arranged by our university, the gap between students, studies and teachers was bridged and we could attend classes from the convenience of our homes. Our faculty went out of the way to ensure that the learning experience was interesting and engaging and everyone utilised their time productively. Another plus was the Guru Yogananda Webinar Series, which helped us remain charged and focused."

– Siya Sharma, B.Com (Hons) student (Faculty of Management Sciences and Liberal Arts).
Campus
,
News