The Covid-19 pandemic outbreak and extended national lockdown has severely impacted our education systems. Confronted with an unprecedented challenge, education leaders have been increasingly embracing digital technologies and harnessing their creativity to design innovative online teaching-learning solutions as an interim alternative to regular schooling.
Under the able leadership of principal K.V. Arjun Rao, the CAIE (UK) and IB (Geneva) affiliated JBCN International School (JBCNIS), Oshiwara (Mumbai) — nominated 'Edtech Savvy School of the Year (West) 2019′ by EdTech Review — has made a seamless transition to remote learning by leveraging time tested online digital technologies and platforms from the very first day of the Covid-19-induced lockdown.
"Our teachers have stepped up during these troubled times by putting the students' interests first. They have burnt the proverbial midnight oil to ensure provision of continuous learning for our students. Within days they have tested multiple digital platforms to design an engaging online teaching-learning experience. Also, our technical and administrative staff have been fully committed to support this new mode of education. They have been closely monitoring technical glitches faced by the teachers or learners, and working with the service providers to resolve issues immediately and effectively," says K.V. Arjun Rao.
An accomplished educationist with close to two decades of teaching and administrative experience in some of the top ranked schools in the country including The Doon School, Dehradun, Oakridge International School, Bangalore and Oakridge International School, Hyderabad, Rao believes education should enable a child to learn, try, experience and innovate. A visionary leader, K.V. Arjun Rao is committed to enabling teachers to nurture academic excellence in a holistic learning environment that fosters curiosity and thirst for knowledge.
Synchronous Virtual Learning
Drawing upon the expertise of its faculty in designing digital technologies integrated pedagogies, the school commenced its virtual journey of synchronous live learning sessions for the secondary and IB Diploma Program students from the first day of the nationwide lockdown. For students of grades VI-X, the online classes were programmed in record time to support virtual live learning through online browsers.
Having started with asynchronous virtual learning, the primary learners switched to live, synchronous classes within two weeks of the lockdown implementation.
Counselling Support
Given the uncertainty of the present times, the school's Enrichment Team has been striving to keep the spirits high. The well experienced Enrichment Team staff have been sharing a weekly newsletter with positive affirmations and exercises to keep mental health challenges at bay. They have also conducted several virtual counselling sessions for the students who have been facing mental and psychological issues during this period and for parents who need to cope with behavioural challenges. The Enrichment Team continues to conduct optimism sessions through live virtual classes.
Career Counselling
The school's career counselling department has been working closely with the senior learners, guiding them on the right courses to pursue during this time, supporting college applications, and assisting grade VIII learners to make the right subject choices for grade IX. The Career Counselling Team has also developed a monthly newsletter focusing on career relevant information for the senior students.
Virtual Slumber Party
The pre-primary and primary teachers organised a virtual slumber party for students of their respective grades to foster peer bonding and keep students' spirits high.
Grade 10 Learner Initiatives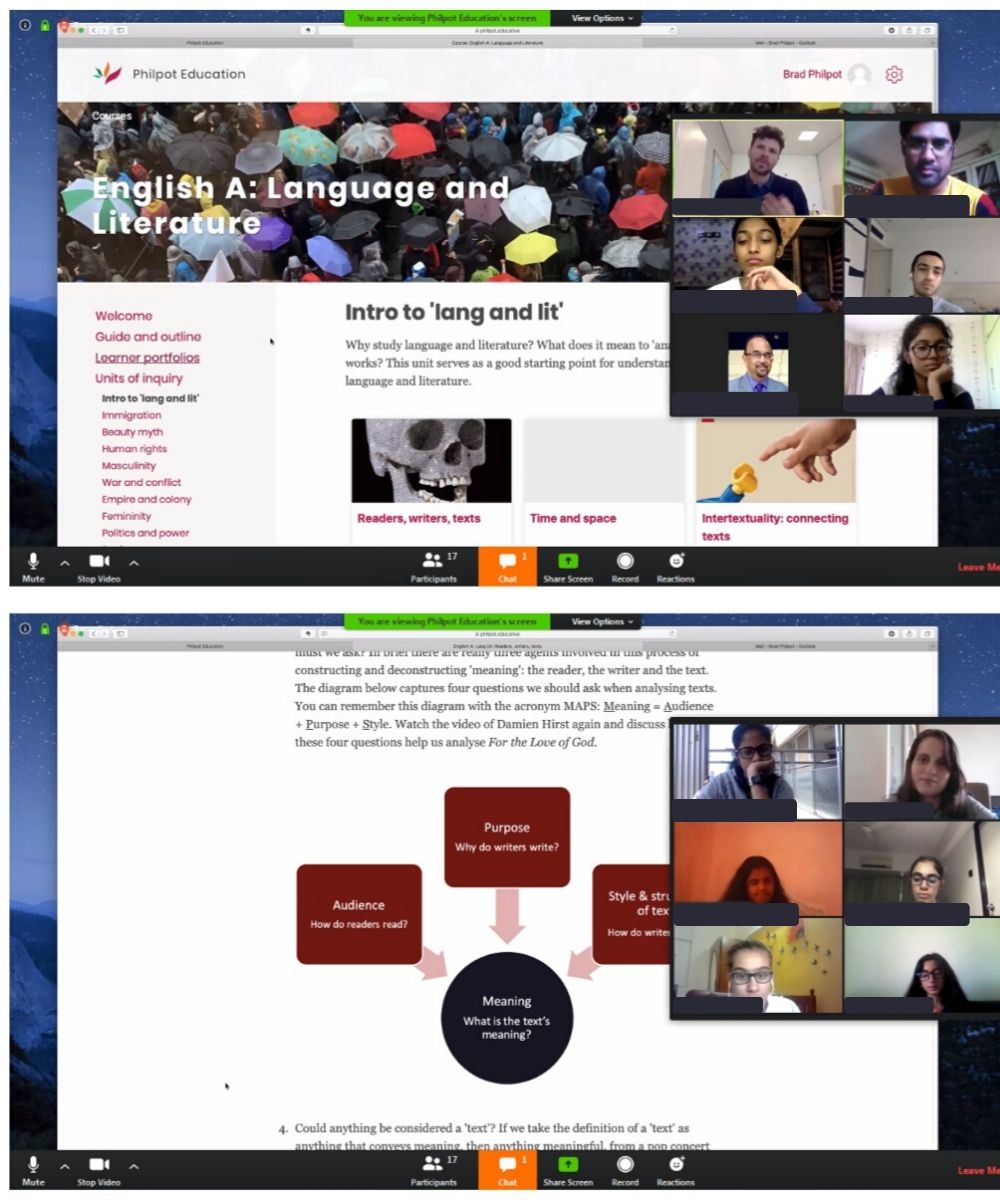 With the IGCSE board exams for grade 10 students being cancelled, they were encouraged to spend their time in constructive ways and thus, they came up with the idea of creating video tutorials for skills training in sports, art and design, music, fitness and knowledge. The videos are shared on a weekly basis with all the students encouraging the younger learners to hone their skills as well.
Virtual PTM
With the third quarter of the academic year concluding during the lockdown, the secondary teachers successfully conducted virtual PTM sessions. A record of 142 online sessions were conducted in 6 hours.
"All our stakeholders have responded to COVID-19 and its implications on education with great resilience. When the COVID-19 lockdown commenced, the teachers perceived it as an opportunity to redefine their teaching systems and processes. Almost overnight, they embraced multiple digital technologies to enable virtual and remote learning, enhanced the pedagogies through dedicated professional development and through their resourcefulness, enhanced the teaching-learning processes. Our parent community ensured that they tracked vital communication and stayed in touch with the school to ensure smooth transition from school-based to home-based remote learning. They increased access to family devices and spaces and revisited their own books to support their children. Our learners have been stellar as always with their commitment to learning, their dedication to the task at hand and at keeping their spirits up. Through it all, we have been strongly supported in our initiatives by our ever-supportive Board. Dealing with COVID-19 has undeniably been a team effort!" says K.V. Arjun Rao.
National
,
News