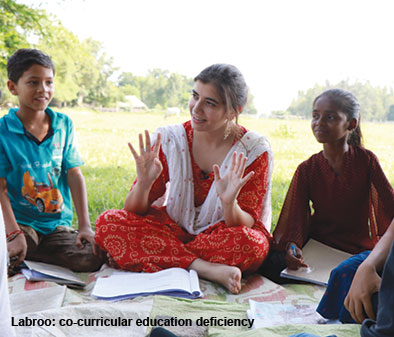 Delhi-based Jigyasa Labroo (27) is the innovative founder of Slam Out Loud (SOL, estb.2016), a not-for-profit social enterprise which provides co-curricular creative arts including poetry, storytelling and theatre education to children of socio-economically disadvantaged groups. SOL has reached 50,000-plus children countrywide to date, through collaborations with several artistes including author Anupa Lal, poet Kyle Louw and singer Ankur Tewari. Moreover, SOL students have created and presented 15,000 original performances at literary events such as Louder than Words (2017) and The Spoken Fest by Kommune (2018 and 2019), which hosted renowned poets, musicians and storytellers from around the world.
Newspeg. In April, SOL initiated its Voice for All (VFA) programme under which free-of-charge interactive online courses in the creative and performing arts are offered to rural children. The first online course in theatre was launched recently in 950 villages across Uttar Pradesh in partnership with the well-known Pratham Education Foundation, which has provided SOL access to its online PraDigi platform to teach the course to 50,000 children.
History. Born and raised in Dharamshala, Himachal Pradesh, Labroo spent her school holidays volunteering with several NGOs working in the Himalayan foothills. Subsequently, after she was awarded an engineering degree in computer science by Indraprastha University, Delhi in 2014, she signed up as a Teach for India fellow of the eponymous Mumbai-based foundation to mentor class VI students in Delhi's government schools. It was while teaching children from under-privileged backgrounds that Labroo became aware that government schools, as well as NGOs, tend to focus on improving academic learning, ignoring the richness of a broad co-curricular education. To correct and fill this lacuna, she started providing after-school classes in music, poetry and painting to disadvantaged children. In 2016, she institutionalised this initiative by promoting SOL.
"Children in government and budget private schools have little opportunity or encouragement to learn the creative and performing arts. The focus is solely on academics and teaching the 3 R's. This is unfortunate and deprives these children of the benefits of holistic education. The objective of SOL is to provide children from low-income households opportunities to develop their artistic and creative intelligences," says Labroo.
Under SOL's flagship Jijivisha Fellowship programme, a group of 30 youth aged 17-30 selected from government schools and learning centres, are given 108 hours of training per year in arts subjects for five years. "Under this model, children receive training from successful writers, poets, theatre personalities, photographers and other artistes. Spending time with successful artistes builds the creative confidence of children as well as gives the former an opportunity to use their art to catalyse social change," explains Labroo.
Future plans. "Over the next two years, we plan to sign up 150 artistes and persuade funding agencies and corporates to invest in our venture. A 2015 Global Creativity Index compiled by the Martin Prosperity Institute of the University of Toronto ranks India #99 among 139 countries. SOL's mission is to spark creativity and innovation through co-curricular arts education and reach it to children who are deprived of it. This will provide a joyous learning experience to thousands of underprivileged children. Our initiative should be supported and replicated countrywide," says Labroo.
Fair winds!
Dipta Joshi (Mumbai)