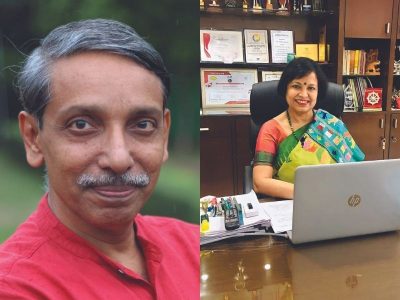 The out-of-the-blue announcement of a Central Universities Entrance Test (CUET) for admission into undergraduate programmes of all 45 Central government universities from the start of this academic year (2022-23), has sparked a nationwide debate on its impact on higher secondary school education, the future of school examination boards and board exams, homogenisation of K-12 education and greater impetus to coaching culture.
Announcing CUET on March 21, Prof. Mamidala Jagadesh Kumar, chairman, University Grants Commission (UGC) — and until recently the controversial vice chancellor of Jawaharlal Nehru University, Delhi — was upbeat that the common entrance test will lessen financial and mental stress of school-leavers having to write multiple entrance tests, free undergrad colleges and universities from the stress of conducting their own entrance tests and eliminate the phenomenon of popular colleges notifying sky-high cut-off scores in class XII board exams for admission into some study programmes.
The process for conducting CUET 2022 has already commenced with the National Testing Agency (NTA) under the Union ministry of education announcing application dates from April 2-30. The three-part exams scheduled for July will be spread over several days though actual dates are yet to be announced. Central universities and their affiliated colleges will admit 1.8 lakh school-leavers. Several private deemed universities have also decided to use CUET scores to admit undergrad students.
The biggest surprise of CUET is that it has binned the hitherto all-important school-leaving board exam marks, including marks of CBSE and CISCE exam national boards. For entry into top-ranked undergrad colleges such as St. Stephen's, Shri Ram College of Commerce and Miranda House affiliated with Delhi University, a Central varsity, high scores in school board exams have become irrelevant. Any student who averages above 40 percent is eligible to write CUET.
This peremptory reduction of the school-leaving class XII board exam to irrelevance has disturbed knowledgeable educationists. For one, the abrupt speed with which CUET has been declared mandatory for all school-leavers aspiring for admission into premier colleges of Central government universities — especially Delhi University — has shocked many educators, parents and students.
In a letter to the Union education ministry, Sudha Acharya, chairperson of the Delhi-based National Progressive Schools Conference which has a membership of 400 private schools wrote: "The present batch of students which will seek admission based on the newly introduced CUET have lived through the pandemic, appeared in the class X board exams in 2020, term-I of the class XII boards in 2021 and are currently preparing for term-II of the class XII boards to be held in April-June. In the middle of their preparation for the term-II exams, they are being told that they will have to appear for another examination for admission into colleges, the application form for which will be available in April. They now have to re-live another stress of appearing for CUET."
Dr. Vineeta Kamran, an English alumna of Punjab University and principal of the CISCE-affiliated City Montessori School, Kanpur Rd, Lucknow, a constituent school of Uttar Pradesh's eponymous top-ranked co-ed day school, believes that CUET would have better served its purpose of providing a level playing field for students from competitive examination boards if it had been introduced after adequate deliberation and debate with school leaders and educators. "There is a danger of CUET making higher secondary education irrelevant. The qualifying bar for writing CUET should have been set higher at 70 percent. Discussion and debate would have eliminated anomalies and resulted in a more robust CUET," says Kamran.
The introduction of a mandatory CUET for admission into much-prized undergrad colleges of Central universities also poses the danger of diluting formal higher secondary schooling to the advantage of edtech and coaching/tutorial companies that drill and skill students to pass examinations rather than acquire in-depth knowledge of subjects. "There is a danger that CUET will enhance the coaching culture which had become very popular with school leaving students preparing for national exams such as IIT-JEE and NEET. Coaching schools prepare students to do well in exams rather than acquire deep knowledge, creativity and problem solving skills," says Prof. Dinesh Singh, the visionary former vice chancellor of Delhi University.
The hasty promulgation of CUET without debate reminiscent of the agriculture reform laws introduced and repealed last year — particularly with undergrad college principals — is likely to clash with the proposal in the National Education Policy, 2020 to confer greater autonomy on colleges to transform them into multi-disciplinary universities. It is unlikely that autonomous universities will admit students solely on the basis of CUET scores. A statement of purpose essay as required by America's autonomous universities and/or interview is quite on the cards.
Also Read: CUET-UG: Common mode of admissions for all educational institutions?