The mega Rs.20.97 lakh crore Covid-19 economic aid package announced by Prime Minister Narendra Modi on May 12, provided tax breaks for small businesses, incentives for domestic manufacturing and free foodgrains for the poor. However, it totally ignored the pandemic-battered education sector – Summiya Yasmeen
The raging Covid-19 pandemic has pushed Indian education into a state of chaos. Closed since early March to check the spread of the deadly Coronavirus which has claimed 108,000 lives and infected 7 million people across the country (October 10), India's 1.4 million Anganwadis (government run child nutrition and early childhood education centres), estimated 60,000 private pre-primaries, 1.5 million K-12 schools, 41,901 colleges and 1,028 universities are experiencing huge disruption in education delivery. In the country's 1.2 million state government schools, learning has all but stopped, with a few states such as Kerala and Delhi broadcasting token classes over television and radio. Moreover, with 214 million children enrolled in anganwadis and government primary schools deprived of nutrition and mid-day meals for six months, child malnutrition has scaled new heights.
The country's 450,000 private schools, especially budget private schools, are also in deep trouble with thousands confronted with the prospect of bankruptcy, as unpaid tuition dues have accumulated during the past two quarters following confusing and contradictory fee deferment directives passed by several state governments during the lockdown, even as these directives mandate schools to continue paying teachers' salaries and provide online education.
A recent report of the Hyderabad-based Cerestra Ventures estimates that over 1,000 private schools are up for sale countrywide with managements having suffered massive revenue loss. Moreover, according to the Delhi-based National Independent Schools Alliance (NISA), which has a membership of 60,000 budget private schools (BPS) countrywide, "hundreds" of BPS have already shut down across the country. Likewise the Telangana Recognised Schools Management Association estimates that 2,000 BPS have closed statewide as on September 24.
In light of this unprecedented distress and turmoil in Indian education, child rights activists, K-12 education leaders, private school managements and teachers associations have been petitioning — and continue to petition — the Central and state governments to urgently provide bridge finance, loans and/or grants to ensure learning continuity of the country's 260 million school-going children of whom 47.5 percent are in private schools. But, this SOS chorus has fallen on deaf ears.
The mega Rs.20.97 lakh crore Covid-19 economic aid/stimulus package — "equivalent to almost 10 percent of India's GDP" — announced by prime minister Narendra Modi on May 12, and christened Atma Nirbhar Bharat Abhiyan (ABY), provided tax breaks for small businesses, incentives for domestic manufacturing and free foodgrains for the poor. However, it totally ignored the pandemic-battered education sector.
In sharp contrast, governments worldwide have provided substantial grants, loans and financial aid to schools and higher education institutions. For instance, the United States government in its $2 trillion (Rs.146 lakh crore) Coronavirus Aid, Relief, and Economic Security (CARES) Act, passed on March 27 allocated $31 billion (Rs.2.35 lakh crore) to education. The law provides $13.5 billion for K-12 education (public, charter and private schools), $14.5 billion for higher education institutions and an additional $3 billion for miscellaneous "education needs". In Australia (pop. 20 million), the government has allocated A$1.6 billion (Rs.8,480 crore) for early childhood care and education (ECCE), making childcare services fees-free for families through the Child Care Subsidy Amendment (Coronavirus Response Measures No. 2) Minister's Rules 2020.
Against this backdrop, the Union government's neglect of lockdown-battered education institutions was questioned in Parliament. In a written reply submitted to Parliament on September 15 to a question on "whether sufficient budgetary provision has been made in view of Covid-19 in the current financial year", Union education minister Ramesh Pokhriyal stated that the BJP/NDA government has provided Rs.5,700 crore for school education to "mitigate the effects of Covid-19". A major chunk of this allocation — Rs.3,771.82 crore — has been allocated under composite school grants which include safe school operations and sanitisation, said Pokhriyal.
However according to Dr. Protiva Kundu, additional coordinator-research at the highly-reputed Delhi-based think tank Centre for Budget and Governance Accountability (estb.2005), this amount is not additional provision made under the PM's May 12 relief package. "A substantial proportion of this sum is from an ad-hoc grant made for the Samagra Shiksha Abhiyan (scheme to promote school education) in the first quarter which was already allocated in the Union Budget 2020-21 presented on February 1. As a response to the Covid-19 pandemic, the Union education ministry has also allowed state governments to utilise the unspent amount in the Samagra Shiksha Abhiyan account of the previous year 2019-20. However, no new or additional allocations by the Union government have been made to the education sector in the prime minister's Atma Nirbhar Bharat Abhiyan package of Rs.20.97 lakh crore. This is sad because the education and midday meals of millions of children in the country's 1.2 million government schools have been severely affected in the past six months. Moreover with the Union and state governments suffering huge tax revenue losses because of poor economic conditions, we might witness contraction of the education budget," says Kundu.
Unsurprisingly, educators and voluntary sector (aka NGOs) leaders are aghast that little or no provision has been made in the prime minister's May 12 stimulus and relief package for the 132 million children from low-income households who are totally dependent on government schools under lockdown for six months, not only for education but also for their free mid-day meal — the world's largest school meals programme.
According to Ambarish Rai, national convenor of the RTE Forum, a coalition of over 10,000 NGOs, educationists and social activists gathered under the forum's banner to enforce the Right of Children to Free & Compulsory Education (RTE) Act, 2009, an estimated 20 percent (30 million) children from marginalised households have dropped out of government schools since end-March.
"These children have started working as child labour, are vulnerable to human trafficking with millions pushed into early marriage. It will be a huge challenge to get them back into school after the pandemic is tamed. Under the RTE Act, primary education is a fundamental right of every child in the 6-14 age group. But the government has done nothing to ensure that children in government schools continue their education during the pandemic. No provision has been made for providing them online education, digital devices and Internet connectivity. The country's already glaring public-private education and digital divide has widened further," says Rai.
Rai's gloomy lament about the widening digital divide and its deleterious consequences for bottom-of-pyramid children is not unwarranted. According to the National Sample Survey 2017-2018, a mere 8 percent of Indian households with children and youth aged between five and 24 years have access to the Internet and computer devices (desktop, laptop, tablet, etc). Moreover with an estimated 18 million people having lost their livelihoods during the past six months, 24 percent of Indian households that own smartphones are unable to afford Internet access charges for their children's online classes.
Tragically, for the overwhelming majority of children in government and budget private schools, online education has been a non-starter. Taking cognisance of this huge disparity in online learning access, on September 18 the Delhi high court directed private unaided schools in the national capital to provide digital gadgets and Internet connections to poor students to access online classes during the pandemic, and claim reimbursement from the Delhi government under the Right to Education (RTE) Act, 2009. The Delhi government has challenged this order in the Supreme Court.
"The Central and state governments have cruelly neglected to provide online classes for government school children. They need to urgently create a digital access fund to purchase gadgets and provide Internet connectivity to them. Indeed, government should declare digital connectivity a public utility like electricity and water supply. Failure to provide millions of children learning continuity for such a prolonged period of time will hurt the Indian economy for decades to come," warns Nooraine Fazal, cofounder and managing trustee of the highly-ranked Inventure Academy, Bangalore (estb.2005).
Moreover as if to compound the sin of failure to provide budgetary resources required to ensure learning continuity for 132 million children enrolled in the country's 1.2 million government schools, several state governments have issued a rain of illconsidered circulars and notifications deferring fees payment to private schools, which educate 47.5 percent of the country's in-school children. Presumably, discerning an opportunity to curry favour with the influential 300 million-strong middle class which overwhelmingly sign up their children with private schools, state governments have issued notifications directing private school managements to defer and/or waive tuition fees for the March-August period and/or offer fee concessions to parents. Paradoxically, these notifications sternly direct school managements to continue paying salaries to teachers and staff and provide online classes for students.
A nationwide survey conducted by the National Independent Schools Alliance (NISA) indicates that the fees of a mere 38 percent of school students countrywide have been paid during the lockdown period of April-June (see graphic p.40). In this connection, it's important to note that 70 percent of the country's 450,000 private schools levy tuition fees less than Rs.1,000 per month according to the Private Schools of India Report 2020 of the Delhi-based Central Square Foundation (see EW cover story, September 15).
Reckless, confusing and contradictory circulars and fees payment notifications issued by the state governments of Maharashtra, Karnataka, Madhya Pradesh and Gujarat among others, have severely disrupted cash flows and the financial viability of private schools — especially budget private schools. Simultaneously they have jeopardised the livelihoods of an estimated 5 million private school teachers with over 80 percent not paid their salaries for five months, even as government school teachers continue to be paid from the public payroll.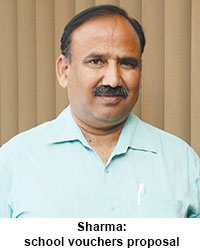 "Numerous letters of appeal to government authorities including the PMO (prime minister's office) to save India's budget private schools which have been hit hardest by the Covid-19 pandemic have not elicited any response, not even words of sympathy. With our revenue streams drying up, most BPS have not been able to pay teachers and staff. NISA has launched a 'Shiksha Bachao Andolan — Fund Students, Save Teachers, Save Schools' — national campaign demanding a Rs.30,000 crore economic package to fund students through school vouchers and direct benefit transfers. NISA is not asking the government to give money to schools but to parents through school vouchers so they can use the money to pay fees. However, there has not even been an acknowledgement of our charter of demands from government. Instead, state governments across the country are busy passing fees deferment circulars and inciting parents, including those who can afford it, to stop paying school fees. It is a dire situation from which budget private schools which educate over 60 million children will take many years to recover," warns Kulbhushan Sharma, president of NISA.
NISA's demand for implementation of a school vouchers/direct benefit transfer scheme is endorsed and supported by several organisations including the Delhi-based think tank Centre for Civil Society and EducationWorld.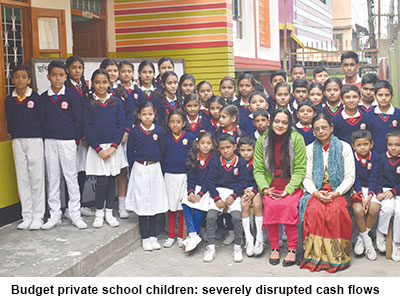 On August 4, in association with the Telangana Parents Association for Child Rights and Safety, EducationWorld launched a Covid-19 Action & Relief Fund for Education — CARE National Campaign 2020 which petitions the Central government to initially endow a CARE Fund with a sum of Rs.2,000 crore — equivalent to 1 percent of the prime minister's economy stimulus package with an equal amount solicited from the public into a CARE corpus to be maintained by the Union education ministry. The petition demands that the government introduces education vouchers (from the CARE Fund) varying between Rs.500-1,000 per month to parents of low-income households for the academic year 2020-21. This campaign and petitions have also elicited no response from the Centre.
Government prejudice and apathy towards private schools is also highlighted by the sustained neglect of state governments to reimburse private schools for admitting poor children under s.12 (1) (c) of the RTE Act, 2009. Under this section private schools are obliged to reserve 25 percent capacity in classes I-VIII for poor children in their neighbourhood. To partly subsidise private schools the cost of educating poor neighbourhood children, s.12 (2) mandates reimbursement of the amount spent by state governments in their own schools to private schools that have admitted poor children. Across the country, private school associations claim that arrears of reimbursement for admitting poor children

under s.12 (1) (c) have piled up to "lakhs of crores", which if paid would mitigate the financial stress of private schools struggling to remain afloat following forced closure of all education institutions during the Covid-19 pandemic (see box).
For instance in Tamil Nadu, the state's private schools are owed over Rs.500 crore by way of s.12 (2) reimbursement. "Private schools especially budget private schools, are facing an existential crisis with fees revenue drying up. Many are not able to pay even 25 percent of teachers' salaries. We presented several petitions to the state government to release pending reimbursement amounts urgently required by private school managements to meet operational expenses including teacher and staff salaries. But there is no response. Only after the Madras high court gave an order directing the government to release RTE reimbursements, it released Rs.303.70 crore for the year 2018-2019. However, for 2019-2020, the amount of Rs.510 crore is still pending," says advocate M.J. John Arokia Prabhu, vice president of the Tamil Nadu Private Schools Association.
It's hardly a secret that within government, left-liberal dominated academy and establishment there's deep and pervasive prejudice and antagonism against private schools stretching back to the 1950s, when newly independent India adopted the inorganic socialist economic development model. Since then, the Supreme Court has routinely condemned "commercialisation of education" unmindful of the reality that private school education in India is the cheapest — in all segments — worldwide. Nevertheless, there's been continuous exodus of students from government to private, especially budget private schools — a sore point for the Central and state governments.
Therefore, the novel Coronavirus pandemic has come as a golden opportunity to deliver a hammer blow to private education. "The government has a vested interest in shutting down budget private schools. If BPS close down, students from the lower middle class will have no option but to reverse migrate to government schools. That's why the government is refusing to provide economic support to private school managements and/or pay RTE reimbursements rightfully due to them," says Syed Shamael
Ahmad, Patna-based president of the Private Schools and Children Welfare Association, which has 25,000 private — including budget private schools —as members.
Moreover, to compound the agony of children being forced to attend dysfunctional government schools infamous for chronic teacher truancy, abysmal learning outcomes and English language aversion, Central and state governments are simultaneously choking the flow of private investment in education through burdensome, complicated laws, rules and regulations. Demands for deregulation and liberalisation of Indian education have fallen on deaf ears with successive governments denouncing "commercialisation of education" as a deadly sin. Indeed, the recently released National Education Policy 2020 strongly reiterates that all private schools and HEIs must compulsorily be "not-for-profit entities" and states the "current regulatory regime has not been able to curb the commercialisation and economic exploitation of parents" by "many" for-profit schools.
The prolonged closure of schools because of Covid-19 apprehension, and confusing circulars issued by various state governments about fees payment have pushed budget private schools to the edge of bankruptcy. Every day we get calls from private schools requesting us to find buyers and/or assist by arranging term finance. The distress of private schools would have been reduced if the environment was more conducive for private investment in education. India's K-12 education sector is heavily regulated and the 'non-profit' mandate makes it unattractive for private investors. The current pandemic crisis presents the government a good opportunity to start the overdue liberalisation and deregulation of the education sector and allow private capital to flow in. There are many in vestors ready and willing to bail out near-bankrupt private schools during this crisis. For instance during the past nine months, the Indian edtech industry has received private funding of over $5 billion, highlighting that education is a favoured investment sector," says Rakesh Gupta, an alumnus of IIT-Kharagpur and Indian School of Business, Hyderabad, former management consultant with McKinsey & Co and currently managing partner of the Hyderabad-based LoEstro Advisors which specialises in counselling clients on strategy, fund-raising and M&A in the education, healthcare and retail sectors.
While mid-market and upscale private schools have smoothly switched to online classes and BPS are on ventilator support, a large number of private pre-primaries have slipped into deep coma. With several state governments proscribing online education to youngest children as also suborning young parents with fee deferment circulars, hundreds of standalone private preschools countrywide have shut down.
"Private ECCE centres have been badly hit by the pandemic- induced closure of education institutions. Our appeal to the Central and state governments is to withdraw diktats which make fees payment optional, direct banks to extend moratorium on rent/loans payments and give tax rebates to preschool owners while encouraging parents to enroll their children for developmentally appropriate virtual learning programmes provided by preschools," says Dr. Swati Popat Vats, president of the Early Childhood Association, which has a membership of 38,000 preschools countywide.
Withdrawal of fees deferment circulars, tax rebates, extending loan moratoriums and kick-starting the process of liberalising the education sector apart, an immediate option available to the Centre is to allocate 5 percent (Rs.1 lakh crore) of the prime minister's May 12 pandemic economic stimulus package to education as demanded by NISA. This could be utilised to create a digital access fund for government school children, sanitisation and upgrading of toilet/wash/drinking water facilities of government schools, resumption of anganwadi services, and providing school choice vouchers to children.
Four months later, the government could follow up with a massive resource mobilisation drive in the Union Budget 2021-22 for investment in education. Your editors have repeatedly presented a regularly updated resource mobilisation schema for one-time investment of Rs.8 lakh crore towards the education and primary healthcare of the world's largest child and youth population (see www. educationworld.in/union-budget 2020-21-small-change-for-humancapital-development/).
The World Bank estimates that because of learning loss in the pandemic era, children globally stand to lose $10 trillion (Rs.732 lakh crore) in labour earnings over the course of their work lives. To grasp the magnitude of this sum, it is one-tenth of global GDP. That's why developed OECD countries have prioritised allocations for education in their Covid-19 economic stimulus packages.
The national interest demands that the BJP-NDA government urgently allocates budgetary resources to ensure learning continuity of 132 million children enrolled in 1.2 million government schools, and provides necessary concessions and support to ensure that the education of 119 million children studying in the country's 450,000 private schools is not disrupted. The alternative is that the socio-economic progress of 21st century India will be halted if not pushed back, by several decades.
Private schools demands charter
Over the past six months, several private schools associations across the country have repeatedly petitioned the Prime Minister's Office (PMO), Union education ministry and state governments to allocate monetary grants and other concessions to private schools, which host 47.5 percent of India's school-going children, hard hit by forced closure and unpaid tuition and other fees since mid-March because of the Covid-19 pandemic.
The major demands of private schools associations are:
Provide a Rs.450,000 crore financial aid package for pre-schools to class XII education.
Introduce a school voucher scheme under which 12 vouchers with a face value of Rs.2,500 are issued to 150 million EWS (economically weaker section) households countrywide. Private schools can redeem these from state governments which will be compensated by the Centre from the Rs.450,000 crore financial aid package for schools.
Extend the moratorium on interest payable to all loans availed by private school managements to purchase school buses, until March 31, 2021.
Direct public sector banks to provide low-interest unsecured loans to private school managements with a moratorium of 12 months on interest to enable them to tide over the financial crisis precipitated by non-payment of tuition fees by parents since mid-March, and for investment in digital/online infrastructure.
Grant GST tax exemption for lease/rent/construction of school buildings and other infrastructure including edtech online learning platforms.
Designate education institutions as 'priority sector' for bank loans.
Issue ordinance permitting for-profit companies and firms to invest in schools. This will facilitate free flow of capital from domestic and international financial markets into education.
Withdraw state government circulars permitting parents to defer fee payments until resumption of conventional schooling.
Exempt private schools from paying water and sewage taxes for the fiscal year 2020-21.
Central/state governments should pay the ESI (Employees State Insurance) and PF (provident fund) amounts normatively payable by school managements, into the bank accounts of private school teachers/staff for the academic year 2020-21.
Direct state governments to release reimbursement amounts payable by them to private schools which have admitted poor children under s.12 (1) (c) of the RTE Act, 2009.
Issue directives to state road transport ministries to extend the fitness certificate of school buses by one year.
Underwrite financial and legal liability in the event of teachers and/or students contracting Covid-19 infection when schools reopen.
(Source: EW compilation based on petitions filed by NISA, FICCI-ARISE, Unaided Private Schools Association (UP), Independent Schools Federation of India — District Ghaziabad and Association of Unaided Private Schools (MP)).
Pandemic packages for education
Since February/March when the Coronavirus pandemic disrupted education and economic activity around the world, several national governments have decreed financial aid packages for education institutions forced to down shutters. Despite students not attending conventional classes, institutional managements have to incur considerable expense to switch to digital online classes, maintain school campuses and continue to pay teacher and staff salaries.
However in the prime minister's Rs.20.97 lakh crore economy revival package announced on May 12 — and in subsequent Union finance ministry pronouncements — there is deafening silence about education although currently, an estimated 300 million children and youth are struggling to maintain learning continuity. On the other hand, governments around the world have made generous allocations to keep their education institutions alive during the pandemic era.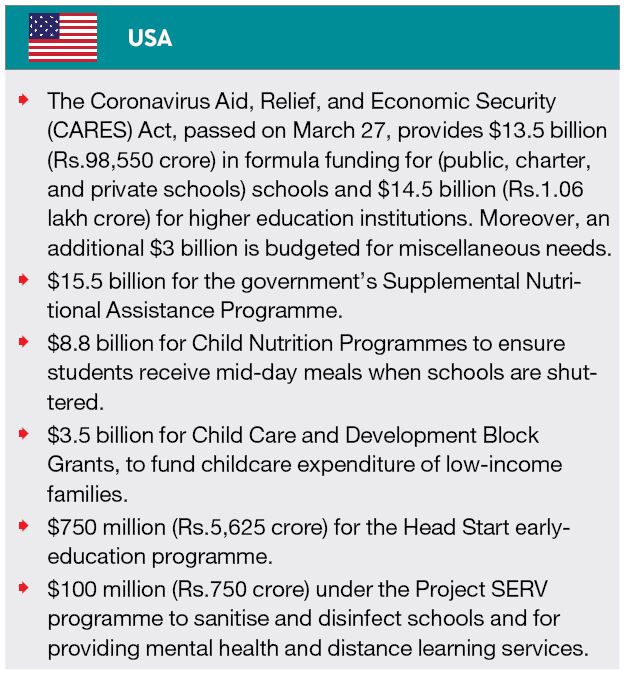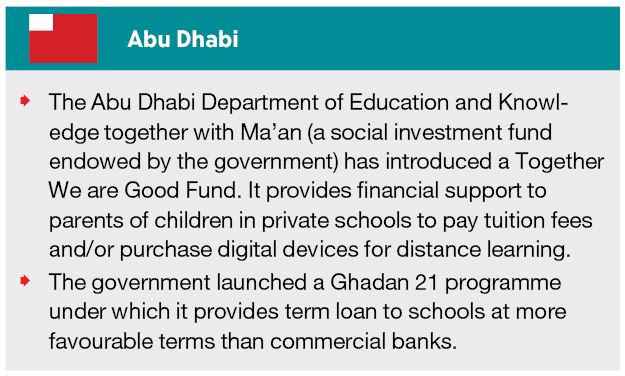 (Source: EW compilation based on EY Parthenon, UK government publications, Bloomberg and other media reports)