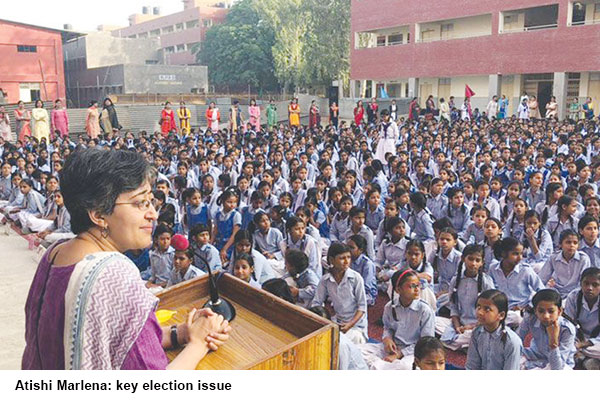 Unusually, the top leadership of the AAP (Aam Aadmi Party), which uncomfortably rules Delhi state jointly with the BJP-led NDA government, seems to believe that education (and health) is an election-winning issue. Ever since it was unexpectedly swept to power in the state legislative assembly with a massive majority in 2015, the AAP government has given top priority to improving teaching-learning outcomes in state government schools.
In its party manifesto released on April 25, prior to General Election 2019, the AAP government claimed credit for adding 8,213 classrooms to the state's 1,028 public schools "despite all the hurdles laid by Central government," with another 12,748 scheduled to be added by November. Moreover, it has widely advertised and proclaimed that it is the first government to send school teachers to "coveted institutes in Finland, Singapore and United Kingdom" for training; launching special initiatives to improve the foundational learning skills of students; introducing happiness and entrepreneurship curriculums in government schools; and re-energising parents-dominated school management committees mandated under s.21 (1) of the landmark RTE Act. And it has also been tom-tomming that Delhi's government schools have achieved better results in CBSE's class XII school-leaving exams than Central government schools for the past three years.
There is some substance in these claims which have not been seriously contested by any other political party or education pundits. Nor is it contested that the AAP government has increased the state government's annual outlay for education from 23.8 percent of the total budget in 2015-16 to 26 percent (Rs.15,601 crore) in 2019-20. Against this, even the educationally advanced state of Karnataka (pop.63 million) allocated a mere 10.9 percent (Rs.23,760 crore). The AAP government's education annual expenditure per child is Rs.51,745 (cf. the national average of Rs.13,974).
This focus matched with greater expenditure on public education is paying off. In the EducationWorld India School Rankings 2019-20, the Delhi government-managed Rajkiya Pratibha Vikas Vidyalaya (RPVV), Dwarka (Delhi), is ranked India's top-ranked government day school for the second year in succession besting all Central government-managed Kendriya Vidyalayas which have dominated the government day schools league table for the past decade. Moreover, the Delhi government-managed RPVV, Lajpat Nagar, is also ranked among the Top 5 this year.
The AAP government's latest initiative is focussed towards higher education. On October 14, at a press conference in the national capital, chief minister Arvind Kejriwal announced a new greenfield Delhi Skill and Entrepreneurship University (DSEU). A Bill to legislate DSEU is almost ready and will be presented to the lieutenant governor for clearance before it's introduced in the state legislative assembly, announced Kejriwal, indicating that it may be passed in the forthcoming winter session. "Within a year after passing the Bill, we expect to admit our first batch of students," he informed assembled media personnel.
Coming on top of the heavy investment of political capital and financial resources in school education, the odds are strongly in favour of AAP making the provision of high-quality education the main plank of its election manifesto and campaign in the next Delhi legislative assembly election scheduled for early 2020. This could be a high stakes gamble for AAP because despite the woeful condition of government schools and widespread awareness that education is the best passport for upward social mobility, no political party in post-independence India has made reform of public education a major election issue.
"Education has always been and will continue to remain a key issue for AAP in every election. The enormous effort we have put into reforming the education system is testament to our commitment to all children of Delhi that they have an equal chance of success in their lives. This will be a key factor contributing to our success in the forthcoming assembly election," says Atishi Marlena, a high-profile member of AAP's political committee and advisor to deputy chief and education minister Manish Sisodia, and also prime mover behind the dramatic transformation of Delhi's government schools.
However, predominant informed opinion in the national capital is skeptical about the unsexy subject of education becoming an election winning issue in the near future. "AAP had great expectations of winning at least a few seats in Delhi in General Election 2019 and at least ten of the 90 seats in the recently concluded Haryana assembly elections where its candidates hard-sold the party's education record in Delhi. But in both these elections, it didn't win a single seat. I don't believe education reform is an election-winning issue in any state of India as yet. If the party fights the next election on its education record, it will come a cropper," warns Ashok Aggarwal, a prominent Delhi-based common schools proponent and lawyer.
Recommended: Many hurdles of India's most public education-friendly party: Aam Aadmi Party
But chief minister Arvind Kejriwal, star of AAP's election campaign who also highlights his government's track record in improving the national capital region's power supply and public healthcare system, has a discerning finger on Delhi's pulse. Immediately after the sweeping General Election 2014 with a two-thirds majority in the Lok Sabha, the high-riding BJP leadership called an early election for the Delhi state legislative assembly.
Against all expectations, AAP won an unprecedented 67 of the 70 seats of the state assembly. Therefore, one can't rule out that Kejriwal and the AAP leadership know the Delhi electorate's priorities better than pollsters and pundits.
Manoj Joshi (Delhi)