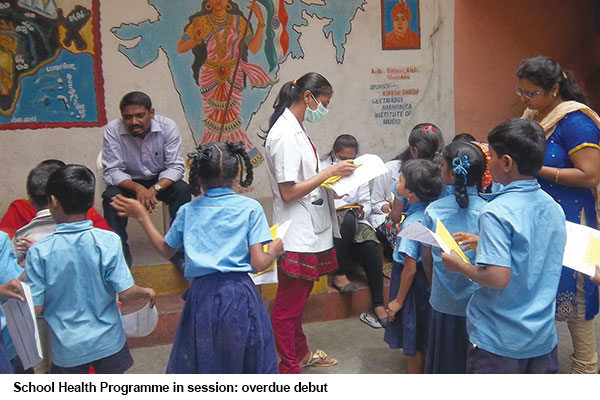 Two years ago, a school health Programme (SHP) was launched as a joint initiative of the Union HRD and health and family welfare ministries under the Ayushman Bharat aka PM-JAY — national health programme — of the Central government. PM-JAY enables specified rural and urban poor families to obtain cashless medical treatment of up to Rs.5 lakh in 18,000 empanelled hospitals countrywide.
On February 12, a National Resource Group of 40 adolescence experts was announced and a curriculum on the subject for teachers was released under SHP's Health and Wellness Ambassadors initiative. SHP's objective is to generate preventive health and wellness awareness among school-going children in line with the Sustainable Development Goals (SDG-3) of the United Nations through promotion of hygiene and healthy practices within schools.
In the first phase, selected teachers will be appointed Health and Wellness Ambassadors (HWAs) in government upper primary, secondary and senior secondary schools of 117 most backward districts (out of the country's 640 districts). They will be supported by two Health and Wellness Messengers (HWMs) selected by school managements from among students. Together, they will propagate awareness of adolescent or sex education which will make its debut in K-12 education in India through this initiative.
The subject of sex education has been bundled together with other health issues such as prevention of substance abuse and violence, road safety, nutrition, meditation and yoga to make this initiative acceptable to the Rashtriya Swayamsevak Sangh (RSS), the ideological mentor of the BJP, that calls all the shots in the BJP/NDA alliance government at the Centre. It has been under pressure from academics and intellectuals to introduce sex education in secondary and even upper primary education.
SHP is the Central government's overdue response to the pressing demand for introducing sex education in schools. The bundling of related issues such as drugs and substance abuse and juvenile crimes and violence as well as general health awareness is not only good politics, but logical contemporisation of sex education.
Under SHP, two teachers — male and female with good communication skills — will be designated HWAs to conduct weekly hour-long age-appropriate informative, sex and related education in-school sessions. HWMs will support them.
The introduction of sex education into school curriculums is long overdue because sex crimes against innocent and vulnerable children have spread from the decadent West and have become endemic in contemporary India. According to the US-based National Centre for Missing and Exploited Children, India accounts for the maximum number of child sexual abuse imagery worldwide with 25,000 images or videos uploaded in the past five months with Delhi topping the India list. Moreover according to latest data published by the National Crime Records Bureau, the number of cases filed for crimes against children increased from 1.06 lakh in 2016 to 1.29 lakh in 2017. "The alarming number of nearly 130,000 cases in 2017 indicates that every day, 350 crimes are committed against children in India," says a report of the Delhi-based CRY (Child Rights & You).
This menace, and particularly the explosion of child pornography and sexual assaults on tiny children which are reported with sickening frequency in news dailies, has prompted a cover story titled 'The menace of child porn' in the latest issue (March 2) of India Today — India's #1 English language news weekly. "A child who knows about his or her body will also be aware of what is right or wrong. Many children now fall prey to dangerous new trends like 'cyber grooving' — where online predators ensnare unsuspecting children," writes Aroon Purie, editor-in-chief of India Today.
"The success of SHP will depend on how active and involved HWAs and HWMs are allowed to become, especially in government schools because introduction of sex and wellness education in secondary — even primary schools — is overdue. In our school, we introduced age-appropriate sex education 20 years ago when I took charge as principal. I hope SHP is rigorously implemented in K-12 education," says Alka Kapur, an English and education alumna of Delhi University who began teaching in 1988 and was appointed principal of Delhi's Modern Public School (estb.1971) in 2000. Currently, this CBSE-affiliated K-12 school has 2,900 students mentored by 135 teachers on its muster rolls.
Meanwhile with the number of twisted sex predators targeting vulnerable children rising exponentially, right thinking academics and citizens are keeping their fingers crossed that some RSS/BJP diehard doesn't throw a spanner in the works.
Autar Nehru (Delhi)