Delhi Public School Agra (DPS Agra) was promoted in 2002 with a vision "to mould the next generation of global citizens by imparting a balanced instruction of traditional values and modern thoughts". Over the years, the school has lived up to its motto of "Service Before Self" by helping students to evolve as independent, lifelong learners and responsible citizens of the world.
Sited on a state-of-the-art 10-acre campus in the ancient city of Agra, the school is committed to provide children holistic education that inculcates in them universal values and encourages curiousity, reflection, mental flexibility, and self-discipline. Believing in the uniqueness of every child, DPS Agra aims to "create through the children a better world for them to live in".
"In an era where we are heading towards technological singularity, it becomes more important to review what is happening in our classrooms. The question is, are we preparing our children for the change? After lots of research, brainstorming and deliberation, we have finally come up with a futuristic curriculum, which aims more at research and collaborative learning. The curriculum gives scope to the students to work in teams, solve problems, research, present and collaborate with rest of the world. With a long and rewarding history of achievement in education behind us, our school community continues to move forward together with confidence, pride and enthusiasm," says RK Pandey, principal, DPS Agra.
A postgraduate in Physics of Kuvempu University, Karnataka RK Pandey also holds M.Phil (Education), MBA from National Institute of Business Management Chennai and MS (Psychotherapy & Counselling) qualifications of Alagappa University. An accomplished educator with over three decades' experience in education, which includes institutional administration and leadership roles including principal, Lawrence High School (Bangalore), Lecturer of Education (Al-Ameen College of Education, Bangalore University), principal Sanjeewan Vidyalaya (Panchgani, Maharashtra) principal, The Aditya Birla Public School (Gulbarga, Karnataka) and principal, Delhi Public School, Varanasi. He has conducted several state-level workshops and mentoring sessions for teachers, educators and heads of institutions. Also member of the CBSE Inspection Team, he has served as chief nodal officer for spot evaluation of answer papers; member of the Centre Fixation Committee; mentor, Monitoring and Mentoring Team; city coordinator for verification of evidence of assessment and resource person, Center of Excellence for Teachers' (COET, CBSE), Rae Bareli. During the course of his illustrious career in education, he has been conferred with several awards and accolades. Among them, the Best Science Teacher Award of the Department of Education, Adugodi (Bangalore), Innovative Principal of the Year Award 2020 of International Education Symposium and Awards 2020 and Dr. APJ Abdul Kalam National Award 2016 of Awantika, to name a few. He has also been felicitated by the United Group of Institutions, Allahabad for 'Distinguished Leadership in the field of Education'.
Under the able guidance of RK Pandey, DPS Agra has been setting new milestones of excellence based on a deep value system and quality learning.
Infrastructure designed to nurture excellence
DPS Agra's aesthetically manicured 10-acre campus is equipped with contemporary infrastructure designed to enable excellence in academics, sports and co-curricular education. Facilities include ICT enabled classrooms, five modern computer labs, two well-stocked libraries, three well-equipped Science labs, a Biotech lab, Math lab, Humanities lab, Language lab, art studio, recording studio, an integrated Indian and Western music and dance complex, a centrally air-conditioned auditorium, and a multipurpose hall, among others.
The school's sprawling sports arena houses hockey, cricket and football fields, tennis, volleyball, basketball and squash courts, skating rinks, two yoga halls, a 25 m swimming pool and a smaller pool for beginners.
The campus is also equipped with solar panels for harnessing solar energy which has helped reduce the school's dependence on electricity supply, thus, ensuring uninterrupted classroom activities.
Empowering learners to gain a passport to the world
Believing there is a genius within every child, DPS Agra is committed to create a better world for them through its twin progress-oriented perspective of Edutainment and Education which ensures creation of a fun and joyful learning environment and provides sufficient scope and opportunities for hands-on and experiential learning, thereby preparing them for competency-based learning and other 21st century skills. Delhi Public School, Agra is known for its innovative teaching and learning approach which is designed keeping in mind the needs of the learners and their role in today's dynamic world.
Enhancement classes
With the objective of drawing out the best in students and helping them achieve the desired academic benchmark, the school conducts enhancement classes in mainstream subjects within school hours in the zero period and after school hours too.
Concept Clarity Session (CCS) was introduced with the aim to assess teachers' teaching and students' learning in the class. It helps students reinforce the concepts introduced to them in the classroom. CCS is conducted for every topic taught in class and as the name suggests, these sessions go an extra mile to provide feedback to the students about their comprehension of concepts taught in the classroom.
DPS Agra follows Flip Classroom approach to make the best use of classroom time. It is a progressive approach adopted to add new dimensions to classroom teaching and encourage higher order thinking. Based on the premise that the best way to learn a subject is to teach it, the students and teachers reverse their roles wherein students are given topics to prepare and present in a real classroom scenario. By explaining concepts, designing questions and answering queries of their peers, the students gain a deeper level of understanding and more comprehensive ideas on the subjects.
APS – Assessment of Pre-requisite Skills play an important role in the classroom learning process at DPS Agra. It was first introduced in the online classes during the Covid-19 pandemic to assess past and present knowledge along with BRIDGE manuals designed to bridge the gaps in the learning caused by two years of online schooling.
Interdisciplinary learning
DPS Agra has introduced Project Based Learning (PBL) to promote interdisciplinary learning. The projects cover diverse areas such as marketing, finance, investments, e-commerce, health, globalisation, the city of Agra, science and digital marketing. PBL encourges deeper engagement, research and involvement with the learning content while boosting collaboration between students of different streams, thus creating a heterogeneous environment for sharing of knowledge and ideas.
Anubhuti: An Edutainment Programme is another excellent opportunity given to students to conduct research on varied themes such as inspiring personalities, national and international events, festivals, among others. Students use the medium of theatre and art to showcase the themes. Anubhuti is a reflection on the experiences of the students starting from inception to the final presentation on stage. It is an effective tool for assessing team work, collaboration, research and individual skills of the students.
DHYANA: Meditative learning
Believing in the transformational power of music, DPS Agra has introduced a novel initiative, Dhyana, to boost the concentration of students while writing. Dhyana includes 40 minutes of focused writing sessions that encourage mindfulness and diligence. During the 40-minute writing session, the soft and soothing instrumental music that plays in the background, helps the students to fuel their consciousness and harness their restless minds.
Bolstering scientific temper
Delhi Public School Agra promotes several student-interest clubs that provide students adequate opportunities for exploration and application of learning. The Science & Environment Club provides a platform for children to showcase their unique nature conservation skills by creating best out of waste, garbage segregation, compost making, creating kitchen gardens, etc. Moreover, the school's Science Club plays a significant role in taking science learning way beyond books and classrooms. Children are encouraged to analyse daily life events and situations and the reasons behind the same and present their learning through peer interactions and exhibitions.
'Next Level Classes': Preparation for competitive examinations
Effective training by professional experts ensures provision of valuable, detailed and diagnostic analysis with periodic evaluation to help students to excel in competitive examinations. To prepare the students for the highly competitive national and international standardised tests and entrance exams, DPS Agra has introduced preparatory classes for CLAT, CA CPT (Chartered Accountant Common Proficiency Test), CSEET (Company Secretary Executive Entrance Test), SAT (Scholastic Aptitude Test), TOEFL, IELTS and Creative Aptitude Test for NIFT, NATA & NID.
DPS Agra provides ample opportunities and trains the students for national and international Olympiads as well as National Standard Examination in Physics, Chemistry, Biology and Mathematics. Moreover, the school conducts special in-house classes for National Talent Search Examination (NTSE) for students free of cost.
Career Guidance Sessions
DPS Agra's career counseling initiative Lakshya helps acquaint the students with their career choices. The counselling sessions help identify the untapped potential of the students and equip them to thrive in an increasingly competitive world.
Facilitating lifelong learning and professional growth
Committed to the continuous professional development of its 217 teachers, Delhi Public School Agra provides them ample opportunities to upgrade and enrich their knowledge and skills through teacher training programmes and webinars designed to hone their teaching skills and enhance their awareness on new developments in the field of education. The school also encourages its teachers to enroll in HRDC workshops apart from completing the mandatory 50 hours of training provided by the CBSE. The school also facilitates in-house workshops and skill enhancement modules to keep its teaching staff abreast with current affairs and globally acclaimed teaching-learning practices. The modules cover topics such as inclusive education, language proficiency, progression of NEP, financial literacy, cyber security, designing effective lesson plans and question papers as well as soft skills and team building exercises.
"The pandemic has forced us to rethink the way we approach learning and has reminded us of the importance of adaptability and flexibility in education. We have learned that learning can happen anywhere and at any time, and we have been able to continue our students' education through innovative and technology-driven methods. As we look towards the future, we are committed to incorporating these lessons into our plans for the institution, ensuring that our students are prepared for an ever-changing world and are equipped with the skills and knowledge to excel in any environment," says RK Pandey.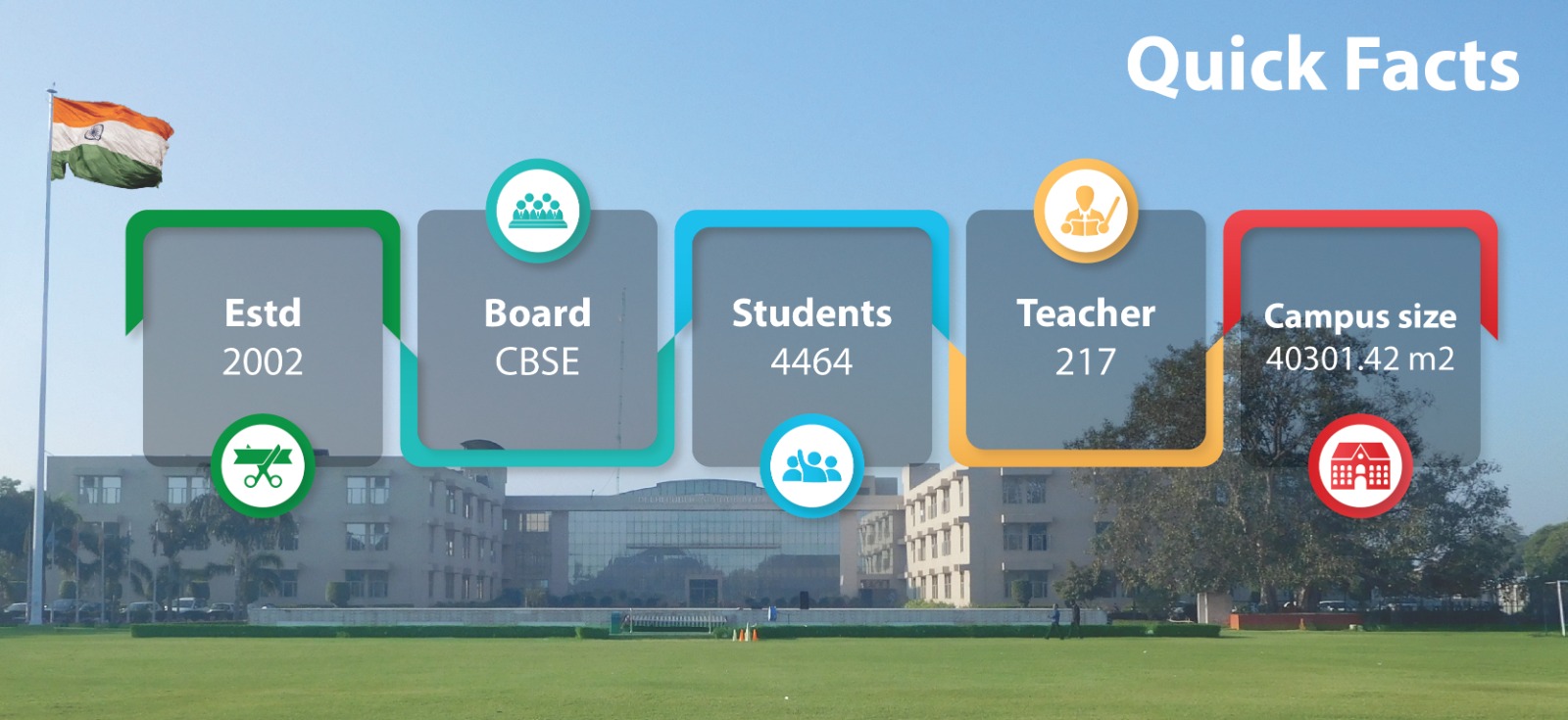 DPS Agra Awards & Encomiums
Ranked India #2, Uttar Pradesh #2 and Agra #1 in the EducationWorld Grand Jury India School Rankings 2022-23.
Diva Singh, Khushi Agarwal and Shashwat Tejas Pachauri of class XII qualified the Common Law Admission Test (CLAT) 2023.
The DPS Agra team emerged overall champions in the Moon School Olympics 2023 hosted by the Moon TV Network.
11 students of DPS Agra qualified the JEE Mains 2022 exam.
Army Wing NCC cadet Lakshya Pratap Yadav of class IX was selected for the Republic Day Camp 2023 becoming the only cadet to be selected from 1 UP Battalion NCC Agra.
Also read:
DPS Agra: School with a difference
Campus
,
News