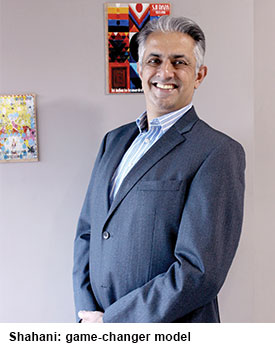 Dr. Akhil Shahani is managing director of the Mumbai-based Shahani Group of education institutions which over the past 60 years has promoted 24 institutions including Mumbai's iconic Thadomal Shahani Engineering, HR, KC, and National colleges. Although these are minority institutions promoted under Article 30 (1) of the Constitution and can reserve 49.5 percent of seats for the Sindhi community, they have many thousands of students of all communities.
A fourth-generation education entrepreneur, Shahani leads the group together with his mother and chairperson Maya Shahani. Under his expert guidance, in recent years the group has promoted several new brick and mortar institutions including the Thadomal Shahani Centre for Management (estb.2010), Thadomal Shahani Centre For Media & Communications (TSCFMC, estb. 2015) as well as the online Ask.CAREERS (2016). Together, these institutes skill 150,000 students enrolled in online and offline management, media, banking, real estate, and digital marketing courses.
Newspeg. The Thadomal Shahani Centre for Management (TSCM), which offers degree programmes in finance, marketing, human resource management, and banking & digital marketing, inaugurated a new 12,000 sq. ft campus in Mumbai (Mulund) last month. The new campus will augment the capacity of TSCM's four existing campuses at Mulund, Bandra, Lonavala, and Vadodara (Gujarat) which have been running chock-a-block since 2015.
History. Born and raised in London until age 11, Shahani returned to India to complete his schooling at The Doon School and got his engineering degree from the family-run Thodamal Shahani Engineering College in 1990. Pressing on to study business management, he was awarded an MBA from the renowned Kellogg School of Management of Northwestern University (USA) in 1994, after which he became involved with management of the group's education institutions.
Direct talk. "My research in several countries indicates that employers are not happy with the quality of fresh college graduates because they tend to lack critical thinking and problem-solving capabilities. Bearing this in mind, we have designed our employability focused EdTech model of education. This model ensures that students' capabilities and skills are blended with industry-based knowledge, making them employable immediately after course completion," says Shahani.
Shahani is bullish that the Ask.CAREERS edtech ecosystem will succeed in India, South-east Asia and the MENA (Middle Eastern and North African) region through partnerships with UK-based universities, British qualifications agencies and industry associations under the aegis of the group's Smart Institute Pvt. Ltd. "I believe our integrated EdTech approach towards education will be a game-changer in Asian education and will help close the skills gap between Asian and OECD graduates," he says.
Future plans. Shahani is looking to sign more international partnership agreements to provide business management education countrywide. Meanwhile, he is working on plans to set up another 30 campuses for integrated business and related study programmes with the larger objective of establishing colleges countrywide and in some Asian countries over the next five years.
Dipta Joshi (Mumbai)