Funky frames!
Cynthia John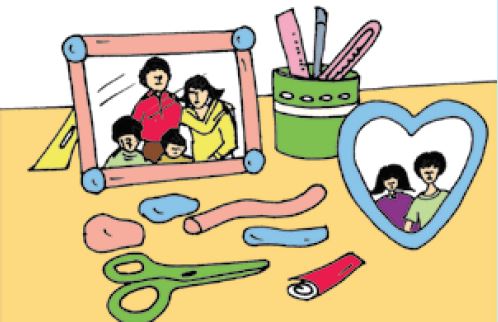 Choose one of your favourite family photos and make a unique frame for it.
Materials
• An OHP (overhead projector) sheet
• Scissors
• Modelling clay/M-seal
• Acrylic colours (if you are using M-seal)
• Cellotape
• Wool/satin ribbon/strip of cardboard
The process
Cut two pieces from the OHP sheet into the same size as the photograph.
Place the photograph between the two sheets, and secure the edges using cello-tape. Make sure the photo is firmly in place.
Roll the clay or M-seal into a long cylindrical strip.
Break a piece of the same length as one side of the picture and fix it along the edge of the picture.
Do the same on all sides, using same or different colours.
Using another colour, make four round blobs and fix them on the four corners. Use a knife to carve designs on the four sides of the photo frame.
If you are using M-seal, knead it well, and paint it aft-er it dries.
To make a frame in another shape, simply cut the photo and OHP sheet in the shape you want, and use the clay
accordingly.
Stick a loop of satin ribbon or wool to the back of the photo frame to hang it up. Or, take a rectangular piece of cardboard, fold a small length backwards, and stick it firmly to the back of the OHP sheet. Now you're all set to display your favourite en famille photograph!
Day for others
As the Russian writer Leo Tolstoy observed, every family is different in its own way. But this one is differently different! Jim Bob Duggar and Michelle Duggar have 17 biological children starting from a 19 year old boy to a little newborn girl!
All the Duggar kids have names beginning with the letter J.
How do they manage the family? Simple! They are very well-organized. Mom Michelle homeschools the whole bunch, and each sibling is in charge of one younger sibling. The older ones act as second parents of the children, helping him/her in everything from lessons to baths. One way to learn early responsibility!
This unique family goes through seven-nine loads of laundry every day. And when shopping, they fill seven trolleys once a week.
The whole family pooled its time and effort to build their huge 7000 sq. ft. home by themselves! As Mom Michelle says, "We enjoy having children around and love doing every chore! And no, we aren't planning any more children!"