Make Your Own Sports Drink – Anitha Bennett
Fascinated by all the jazzy drinks for sportspeople on supermarket shelves?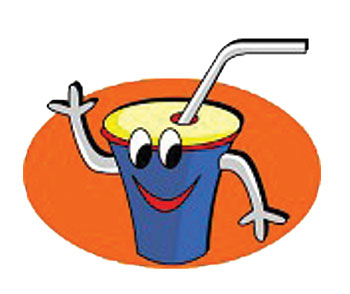 Wondering what magic formula the drink contains that makes it so pricey?
Here's an easy recipe for a cool sports DIY drink that you can make yourself. It's yummy, gives you an energy boost, and doesn't pinch your pocket!
Things you need
 2 heaped tsps of ORS (oral rehydrating salts, available at any medical shop)
 Big lemon
 2 tsps sugar or ¼ cup honey
 A pinch of salt
 250 ml water
Preparation
1. Squeeze the juice of the lemon into a water container. Use a lemon-squeezer. If you don't have one, just squeeze it with your hand through a strainer to separate the seeds.
2. Add dry ingredients — salt, sugar and the ORS — and stir.
3. When thoroughly mixed, refrigerate for an hour so that it is slightly chilled.
4. Pour the drink into a flask or a thermos to retain freshness and coolness.
Variations
1. Lemons can be substituted with oranges for a different flavour.
2. Substitute flavoured teas instead of fruits. Add the dry ingredients to 200 ml of flavoured tea.
If you don't have ORS, you can still mix a tbsp of a flavoured drink powder (like Tang or Rasna) with a tsp of glucose and glass of water for an instant pick-me-up!
The next time you finish a tiring round of sports, you will have something to look forward to.
Make sure you make enough to share with your friends!
Day for others
Here are some freaky sports facts for you!
 In the very first modern Olympic Games (1896) there were only male participants. Women were permitted to participate much later.
 The first yo-yo was not a toy! It was a weapon that weighed four pounds and had a twenty-foot long cord!
 In the early 18th century, umpires sat on padded rocking chairs behind the players during cricket matches!
 Do you know the origin of the word GOLF? Golf was regarded a game for men, and the word was an acronym for Gentlemen Only Ladies Forbidden!
 The National Football League, USA needs plenty of footballs round the year because of damage due to kicking. The leather of a minimum of 3,000 bovines is needed for a year's supply of footballs!
 Until the 19th century, no medals were awarded for games and sports. The person who won the first place got an olive wreath to wear on his head! You can be sure they looked more like tribals than sportsmen!
Also-rans placed second and third got nothing!
"Sweat plus sacrifice equals success." Charlie Finley