In this special Independence Day cover story, we present useful suggestions to parents on best ways to educate children about India's freedom movement and the uniquely liberal and secular ideals that Mahatma Gandhi and other leaders of the freedom struggle endowed upon free India – Mini P, Cynthia John & K.P. Malini
As the nation prepares to celebrate India's 73rd Independence Day on August 15, its 1.25 billion citizens have never been more divided by religious, caste, and ideological fault lines in the history of independent India. A dangerous tidal wave of communal, caste, class and parochial antagonisms is sweeping across the subcontinent and threatens to destroy the hard-won unity and secular foundations of the democratic republic conceptualised and built by the now forgotten leaders of India's unique non-violent freedom movement, and Mahatma Gandhi in particular.
For sentient parents, Independence Day provides a great opportunity to educate children about India's unprecedented freedom struggle based on the ideal of ahimsa (non-violence) led by the Mahatma and his idea of India which was incorporated in the Constitution of India (1950) that guarantees all citizens equality before the law and seven fundamental rights which even Parliament cannot alter or abridge.
"Unfortunately in latter day India, nationalism has become an ugly word, smacking of xenophobia and intolerance of religious and other minorities. Patriotism, on the other hand, stimulates pride in your country and its best values. But today, the line between nationalism and patriotism is blurring, with dangerous consequences for all Indians. We need to teach our children that patriotism requires them to respect values such as tolerance, secularism and cooperation and to care deeply about the well-being of all our fellow citizens whether young or old, rich or poor. We also need to teach our children to respect the country's natural resources, environment, heritage and culture and most importantly to respect the rule of law," says Maya Menon, founder of the Teacher's Foundation, Bangalore.
In this special Independence Day cover story, we present useful suggestions to parents on best ways to educate children about India's freedom movement and the uniquely liberal and secular ideals that Mahatma Gandhi and other leaders of the freedom struggle endowed upon free India.
Independence Day reading list
"My grandfather was a freedom fighter and went to jail several times. But this generation doesn't have a reference point nor can it imagine a time when we were not free. They take our hard-won freedom for granted. Books are a great way for parents to educate children about the independence movement and the progressive ideals on which this country was founded," says Ushasi Sen Basu, Bangalore-based writer and author of Kathputli (2017), a novel that portrays women across three generations, including pre-independence India. Basu routinely selects books set in the era of the freedom movement for her eight-year-old daughter Ahana.
Here's PW's Top 4 reads for children this Independence Day:
Saffron White and Green: The Amazing Story of India's Independence by Subhadra Sengupta (Puffin, 2015): This book weaves a glorious tale of how the unarmed people of India united to defy the mighty British empire. It's a story of how ahimsa (non-violence), satyagraha (truth) and swaraj (independence) won India its freedom.
We the Children of India by Leila Seth (Puffin, 2010): In this book, Leila Seth (1930-2017), the first woman chief justice of a state (Delhi) high court, interprets each word of the Preamble of the Constitution to make it understandable to even the youngest reader. What is a democratic republic? Why are we secular? What is sovereignty? She demystifies each of these concepts and explains them crisply and clearly. The Preamble to the Constitution is often printed in school textbooks, but children seldom read it. We the Children is an excellent introduction to the Constitution and its secular and libertarian ideals.
Mukand and Riaz by Nina Sabnani (Tulika Books, 2015): This is a heart-warming story of friendship set against the background of the Partition of India and Pakistan in 1947. Bonds of friendship between children often transcend barbed wire fencing: all children love to play, enjoy camaraderie and experience loss of friends. Based on the memories of her father, animator Nina Sabnani tells this story of the enduring friendship between two young boys separated by the Partition.
The Beautiful Lie by Irfan Master (Bloomsbury, 2011): Set in India in 1947 at the time of Partition, this book subtly reinforces the importance of the values of tolerance, love and family relationships. The main protagonist Bilal is a young boy determined to keep the news of the Partition of India from his ailing father, news that he knows will break his heart. Bilal persuades others to collude with him in this deception, even printing false pages of the local newspaper to hide the atrocities of the Partition from his father. All that Bilal wants is for his father to die in peace. But that means Bilal has a very complicated relationship with the truth…
Women freedom fighters of India
If one reads school history texts or popular fiction or watches 'patriotic' Bollywood movies, a conclusion will be drawn that the main drivers of India's freedom movement were men — Mahatma Gandhi, Jawaharlal Nehru, Subhash Chandra Bose, Mangal Pandey, among others. Women leaders are rarely given their due. But there were thousands of women who risked home and hearth to fight for India's independence. It's imperative that parents share their stories with children. Here are the stories of five women freedom fighters whose tales of valour need to be told with children encouraged to research them further.
Matangini Hazra: Matangini Hazra or Gandhi Buri (1870-1942) was an activist of the Quit India (1942) and non-cooperation movements. On September 29, 1942, while leading an anti-British protest she was shot dead in front of the Tamluk Police Station in Purba Midnapore district of West Bengal. One version of the incident is that although she suffered three bullet wounds, she continued to lead the march shouting Vande Mataram and waving the Indian flag. Daughter of a poor peasant who was widowed at 18, Hazra was a prominent member of the Congress party of West Bengal. A statue commemorates her life and death in Tamluk.
Kanaklata Barua: Born in Borangabari village of the undivided Darrang district of Assam, Kanaklata Barua or Birbala (1924-1942) was a young revolutionary who led Assam's Quit India Movement. This 18-year-old was also shot dead by the British when she attempted to hoist the Indian flag at the Gohpur police station in Assam.
Aruna Asaf Ali: A close confidant of Mahatma Gandhi, Aruna Asaf Ali (1909-1996) is best remembered for hoisting the Indian National Congress flag at the Gowalia Tank Maidan in Bombay during the Quit India Movement. An active participant in Gandhi's Salt Satyagraha march, she went to jail several times, and was a member of India's first two Union cabinets.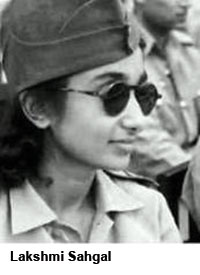 Captain Lakshmi Sahgal: A qualified medical practitioner, in 1943 Lakshmi Sahgal (1914-2012) signed up with the Indian National Army (INA) founded by Netaji Subhash Chandra Bose in Singapore and was given charge to establish and lead its Rani of Jhansi regiment. Captain Lakshmi was arrested by the British in May 1945, and incarcerated in prison in Burma until March 1946, when she was deported to India. After independence, she became a member of the Communist Party of India.
Rani of Jhansi: Rani Lakshmibai or the queen of Jhansi (1828-1858) was the most prominent leader of the 1857 Indian mutiny (aka the first war of Indian independence). For Indian nationalists, she became an icon of the freedom struggle against the British Raj. She protested the Doctrine of Lapse, under which a princely state could be annexed by the East India Company if the ruler did not have a legal male heir. She fought against British annexation of Jhansi under this doctrine and died in battle in 1858.
Freedom education tours
Family holidays can go beyond sightseeing and shopping to include a visit to memorable monuments of India's freedom struggle. Edu-vacations offer the opportunity to educate children about events and people associated with the independence movement. Here are our five suggestions:
The Residency, Lucknow: Built in 1800, the Residency sited in the administrative capital of latter day Uttar Pradesh, became the stage of the most dramatic events of the Indian Mutiny of 1857 — the Siege of Lucknow by the armed forces of the East India Company. The 147-day siege claimed the lives of thousands of Indians. The Residency compound has been left intact, with walls still pockmarked with bullets and cannon balls.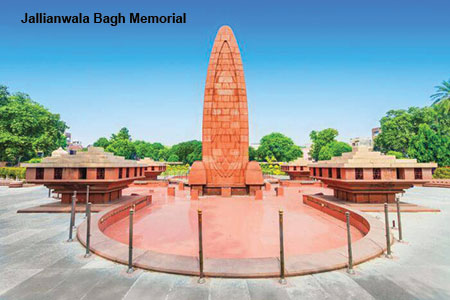 The Jallianwala Bagh Memorial, Amritsar: This memorial commemorates the estimated 1,500 Indians who had defied curfew orders and assembled at Jallianwala Bagh and were cruelly massacred on April 13, 1919. A battalion commanded by General R.E.H. Dyer continued shooting down unarmed protesters until their ammunition was exhausted. Some of the bullet holes are still visible in the walls, as is the well into which hundreds desperately leapt into to escape the continuous firing. Today the 6.5-acre garden site to commemorate the dead is located in the vicinity of the Golden Temple, the holiest shrine of the Sikh community.
Sabarmati Ashram, Ahmedabad: This settlement was Mahatma Gandhi's headquarters from 1917 to 1930 during the struggle for Indian independence. It's said that Gandhi chose this site because it lay between a jail and a cemetery, as most satyagrahis (non-violent resisters) were certain to end up in one or the other. Set on the banks of the river Sabarmati, it now houses a museum with a library and photo archives which trace the life and times of Mahatma Gandhi (1869-1948) widely acknowledged as the father of the nation.
Cellular Jail, Port Blair: A former British prison, the Cellular Jail National Memorial sited in Port Blair, admin capital of the Andaman & Nicobar Islands, is now a shrine dedicated to political dissidents it once jailed here. Construction of the jail began in 1896 and was completed in 1906 — the original seven wings (several of which were destroyed by the Japanese during WWII) contained 698 cells radiating from a central tower. Like many political prisons, the Cellular Jail became a university for freedom fighters, who exchanged books, ideas and debates despite walls and wardens. Many notable independence activists such as Batukeshwar Dutt, Yogendra Shukla and Vinayak Damodar Savarkar, among others, were imprisoned here.
Aga Khan Palace, Pune: Built in 1892 by Sultan Aga Khan III, spiritual head of the Khoja Ismaili community, this majestic building interned Mahatma Gandhi and several prominent nationalist leaders following their arrest by British Raj administrators during the Quit India movement of 1942. Kasturba, wife of the Mahatma, and Mahadeobhai Desai, his secretary of 35 years, died here in confinement. The palace archives a number of photos and portraits depicting glimpses of the lives of Gandhiji, and other leaders of India's freedom struggle. Currently, the palace is also the headquarters of the Gandhi National Memorial Society.
Raising India's banner through sports
Independence Day also provides parents an opportunity to exhort and inspire children to improve the country's standing in the community of nations by excelling in sports and games. When outstanding sportspersons such as sprinter Hima Das, boxing champ Mary Kom and badminton star P.V. Sindhu win medals in international meets and the Olympics, Indian hearts swell with pride and the country's image gets a boost. Parents can make a valuable contribution by way of inspiring children to play, train and benchmark themselves with the world's best athletes and sportspersons and aspire to don India colours.
"Representing the country on sports fields is one way in which you can show your love for the nation. There are hundreds of children and young athletes who are training hard to excel in games to make India proud. Parents should look beyond academics and also nurture the sports talents of children," says Tanay Sardar, gymnastics coach, Art Corner Gymnastics, Bangalore.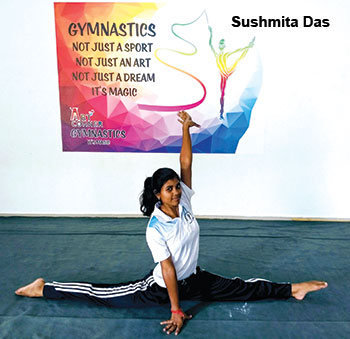 Kolkata-based Sushmita Das (19), who represented India at the 5th Aerobic Gymnastics World Age Competition, Bulgaria in 2012, and winner of the gold medal at the 2nd Fityouth Pan India Aerodance and Aerobic Gymnastics Championship 2019, concurs. "For an athlete or sportsperson, the greatest joy is to hear the national anthem while standing on the winners' podium. When athletes and sportspersons win international events, citizens in other walks of life start believing they can be the best in the world. That's why it's important for parents to encourage children to play and discover their sports and games potential," says Das.
Serving with the defence forces
Signing up with the defence forces — Army, Navy and Airforce — is also a popular option with those who want to actively serve the country while building a professional career. This is a direct way of serving the country by protecting national borders and serving the national interest. Over the past two decades, the gap between the remuneration of defence services personnel and professionals in business and industry has narrowed.
But while sports representation and signing up with the defence forces are popular ways of discharging patriotic duties, these options are chosen by a handful of young people. On a broader front, parents need to teach children to discharge their civic duties and responsibilities, adhere to laws and rules, and perform their jobs — however small — with competence and dedication. Unfortunately, an Indian worker's productivity is only 15 percent of his American counterpart. Children need to be advised from youngest age that it is their patriotic duty not only to respect the laws of the country and the ideals of secularism, tolerance and social harmony enshrined in the Constitution, but to also contribute to the national development effort by increasing workplace productivity.