To address the issues challenging the education system today due to the outbreak of Covid-19 pandemic, the Alliance of Schools, an informal group of educators in support of online education, have presented a white paper to the Karnataka government. It explores offering online learning and used principles of design thinking/collaboration with the stakeholders, to elicit parents, students and faculty feedback to create online schooling models.
After the Government of Karnataka expressed concerns about the impact of online schooling, the schools again conducted surveys and town halls with parents to get their perspective. The survey showed that 85-95 percent parents prefer online schooling for their children, making this a priority for schools.
The team of educators have leveraged the experience of over 20 schools to create the white paper that aims at collating, sharing professional knowledge, wisdom and solutions on four critical areas:
Identification of top three issues to contextualise online learning and provide a valid framework that is in the best interest of the child;
Provide a detailed overview of the online learning model for pre-primary and primary schools;
Identify means to empower teachers to leverage technology; and
Provide a blue-print to scale and bridge the literacy divide (not just the digital divide).
The white paper presents model curricula being followed by different schools after consulting and taking in suggestions and inputs from over 20 child psychologists and counsellors. The paper also showcases some models and curricula developed and -used successfully by over 20 schools in Bangalore affiliated to state, central and international education boards, both private (no fee and fee paying schools) and government.
It has taken into consideration the recommended screen time, attention span of children of different age groups, identifies core concepts and skills for each grade level, and explores blended learning. The educators believe that working in partnership with all the stakeholders to uphold every child's constitutionally protected fundamental Right to Education as per Article 21A of the Indian Constitution, and their #RightToLearn and equip themselves for the 21st Century is the need of the hour. The white paper states, "Due to this pandemic, 321 million Indian children are out of school or childcare, and many do not have any access to age-appropriate learning and development opportunities, activities, safe spaces and social and emotional connections that can 'enable them to become good human beings and productive, socially responsible citizens and to achieve excellence in whatever they do', the mission stated by Karnataka Dept of Primary & Secondary Education".
Virtual schooling to engage students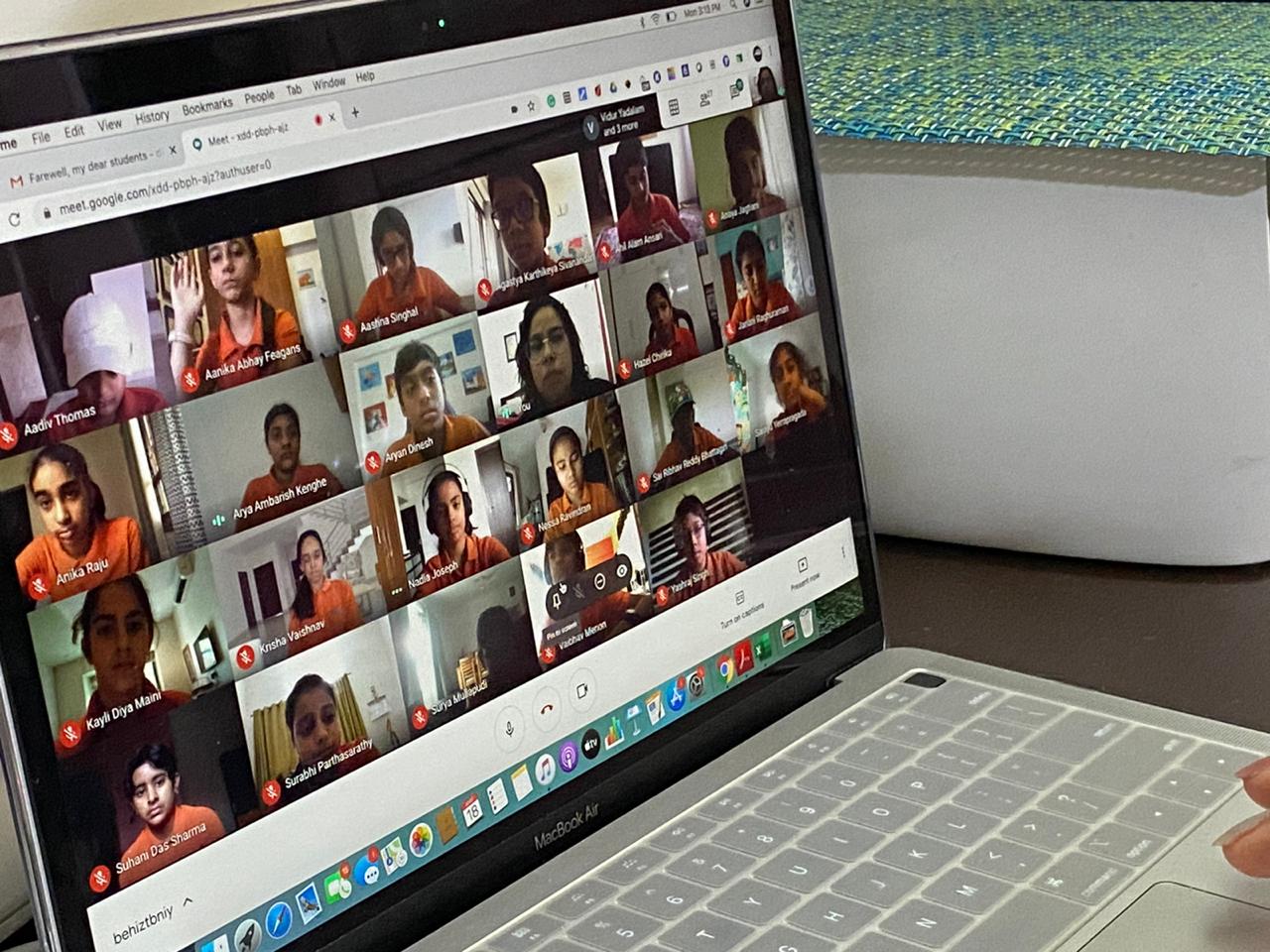 As more than 90 percent parents are unwilling to send their children to schools, schools have explored ways to leverage technology and various online educational platforms and tools, drew on and learnt from the experience of educators across the world through webinars offered by world renowned organisations. They then created a structured online education schedule after receiving feedback from all stakeholders during their pilot classes.
"Virtual schooling also offers an opportunity for students to engage in learning that is age appropriate, while keeping in mind the attention span of students at different grade levels in the absence of regular brick and mortar schools. It provides a sense of community and normalcy for students as they grapple with the effects of being isolated in their own homes. Daily structure is important to everyone, but particularly to children for their psychological and emotional development. This study concludes that with screens becoming more ubiquitous over the past 15 years, the topic of screen time has shifted from the quantity to the quality of engagement. The study posits that it is the responsibility of families and educators to prioritise quality academic, knowledge building and structured screen time over non-structured, entertainment-based screen engagements," it further states.
Blended learning a suitable model
The educators believe that during the current times of the pandemic, when recurring lockdowns look imminent, the blended learning platform is expected to be the suitable mode of engagement for students. "With the government suggesting that schools operate with lower numbers, staggering of classes to allow for social distancing and perhaps even having school on alternate days for different classes, school learning models will have to incorporate virtual teaching-learning, along with the brick and mortar school," they say suggesting that technology companies in India's Silicon Valley can also help to build and provide scalable tech solutions for students in government schools.
The educators have submitted the white paper to the government of Karnataka hoping that the suggestions and recommendations presented in the document will be taken into consideration by its expert committee.
Read: Karnataka government permits online classes
News
,
States