Father's Day aims to throw light on the influence of fathers in the lives of their kids and society at large. While the dates vary from country to country, it is largely celebrated on the third Sunday in June and this year it falls on June 21.
The concept of Father's Day was founded by Sonora Smart Dodd, the daughter of American Civil War veteran William Jackson Smart in America, in the year 1910. While hearing a church sermon about the newly recognised Mother's Day at Central Methodist Episcopal Church, Dodd felt fatherhood also needed recognition and approached the Spokane Ministerial Alliance and suggested her own father's birthday, June 5, as the day to honour fathers. Instead, the Alliance chose the third Sunday of June to celebrate.
Since then, as many as 111 countries but in countries like Australia and New Zealand it is celebrated on the first Sunday in the month of September while in Brazil, it is observed on the second Sunday of August.
While every year, children and their fathers can plan elaborate things to celebrate the occasion, this year, due to the Covid-19 pandemic, things will be different. Regarding parenting in the times of Covid-19,
Dr. Madhav Deo Saraswat, Principal of The Scindia School, Gwalior and father to his 24-year-old daughter, Kaushiki says, "Trust, space and appreciation for uniqueness of each child is vital for this relationship. You have to become a friend and philosopher whether as an educator or as a father, should give enough space for all the attributes/emotions to get manifested so that these could be moulded/responded adequately. Any effort to impose your own ways than to appreciate uniqueness of each individual, subverts healthy and natural growth of a child. Any imposition, overreaction instead of thoughtful response or brushing off of any emotion creates inhibitions in child's mind. We must allow them to grow on their own and along with us, focus their thoughts towards Becoming instead of just Being. You should make sure that you know what is happening in a child's mind so that she/he can be helped to respond to this deep crisis not only externally but internally as well. We should also use this time as an opportunity to help our kids to grow inward and come out stronger in every sense, once the crisis is over."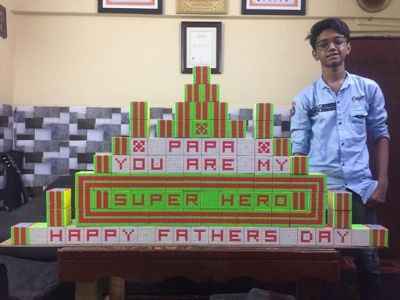 Biju Kutty, a Preschool Developer, whose son 14-year-old Afaan is a Rubik's Cube genius says, "During the lockdown, challenges for parents have increased as screen time for kids has gone up drastically. Since the children cannot go out, the parents are forced to give the mobile or laptops to the children. This is going to be a much bigger concern in the coming days for parents as most children now spend almost 8-10 hours seeing the screens every day. To deviate children from the screen is the need of the hour and if parents can utilise this time in a better way, they can get the best out of their children as this is the time when both parents and children are together." During the lockdown, Afaan spends almost 3-4 hours everyday on Rubik's cube and has been posting several messages on social media on Rubik's Cube such 'stay home' and 'stay safe'. He also attempted three Limca Book of records during this pandemic.
According to UNICEF, one should allow their child to talk freely and "ask them open questions and find out how much they already know" about covid-19. Parents need to be supportive, avoid bad behaviour, stay positive and need to involve yoour children "in creating family tech agreements about healthy device use" to keep the little ones safe online.
Sukanya Nandy
International
,
News