Currently celebrating its golden jubilee year, GMU sited in close proximity to Washington DC, is noted for its highly acclaimed faculty of Pulitzer Prize winners and Nobel laureates, writes Reshma Ravishanker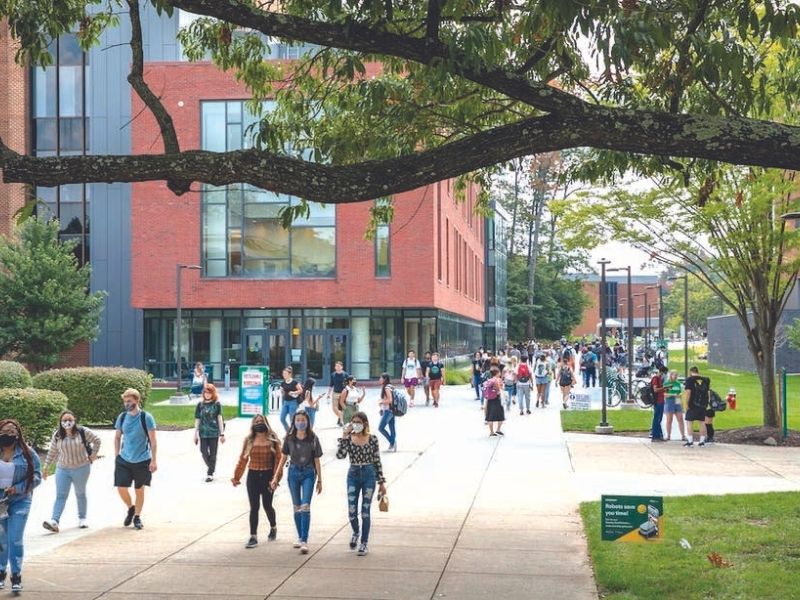 With enviable on-campus facilities, an awards-winning faculty and proximity to Washington DC, America's political capital, George Mason University (GMU, estb.1972) is a nationally respected public higher education institution. Celebrating its 50th anniversary this year, GMU is noted for its highly acclaimed faculty of Pulitzer Prize winners and Nobel laureates. The university is ranked #67 among public varsities in the latest rankings of America's Best Colleges 2022 of the US News and World Report. Moreover, GMU is an R1 (Research 1) institution certified by the Carnegie Classification of Institutions of Higher Education, USA.
The first university in America to establish schools focused on information technology, engineering and computational sciences, GMU provides its 39,000 students from over 130 countries 211 degree programmes. Moreover, the university has four campuses in Virginia state and an overseas campus in Songdo, South Korea.
Named after George Mason, one of the authors of the American Constitution and a widely acknowledged proponent of the Bill of Rights, GMU became an independent member of the Commonwealth of Virginia's system of colleges and universities in 1972. Since then, it has rapidly expanded to ten schools and colleges offering a wide range of undergraduate, postgrad, and doctoral programmes.
Washington. The rich and varied cultural, historical and education resources of America's capital city have long boosted the reputation of universities sited in and around its periphery, and GMU is no exception. The famous Smithsonian Institute, national museums and memorials, the Library of Congress and other education resources of Washington DC are just a 30-minute drive from the main GMU campus. Its educational and historical treasures apart, the city also offers summer and autumn recreation facilities along the Potomac River and a lively nightlife.
Fairfax. Closer home, the historic city of Fairfax (pop.24,146) beyond which the main campus is located, has a museum, visitors' centre, downtown shops and fine restaurants, all set in a charming old-fashioned environment. An hour's drive from the campus are scenic Shenandoah mountains with the Shenandoah river meandering through.
While summers are warm and humid, winters are cold and snowy. Winter temperatures range between -30C-80C and summer 170C-300C.
Campus facilities. GMU has four campuses in the Commonwealth of Virginia. The university's sprawling 677-acre main campus fringing Fairfax hosts state-of-the-art academic buildings, several student residences and an extensive parking structure. Most of the university's academic departments and student services are located on this campus. They include the refurbished Fenwick Library (1.5 million volumes), the 320,000 sq. ft Johnson Center (students' union building); Center for the Arts (2,000-seat concert hall); the 180,000 sq. ft Long and Kimmy Nguyen Engineering Building; Exploratory Hall for science; an astronomy observatory and telescope; and an 88,900 sq. ft Art and Design Building.
Sports facilities are equally impressive. They include a Recreation and Athletics Complex (RAC) with three gymnasiums, racquetball and squash courts, a two-storey fitness gallery, and Aquatics and Fitness Center. The university also offers state-of-the-art facilities for rugby, soccer, lacrosse, volleyball, and softball, billiards, football, basketball and tennis.
GMU's second campus in the neighbouring Arlington county hosts the university's schools of law; policy and governance and conflict analysis and resolution.
The third 134-acre science and technology campus is in Manassas, Virginia, and offers programmes in bioinformatics, biotechnology, information technology, and forensic biosciences, health, fitness and recreation.
The fourth campus is sited in Front Royal, Virginia and the outcome of collaboration between the Smithsonian Institution and the university, with a focus on global conservation training. GMU also has an international campus in Songdo, South Korea's Incheon Free Economic Zone.
Admission. The minimum eligibility requirements for admission into GMU's undergraduate programmes is completion of class XII (Plus Two), a non-refundable $70 application fee, proof of proficiency in the English language (IELTS or TOEFL) and good SAT/ACT test scores. Completed application forms must include copies of all secondary school transcripts, official SAT and TOEFL scores, personal statement/essay and two letters of recommendation. The admission deadline is February 1 for the academic term beginning August.
For further information, email: [email protected] and/or visit www.gmu.edu.
Residential accommodation. Over 75 percent of first-year students live on campus. Students can choose from over 40 residence halls offering furnished suites and apartments with high-speed Internet access and laundry facilities.
Degree programmes. GMU's ten colleges offer 100 undergraduate and 132 postgrad degree programmes.
SCHOLASTIC OPTIONS AT GMU
GMU offers a wide range of undergraduate and postgrad degree programmes. They include:
College of Education and Human Development. Education, educational psychology, elementary education
College of Health and Human Services. Health and social policy, health systems management, nursing, health administration and policy, nutrition and food studies, rehabilitation science and social work
College of Humanities and Social Sciences. African and African American studies, anthropology, applied industrial and organisational psychology, Arabic, art history, English, communication
College of Science. Atmospheric, oceanic and earth sciences, astronomy, bioinformatics, biology, biosciences, chemistry and biochemistry, computational and data sciences, environmental science, geography, mathematical sciences and forensic science
College of Visual and Performing Arts. Music, films, animation, dance, theatre, web design
School of Business. Marketing, finance, forensic accounting, management, real estate
Jimmy and Rosalynn Carter School for Peace and Conflict Resolution. Conflict analysis and resolution, contemporary dispute resolution, mass atrocity and genocide prevention, organisational conflict, sport and conflict resolution
Schar School of Policy and Government. American government, biodefense, emergency management and homeland security, global health and security, government and international politics
College of Engineering & Computing. Bioengineering, robotics (drones and beyond), sustainable infrastructure, health care technologies, global outreach, statistics, information technology, computer science, and cyber security
Antonin Scalia Law School. LLM, JD and JM law
Tuition fees: $21,048
Room & board: $12,090 NB: $=Rs.76