Meet the two gifted artists of Delhi Public School Sector 45 Gurgaon — Divyanshi Singhal and Anushka Daw. Both are making waves internationally and have brought laurels to their school and country!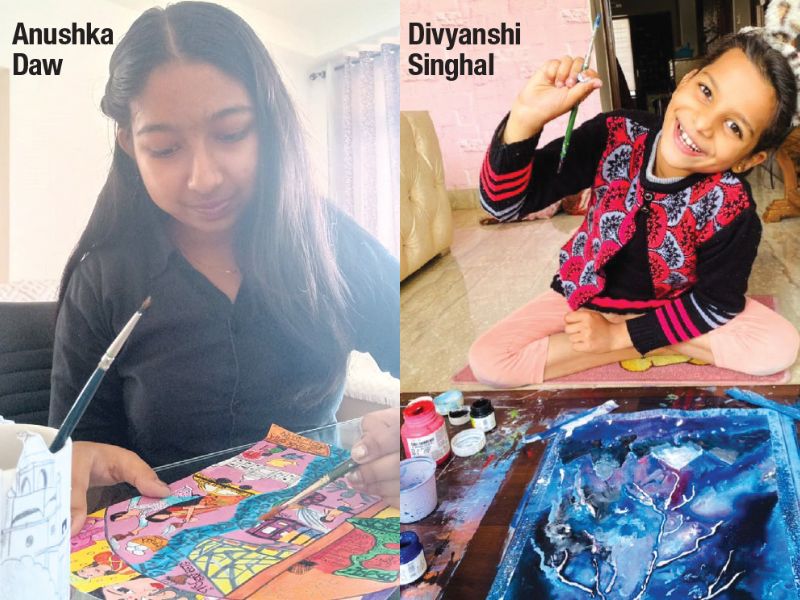 Ten-year-old Divyanshi Singhal was adjudged winner in the International Children's Mangrove Calendar Competition 2022. She was also one of 34 winners of the Illustration Competition, organised by world renowned author JK.Rowling, to illustrate her new book The Ickabog — launched in November 2020. Over 18,000 children in the 7-12 years age group from the UK, Republic of Ireland, India, Australia and New Zealand submitted their entries for the competition. Moreover Divyanshi's 'Walking Trees' doodle won the 2019 'Doodle for Google' nationwide competition in India and made it to the Google India homepage on Children's Day (November 14).
To commemorate The Queen's Platinum Jubilee celebrations in the UK, a collaborative River of Hope project between Thames Festival Trust and the British Council was organised, linking schools across the globe through an in-depth study of rivers using art as the medium. The River of Hope project highlighted the commonwealth goal of global sustainability, amalgamating research on climate change through an art integrated depiction. Class X student Anushka Daw's entry depicting River Ganga as a graceful woman and its mythological story, was shortlisted among 200 creations to be exhibited at the Buckingham Palace, London. Her painting highlighted various aspects of life.
Following the pageant, the flag of Delhi Public School Sector 45 Gurgaon will be displayed as part of a public exhibition at the National Maritime Museum in Greenwich from October 26-30, 2022.
Congratulations Anushka and Divyanshi! We are proud of you.
Also read: The Importance of Art Appreciation