Special effects aka prosthetics professionals can transform the visual appearance of actors to make them look older or younger, alien or supernatural – Paromita Sengupta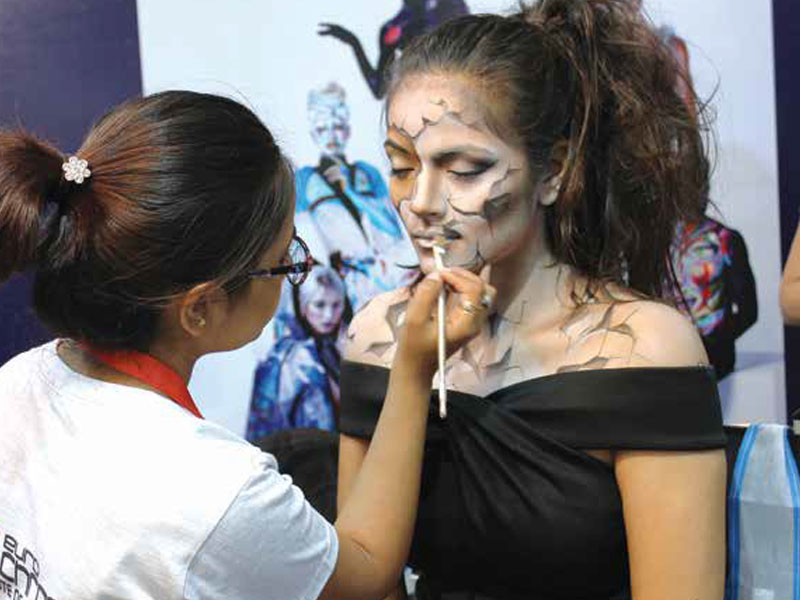 Special effects (aka prosthetics) make-up can transform the visual appearance of actors and stage performers making them look older or younger, alien, supernatural or even severely sick or wounded through usage of rubber or plastic masks and image-altering prosthetics. Special effects (SFX) make-up is unlike ordinary beauty products and its application requires specific skills and understanding of product ingredients which include wax, latex and silicon of different grades and quality.
Latterly, an acknowledged new-age profession in India in its own right, SFX make-up artistry is a career option which offers great skill-development and entrepreneurial opportunities. There are abundant jobs in theatre, television, films and fashion, advertising campaigns and concept shoots with photographers, theme-based shows for fashion designers, catwalk make-up and character events.
Exhaustive preparation of moulds and sculpts, which usually requires tedious detailing, are some of the job challenges of an SFX artist. Other challenges include hairstyle and wig setting, removing make-up after performances/ events and hygiene warnings and other advisories before and after the make-up process.
Study programmes
To qualify as a professional special effects artist, class XII school-leavers can sign up for a six months to year-long certificate/diploma programme in prosthetics. Among the country's reputed institutions which offer these study programmes are Make Up Designory, Bandra (a franchise of MUD, USA), Pearl Academy, Delhi, VLCC Institute, Gurgaon, Lakme Academy, Delhi, One Stop Makeovers, Mumbai, Makeup Studio Training Centre, Kalkaji, Delhi and SMA International Makeup Academy, Pune, among others.
MUD, New York City and Los Angeles campuses; Gorton's School, UK; Vancouver Film School and Cinema Makeup School, Los Angeles (USA) are among the more well-known academies offering certification programmes abroad.
Pay & perks
Remuneration depends on an individual's skills, artistry and size of project. Currently, the motion picture, fashion and video industries offer the best salaries with freshers' starting packages in the Rs.20,000-25,000 per month range. SFX professionals working on advertising campaigns could take home Rs.2,000-3,000 per day, while for SFX make-up artists with three-five years of experience, pay packages of up to Rs.50,000 per week are de rigueur.
Professional profile
"A constantly rising number of young people with imaginative bent of mind are entering this skills and talent profession, given the ever rising demand from theatre, motion picture and television industries. The U.S. Bureau of Labour Statistics projects a 19 percent growth in jobs for make-up artists by 2024," says dancer-SXF artist Aradhana Khanna, a graduate of the Amity Business School, Noida and Make Up Designory, New York.
An avid movie buff, Delhi-based Khanna developed an interest in fashion make-up and prosthetics in her school years. But while working as a choreographer with Danceworx, a school run by well-known dance guru Ashley Lobo, she suffered a major knee injury in 2008 which put her out of action for two years.
"I converted this forced rest period into an opportunity to follow my interest in SFX make-up. In early 2009, I travelled to the US and signed up with the country's premier special effects prosthetics academy, Make Up Designory, for its seven-month diploma programme. On my return to India in late 2009, I had to make several trips to Mumbai and spend many hours networking with film and TV production houses to get my first break. Back then, special effects artists were being hired from abroad. But not anymore!" exclaims Khanna, who has worked extensively with Mumbai-based Endemol Productions (of Big Boss fame), in the film Denude and a travelling theatre production company of Charu Shankar.
According to Khanna, who recently launched her own The Soak Room Studio where she plans to teach prosthetics make-up, SFX artistry is a high-stress and high-risk vocation with erratic working hours. "It takes as much time to prepare and apply make-up as it takes to remove it. But there's tremendous artistic satisfaction and public adulation when the viewer is left with a strong visual impression that enhances the experience of a movie or fashion show. Obversely, a poorly performed image altering job can ruin an artist's reputation. To avoid that, investing in a good education to burnish your skills is of utmost importance. Technical knowhow combined with clever networking are critical for a satisfying career in this new high-potential vocation," advises Khanna.
Also read: Swelling demand for maritime archaeologists